Jesús
R1 - America - Breaking Glass Pictures
Review written by and copyright: Eric Cotenas (22nd December 2017).
The Film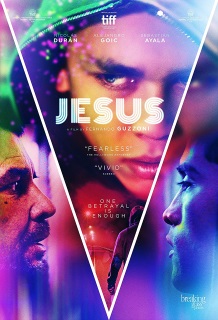 Grand Prize Chéries-Chéris (Feature Film): Fernando Guzzoni (nominated) - Chéries-Chéris, 2017
Best Latin-American Film (Latin-American Competition): Fernando Guzzoni (nominated) - Mar del Plata Film Festival, 2016
Golden Seashell (Best Film): Fernando Guzzoni (nominated) - San Sebastián International Film Festival, 2016
Golden Alexander: Fernando Guzzoni (nominated) - Thessaloniki Film Festival, 2016

Chilean teenager Jesús (Nicolás Durán) has not finished high school and spends his days practicing for K-pop tournaments with his buddies – Beto (Gastón Salgado), Pizarro (Sebastián Ayala), and Raul – and his nights drinking, smoking, and having sex, much to the chagrin of his father Hector (Esteban González) who is away for days at a time working and can barely make ends meet for the two of them. After losing a tournament, the gang gets drunk and fool around in the park, coming across dead drunk teenager Gonzalo who they make the butt of prank selfie photos before things take a darker turn and pushes and shoves turn to kicks and stomps. Jesus sobers up quickly when he learns on the news that Gonzalo is in the hospital in a coma and the police are investigating. Jesus wants to run and his hesitation to close ranks with his buddies is seen as a sign of betrayal, turning even best friend and occasional lover Beto against him. Jesus is left with only his father to turn to, and Hector is left to wonder how far he can go to protect his son "when the flesh of your flesh is rotten."

Video


Breaking Glass' progressive, anamorphic widescreen encode does what it can with a deliberately dark and murky-looking film often shot in low light and shallow focus.

Audio


The Dolby Digital 5.1 track alternately assaults us with music or requires pumping up the volume to hear muttered lines of dialogue, which are thankfully subtitled even though the yellow lettering is small.


Extras


Extras include a Neighboring Scenes Q&A at The Film Society of the Lincoln Center (19:14) with director Fernando Guzzoni (Dog Flesh) as well as a short interview with director Fernando Guzzoni and actor Nicolas Duran (5:32) about the themes of the film and its content, the film's theatrical trailer (1:31) and previews of other Breaking Glass titles.

Overall

---
DVD Compare is a participant in the Amazon Services LLC Associates Program and the Amazon Europe S.a.r.l. Associates Programme, an affiliate advertising program designed to provide a means for sites to earn advertising fees by advertising and linking to amazon.co.uk, amazon.com, amazon.ca, amazon.fr, and amazon.de.