The Film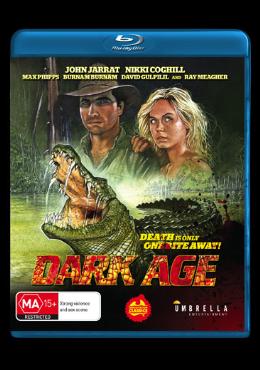 "Dark Age" (1987)

An extremely large saltwater crocodile is spotted in the Northern Territory town of Malparinga, and wildlife ranger Steve Harris (played by John Jarratt) is assigned to take care of the issue. Steve learns from Oondabund (played by Burnham Burnham the local elder that the creature is called "Numunwari" - a godlike creature to the people which must not be killed. As a conservationist and a humanist Steve respects the wishes of the aboriginal men but there are others that do not. As the large croc starts wreaking havoc by taking the lives of a few men and even a child in shallow waters, Steve's superiors and local poachers are set to try to kill the beast once and for all.

Only on Steve's side is his girlfriend Cathy (played by Nikki Coghill), Oondabund, and Oondabund's son Adjaral (played by David Gulpilil), but with men with guns coming from one end and a giant killer beast waiting somewhere, it's only a matter of time until the body count raises higher...

In 1975 when "Jaws" was unleashed to the world, the man vs nature suspense/horror film became the first film to ever gross more than $100 million and started the craze of summer blockbusters. From there on a new trend was born with Animals vs Humans. There have been killer bears ("Grizzly" (1976)), killer piranhas ("Piranha" (1978)), and an insane amount of killer shark movies from there on out. "Dark Age" took on genre with the Australian saltwater crocodile, utilizing a similar premise to the Spielberg shark film - a large beast terrorizes a town. A child gets eaten. Many people go after it and the body count rises. But the major difference with "Dark Age" is the fact that the main characters do NOT want to kill it. The godlike status of the crocodile to the Aboriginal people in the area is taken into account. Their culture had been around much longer than the white Australians and they have had a connection to the land than anyone else ever could. The wildlife ranger is also about conservation. Studying the animal, finding a habitat where it could be kept away from populated areas, and to respect the people and the environment, These are key issues that separate the film onto its own.

Based on the novel "Numunwari" by wildlife conservationist Grahame Webb, the film was directed by Arch Nicholson who had worked on various television documentaries and series, plus served as second unit director on the 1984 Animal vs Man film "Razorback", "Dark Age" was a fairly significant production in 1987. Producer Antony Ginnane stated that the film cost around $6 million to make, had funding from production companies in Australia as well as RKO Pictures in the United States, and in an unusual move an all-Australian cast. There were no random Hollywood stars or American characters thrown in and had everything set in Australia, shot in Australia. Much of the budget was spent on the mechanical crocodile and like Spielberg's "Jaws" prop, it barely worked when it was supposed to. Spielberg was able to cover up the technical problems by very careful editing techniques and by showing less, the tension and mystery increased. "Dark Age" followed the same rule and it works for the most part. Though in many scenes it is obviously a complete prop jaw locking down on a leg, some of the swimming scenes do look fairly convincing. It's rare to see a shot of the complete mechanical beast but when it is shown, it is obviously quite massive.

John Jarratt as Steve and his relationship with Nikki Coghill's character Cathy is also a portion that is interesting as he is not Mr. Superhero saving the land thinking about the people and environment. Their relationship has been rocky and his thought of not wanting to have kids and with her work helping the disadvantaged local children give their romantic edge and imperfect and unbalanced edge. How they play off each other and eventually find common ground is a significant part of the film's plot. David Gulpilil as Oondabund's son is a slightly underused character, but whenever Gulpilil is on screen he always has a significant presence that is unmistakable. It's been said that if any actor shares the same frame as David Gulpilil in a film, no one will be looking at that other actor, and that can easily be said about "Dark Age" as well. While watching for the first time, I thought the character of Oondabund didn't sound very native Aboriginal. I thought it was possibly because his character had a lot of explanation to say about the lore of the crocodile that it would be easier to be dubbed over by a more "standard" Australian accent. I was horribly mistaken! This was the first film appearance by Burnham Burnham and he was actually raised in the city, so he never had an Aboriginal rural accent. Instead on set he was coached on how to make some of his sentences more "authentic", but the city boy roots did remain!

The film hit some unexpected issues after completion. The Australian distributor suddenly closed its doors leaving the film in limbo in Australia. Internationally it was still released, including in the United States, Japan, Europe, and elsewhere. While producer Ginnane tried to buy back the Australian distribution rights the legal wrangling and costs made it out of reach, and the Australian made film went unreleased in its home country even though it was a minor cult hit abroad. When filmmaker Quentin Tarantino expressed that "Dark Age" was one of his favorite Australian films of the period, interest surged and eventually an Australian release was finally cemented. Umbrella Entertainment belatedly issued the film on home video for the first time in its home country in 2011 on DVD. The cult following continues to grow and Umbrella Entertainment decided to upgrade the film to Blu-ray in 2017. An absolute classic, the crocodile panic film that was once lost has gladly been returned to its proper home. Just like Numanwali. (Sorry for the spoiler!)

Note this is a region ALL Blu-ray which can be played back on any Blu-ray player worldwide

Video


Umbrella Entertainment presents the film in 1080p in the AVC MPEG-4 codec, in the 1.78:1 aspect ratio. The transfer source comes from the American release print with the Embassy Pictures logo attached to the start. Considering the spotty history the film had it's probably a miracle that a decent enough print was able to be used for the transfer to DVD and Blu-ray.The color reproduction is fairly good, with the browns and greens being the main colors of reference. It may seem a little dark at times and some of the night scenes are almost too dark with detail lost, but nothing too significant to stop enjoyment. There are no major damage marks to the image such as cuts and cigarette burns, though there are some specs here and there, again not at all distracting. The film was most likely projected at the 1.85:1 aspect ratio and I cannot be sure if this is a slightly opened or slightly matted transfer. Overall it is a very good transfer from Umbrella Entertainment.

The film is uncut and has a runtime of 90:30.

Audio


English Dolby Digital 2.0 stereo
English Dolby Digital 2.0 mono
There are two audio tracks on the Blu-ray - the original 2.0 stereo track and an additional mono track. The film was released with a Dolby Stereo mix and while it has been retained for the Blu-ray, it's unfortunate that the track is a standard Dolby Digital track rather than a fully lossless audio track. The track is lacking depth and some of the audio sounds a bit lacking in fidelity while could have benefited from a lossless track, especially with the memorable synthesizer score with traditional melodies. As for the positives the stereo separation is very good with the music taking advantage of the left and right channels, and dialogue being clear and easy to understand. There are no issues of audio damage, hisses, or pops in the track. The mono track is fair but clearly lacking the advantages of the stereo track.

The rear cover only mentioned "2.0 English" with a Dolby Digital logo, and does not mention that there are in fact two different Dolby audio mixes on the disc itself.

There are optional English HoH subtitles for the main feature in a white font. Well timed, easy to read, there were no issues of spelling or grammar to be mentioned.

Extras


Audio commentary with John Jarratt & Antony Ginnane
Recorded in 2011, actor John Jarratt and producer Antony Ginnane chat together and reminisce the making of the film and its release. They discuss the time spent in Cairns and Alice Springs for the shoot, the reasons behind the film not having a release in Australia for so many years, behind the scenes stories about the cast and the mostly non-working crocodile prop, and how the croc got the nickname of "Christ" during production. They are both highly entertained while talking and there is rarely a dull moment or any silence during the complete runtime. This commentary was previously released on the Umbrella Entertainment DVD edition.
in English Dolby Digital 2.0 ith no subtitles

Uncut "Not Quite Hollywood" Interviews with John Jarratt & Antony Ginnane (16:53)
Director Mark Hartley sat down with Jarratt and Ginnane separately for "Not Quite Hollywood" (2008) and when Jarratt was interviewed at the time, he starts by saying he had never seen the finished film, as it had no official Australian release at that time. Jarratt talks about working with the mechanical croc that failed on many attempts, awkward moments on set, and memories of the actors, while Ginnane discusses the financing and production aspect plus the unfortunate events surrounding the domestic non-release of the film.
in 1080i 60hz AVC MPEG-4, in 1.78:1, in English Dolby Digital 2.0 with no subtitles

"A Bicentenary with Bite: Revisiting Dark Age" Panel Discussion (24:15)
This roundtable discussion features fans and critics Emma Westwood, Alexandra Heller-Nicholas, Sally Christie, and Lee Gambin on the film. They talk about the film's themes, complicated history, as well as an extended conversation about 1987 - the Australian Bicentenary and the irony of Australia being "only" 200 years old. Some of the chat goes a little off topic as it was unexpected to hear about "Family Ties" in the same discussion as "Dark Age" but there it is!
in 1080p AVC MPEG-4, in 1.78:1, in English Dolby Digital 2.0 with no subtitles

"Living with Crocodiles" documentary (48:58)
This 1986 documentary on the conservation of crocodiles features Grahame Webb, the conservationist and writer of the novel "Numunwari". They speak of the near extinction of saltwater crocodiles in 1960s, how the crocodiles are being monitored and protected, and present a lot of fascinating footage. One thing that "Dark Age" never showed due to obvious technical issues was that saltwater crocodiles are insanely fast on land! The video tape sourced transfer is pretty weak in image and sound, though still watchable and understandable.
in 1080p AVC MPEG-4, in 1.78:1, in English Dolby Digital 2.0 with no subtitles

Image Gallery (18:03)
Artwork from the "Numunwaari" novel by Grahame Webb, press release materials, extensive production notes, a shooting script excerpt, posters and home video artwork from around the world, and stills from the set are provided. A 62 page running slideshow, sections can be skipped with the chapter button, though some of the early chapters seem to be very quick compared to the later stills. There is no music accompaniment.
in 1080p AVC MPEG-4, in 1.78:1

Theatrical Trailer (2:03)
I assume this is the American trailer as it carries the Embassy Pictures logo, though there is no MPAA rating attached to the start. The picture quality in the trailer is quite good, though the stereo separation seems to be a little skewed to the left.
in 1080p AVC MPEG-4, in 1.78:1, in English Dolby Digital 2.0 with no subtitles

US Home Video Trailer 1 (1:41)
Featuring American English narration, this video trailer is very weak in picture quality seemingly looking and sounding like a YouTube rip of a VHS sourced trailer.
in 1080p AVC MPEG-4, in 1.33:1, in English Dolby Digital 2.0 with no subtitles

US Home Video Trailer 2 (2:02)
This one certainly looks like it came from a VHS source directly, with a bit better color than the previous trailer. It is edited differently and features different narration.
in 1080p AVC MPEG-4, in 1.33:1, in English Dolby Digital 2.0 with no subtitles



Packaging


The rear cover mentions the disc is region B only, though it is in fact a region ALL disc. Also as stated before, the packaging also does not mention that there are both stereo and mono audio tracks for the film available.

The cover is reversible with the opposite side having alternate coverart without the Australian logo and some other cosmetic differences. The handdrawn artwork featuring the croc and John Jarratt and Nikki Coghill is still used.

Overall


"Dark Age" is an absolute cult classic with its horror elements, exotic settings, nasty villains, plus great social issues on conservation and culture. It may have been unfortunate that Australians themselves could not see the film for so many years, but with Umbrella Entertainment finally releasing it more than 20 years later officially, then on DVD and now Blu-ray, fans can rejoice and new fans can be made. Umbrella Entertainment's release has good image and fair audio with great extras. Take a bite if you haven't already. Very recommended.
| | | | | |
| --- | --- | --- | --- | --- |
| The Film: B+ | Video: B | Audio: C+ | Extras: B+ | Overall: B |