The Adventurers [Blu-ray]
Blu-ray A - America - Well Go USA
Review written by and copyright: Eric Cotenas (14th January 2018).
The Film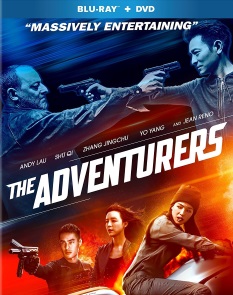 No sooner is Zhang Dan (Infernal Affairs' Andy Lau) released from a five year prison stint in Paris than he is dogged by French detective Pierre (Leon: The Professional's Jean Reno) who arrested him for stealing a necklace called The Eye of the Forest – which contains one of three jewels belonging to an ancient Chinese emperor which had been smuggled out of the country centuries before – which was never recovered. Although Zhang does not know of the jewel's whereabouts since it was stolen off of him before his arrest, Pierre's suspicions that Zhang has not retired prove accurate when he jets off to Cannes where socialite Tingting (Tianyi You) is auctioning off another of the jewels in the necklace Wings of Destiny. Pierre is unable to prevent Zhang – assisted by hacker Po Chen (My War's Tony Yo-ning Yang) and recruited solo thief Red Ye (The Transporter's Qi Shu) – from stealing Wings of Destiny, so he recruits Zhang's ex-lover Amber Li (Mission: Impossible – Rogue Nation's Jingchu Zhang) whose professional knowledge he exploited to steal The Eye of the Forest. Zhang turns Wings of Destiny over to his mentor Kong (Eric Tsang) in exchange for answers about who stole The Eye of the Forest off of him and who tipped off the police about him: respectively, a Russian thief who Kong had killed when he would not divulge the location of the jewel, and Amber whose betrayal Zhang fully understands. With those anticlimactic observations, Zhang is determined to retire but agrees to one final heist for Kong: stealing the final jewel The Rope of Life off of wealthy vintner Charlie Luo (The Last Supper's Yi Sha) who lives in a castle in Prague. Pierre and Amber are not far behind the trio of thieves but finds Law relatively unconcerned, telling them that the thieves are entitled to the jewel if they can break through his state-of-the-art security system. Red is able to gather intel on the security system by catching Luo's eye as a sexy wine critic who interviews him and snags an invitation to the sort of grand birthday party celebration at the castle that makes an ideal backdrop for a heist. As Zhang, Po, and Red infiltrate the castle and its security system from different points of access, Pierre and Amber may not be the only parties trying to foil or aid the robbery since the mysterious current owner of the The Eye of the Forest is looking to unite all three of the jewels together for a lucrative sale.

Loud, dumb, overblown, and utterly predictable from start to finish, The Adventurers is a virtual remake of John Woo's Once a Thief by people who must have regarded the Now You See Me films as masterpieces. The globe-hopping through picturesque backdrops has lost some of the thrill after decades of Bond pictures and heist flicks, and seems more so cheapened by drone aerial shots, while the motion control long-take shots of the thieves' sleight of hand donning and shedding of disguises while simultaneously lifting ID cards and invitations off passersby is equally tired. Characterization is paper thin with the "chemistry" between the two lead couples supported more by the film's score than by performances, and the script so contrived that Reno's seasoned detective is required to be ridiculously inept when convenient while Zhang to always be surprised and thrown off when Pierre turns up in the middle of a heist. The twists and double-crosses are just as predictable as are the twists and turns of the action set-pieces from the car chases to any attempt to garner suspense as one is supposed to wonder whether Pierre and company will catch one of the thieves in the act or if they will manage to evade discovery milliseconds before they arrive. Performances are most stilted from all concerned when they are speaking English, which is all the time in the case of Reno who has rarely been so downright awful. The use of a Linkin Park song over the end credits speaks to the mainstream Hollywood ambitions of actor-turned-director Stephen Fung (Tai Chi Hero).

Video


Photographed with the Red Epic Dragon camera, Well Go USA's 1080p24 MPEG-4 AVC 2.40:1 Blu-ray of The Adventurers looks spectacular as expected with vibrant colors and good detail in the live action elements of locations, sets, costumes, hair, and skin as well as the passable to very good CGI effects.

Audio


Audio options include a DTS:X track that makes this loud and dumb film sound its best with plenty of directional effects as cars and motorcycles zip across the screen (along with security lasers) while parachuting characters and bullets swoop down from overhead. A Dolby Digital 2.0 track is also provided. The sole English subtitle track translates Mandarin and Russian dialogue and trascribes all of the heavily-accented English dialogue.

Extras


As with most Well Go releases, extras are confined to short EPK making-of featurettes, the three here devoted to the trio of leads and their characters - "Andy Liu and Zhang Dan" (2:53), "Shu Qi and Red Ye" (2:23), and "Yo Ying and Chen Xiao-Po" (2:31) - along with the film's trailer (1:32) and trailers for three other titles that also appear as start-up trailers.

Overall


Loud, dumb, overblown, and utterly predictable from start to finish, The Adventurers is a virtual remake of Once a Thief by people who must have regarded the Now You See Me films as masterpieces.

---
DVD Compare is a participant in the Amazon Services LLC Associates Program and the Amazon Europe S.a.r.l. Associates Programme, an affiliate advertising program designed to provide a means for sites to earn advertising fees by advertising and linking to amazon.co.uk, amazon.com, amazon.ca, amazon.fr, and amazon.de.