The Cremator [Blu-ray]
Blu-ray ALL - United Kingdom - Second Run
Review written by and copyright: Eric Cotenas (14th January 2018).
The Film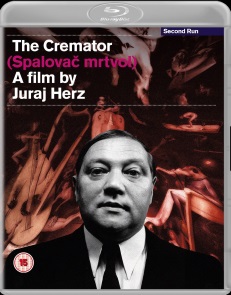 Viewed in some circles as a black comedy, The Cremator is surreal and at times absurd but is really quite chilling and horrific in the way the psychosis of the eponymous character – already quite unnerving from the start – blossoms in this historical setting of Czechoslovakia 1937. Cremator Karol Kopfrkingl (The Mysterious Castle in the Carpathians' Rudolf Hrusínský) takes immense pride in his work. Not only has it allowed him to fill his home with beautiful paintings and music – particularly with the upswing in business with German soldiers at the border – he has also reconciled his duties with his religious beliefs, both Christian ("God did well when He said to man: 'Dust thou art, and unto dust shalt thou return.' Such a crematorium, dear friends is good and pleasing to God. It helps the Lord to speed man's transformation to dust") and his fascination with Buddhism in that effecting man's transformation into dust and releasing the soul "into the ether" hastens reincarnation into another form (his interest in reincarnation as seemingly providing another opportunity to die). Such is his apparent love for his wife Maria (Sekal Has to Die's Vlasta Chramostová) and his children Zina (The Deserter and the Nomads' Jana Stehnová) and Mili (Milos Vognic) that he believes they are deserving of more luxuries; or perhaps he is envious of war buddy Walter Reinkle (Witchhammer's Ilja Prachar) who has come from Austria with his glamorous wife (Zora Bozinová) to recruit people of pure German blood into "the party." Having drummed up some business by badgering ailing widower Strauss (Amadeus' Jirí Lír) to become an agent on commission distributing leaflets advertising the virtues of cremation along with his sweets, Kopfrkingl and his wife also host parties in which he expounds upon his craft to a captive audience with the same morbid glee with which he introduces apprentice Dvorák (Closely Watched Trains's Jirí Menzel) to the inner workings of his "Temple of Death." As news of the Germans crossing the borders travels through the town and the party establishes itself among the middle-class, Kopfrkingl insists that German be spoken in the home and that son Mili - whose "effeminite" nature he fears is due to Maria's "bad influence" - sever his association with the nephew of family doctor Bettleheim (The Fabulous Baron Munchausen's Eduard Kohout). Kopfrkingl's initiation into the party is a test in which he attends the Chevra Kadisha Seudah at the Jewish town hall in order to report back on anti-German sentiment among the town's Jewish population. Already living the banal double life of respectable bourgeois civil servant by day and whoremonger by night, Kopfrkingl's inner world is fractured by fantasies melding sex and death; fantasies that the advantages of being in the party allow him to realize. Likening Reinkle's description of Jews as a "misguided nation, beyond re-education" to the ailing for which "premature death can be a great blessing if it frees one from suffering," Kopfrkingl in his own self-interest denounces those to the party who are Jewish, anti-German, or "influenced": among them his boss, distasteful co-workers, the cleaning girl who rejected his advances, and innocents premature death he might not otherwise have been able to effect. When Reinkle tells Kopfrkingl that his own wife is half-Jewish and his children quarter-Jewish and they will have "many problems," Reinkle devises his own personal "final solution" that paves the way for him to become technical supervisor of the "gas furnaces of the future."

Video


Released in the UK in 1971 by Contemporary Films, The Cremator made its English-friendly digital debut in the UK on DVD from Second Run in 2006 - also available in the 3-disc The Czechoslovak New Wave - A Collection - and in the US from Dark Sky Films. Second Run's 1080p24 MPEG-4 AVC 1.66:1 widescreen Blu-ray is much sharper than the earlier transfers with an enhanced sense of depth and detail in its distorted and invasive close-ups as well as long shots. Damage remains but it is never off-putting.

Audio


The LPCM 2.0 mono track is clean, boasting clear dialogue (with Hrusínský's incisive delivery guaranteed to get under your skin) and highlighting the scoring of Zdenek Liska (Marketa Lazarová). The newly-translated optional English subtitles are free of any noticeable errors.

Extras


Second Run's Blu-ray carries over their DVD introduction by the Quay Brothers (12:21) in which the filmmakers reveal that the film did not influenced their work but they wish it had because they had only come to know of it four years previous. They discuss the early career of director Juraj Herz (Darkness) as pupeteer and describe the film as "visual morphine" and its star Hrusínský as Herz's "uber-puppet." New to the relase is an audio commentary by Kat Ellinger of Diabolique Magazine and the podcasts Daughters of Darkness and Hell's Belles in which she discusses the Gothic aspects of the plot - particularly the duality of Kopfrkingl who fantasies encounters with a Buddisht himself who addresses him by the Tibetan honorific Rinpoche and the casting of Chramostová as both his wife and his favorite prostitute Dagmar - as well as the period in which the film was made of relaxed censorship just before the Prague Spring. She also fotunately takes it upon herself to give us a primer on Herz since much of his work is undistributed and little-known in English-speaking countries apart from The Cremator and his more overt gothic Morgiana (available on DVD from Second Run), covering his work prior to directing on other notable Czech films like Transport from Paradise and The Shop on the High Street.

The Projection Booth Podcast with Mike White and Samm Deighan (99:55) - the latter Ellinger's podcast partner on Diabolique's Daughters of Darkness podcast - plays over the film but is only selectable from the extras menu and not with your remote's audio button which does allow toggling between the film soundtrack and the Ellinger commentary when the film is played from the main menu or chapter menu. They also look at the gothic aspects of the film, parallels not only with Closely Watched Trains but of more current and western political situations, and analyze the character of Kopfrkingl and the contrast between his philosophy on death and his willingness to have his political outlook influenced and change. Also included is Herz's debut short "The Junk Shop" (31:37) from 1965 based on the story by Bohumil Hrabal (I Served the King of England) and a 16-page booklet with an essay by Daniel Bird which discusses the source novel of Ladislav Fuks (who adapted the script with Herz) and makes a case for the view of the film as black comedy.

Overall




---
DVD Compare is a participant in the Amazon Services LLC Associates Program and the Amazon Europe S.a.r.l. Associates Programme, an affiliate advertising program designed to provide a means for sites to earn advertising fees by advertising and linking to amazon.co.uk, amazon.com, amazon.ca, amazon.fr, and amazon.de.