The Film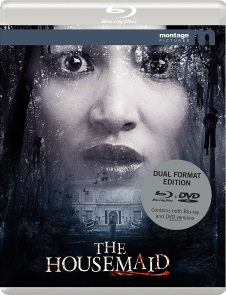 The setting is Vietnam 1953. As Vietnam fights for independence from the occupying French, Captain Sebastien Laurent (Passengers' Jean-Michel Richaud) is the latest victim of a string of mysterious murders at his family's once-thriving rubber plantation Sa-Cat. The only other people present in the old mansion were the cook Mrs. Ngo (Phi Phung) and young housemaid Linh (Hollow's Kate Nhung). As she is questioned by police officers Guy (Leon Bown) and Bao (Lost in Paradise's Linh Son Nguyen), Linh recalls how she came to Sa-Cat from her village forty kilometers in the rain on foot in search of a job. The head of the household Mrs. Han (Passport to Love's Kim Xuan) agrees to hire her on a trial basis. At night, strange cries and other noises disturb the young woman who is told by Ngo that hundreds of workers were once lured to the plantation with the promise of high wages only to be starved, tortured, and killed when they resisted their brutal treatment at the hands of their overseers. Their bodies are said to be buried underneath and fertilizing the rubber trees. She also tells Linh of Sebastien's wife Madame Camille (Svitlana Kovalenko) who hated the Vietnamese and went mad while Sebastien was away at war, drowning their infant son in his basin and then herself in the lake. Once a plantation overseer, caretaker Mr. Chau (Kien An) takes more obvious pleasure in terrifying Linh with stories of the mansion's past. Sebastien returns to the property dramatically, having been shot but managing to drive back to the plantation. Mrs. Han forbids Ngo's use of Eastern medicine to heal the wounded Sebastien, but she must put Linh in charge when she travels to Saigon to attend to her mother; and Linh is unable to stop Ngo from treating Sebastien when he gets worse. During the treatment which involves an invocation, Linh believes that she sees the apparition of Madame Camille. Staying at Sebastien's bedside as he recovers, Linh strikes up a friendship with him since she is able to speak French and interpret for him with the Mrs. Ngo and Mr. Chau. Upon Mrs. Han's return, she becomes concerned about the closeness between Linh and Sebastien, and they get even closer when Mrs. Han, Mrs. Ngo, and Mr. Chau leave for the New Year to visit family. Soon after they begin their affair, Sebastien's fiancée Madeleine (Heist's Rosie Fellner) arrives from Paris without notice and also suspects an impropriety between her fiancé and her soon-to-be-personal maid; but the ghost of Camille seems determined to keep her husband and starts targeting anyone who might interfere.

Not to be confused with the well-known Korean melodrama Hanyo – also titled The Housemaid in English-speaking territories – or its 2010 remake, The Housemaid mixes a bit of Jane Eyre in with what is ultimately a yet another run-of-the-mill Asian horror film only distinguished by the period setting (although Vietnamese rebels possibly commiting the murders is never broached with any degree of conviction). Although the cast is largely Vietnamese and French, the film's dialogue is in Vietnamese and English (presumably meant to stand in for French), but Nhung and Richaud (who has plenty of credits on American television) are relatively engaging in English within the confines of the script's shallow plotting and characterization. Although the twists of the plot ultimately do cleverly explain why the ghosts of Vietnamese slaves might haunt in concert with Madame Camille who hated them, the film wants to have it both ways with both a logical and supernatural explanation heavily depicted with overly revelatory flashbacks of what could have been more effectively and ambiguously conveyed by the film's final line of dialogue. The handsome photography, CGI ghost effects, aggressive color grading, and active surround sound mix simply prove that the Vietnamese are just as capable as the Chinese, Japanese, and Koreans at putting together an identikit slick Asian horror film.

Video


Eureka Video offshoot Montage Pictures presents the film in a dual-layer 1080p24 MPEG-4 AVC 2.40:1 widescreen encode with deep blacks, sharp detail, and occasionally vivid colors in the wardrobe and decor that stand out from the muted color palette of decay in grey stone, dirt, and plantation greenery.

Audio


The Vietnamese/English soundtrack is offered up in a typically active DTS-HD Master Audio 5.1 mix with much directional effects and atmosphere as spectral figures rush across the frame in the foreground, furniture is supernaturally tossed around, and ghostly voices wail in the night. An LPCM 2.0 downmix is also provided. The optional English subtitles are free of any glaring errors.

Extras


There are no extras part from the film's theatrical trailer (1:39).

Overall


Although handsomely photographed with proficient CGI ghost effects, and an active surround sound mix, The Housemaid simply prove that the Vietnamese are just as capable as their neighbors at putting together an identikit slick Asian horror film.