Brackenmore
R0 - America - MVD Visual
Review written by and copyright: Eric Cotenas (30th January 2018).
The Film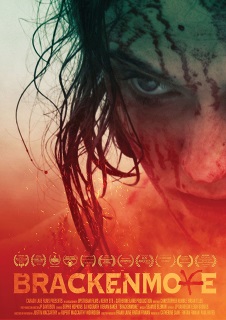 Having suffered from violent nightmares even before the one that caused the car crash that claimed the lives of her parents and her little brother, Kate Reynolds (Class' Sophie Hopkins) has started having them again since she received word that an uncle that she never knew left her his cottage on an island off the coast of Ireland. Leaving London and her strained relations with partner Steven (Kieran Baker) behind, she travels to Brackenmore and takes a room at the guest house of Irene (Margaret O'Sullivan) and settles in despite being interrogated by Irene's husband as to why she is there and how long she plans to stay. Solicitor Kelly (Aidan O'Shea) seems unprepared for her visit, unable to tell her much more about his late client other than her uncle's death by suicide; and even handsome Tom (Philomena's D.J. McGrath) is vague in his recollections of the man who took him in when he was orphaned. Kate finds her uncle's house virtually derelict but is disturbed to discover photographs of herself as a child that suggest that grew up there and was not taken to the city shortly after her birth. Tom tries to cheer her up by taking her to the local festival at the lake: a vaguely pagan rite of bonfires and torch-wielding hooded figures in death masks in which she loosens up by smoking the local root. Returning to her room at the guest house, she is attacked by one of the masked men and stabs him to death. Police Captain Gerrit (Michael Morriarty) treats Kate more like a suspect than a victim, and she discovers that her car has been vandalized the next day. It is only when she is desperate to leave that things seem to conspire to keep her there, from Kelly's property paperwork to Irene and her husband disappearing when she tries to retrieve her belongings from the guest house. As hooded cultists converge on her uncle's house, are they going to wreak vengeance upon her for the death of one of their own or something far more sinister involving the island's ancient traditions?

A completely Irish-made example of the resurgence of the subgenre of British "folk horror," Brackenmore is a most unfortunately failure, offering up nothing more novel than a vague reworking of The Wicker Man with a not-too-surprising twist. It is well-acted, the locations are striking, and the cinematography and special effects are of a professional standard, but that is all it has in its favor. Running a slim seventy-odd minutes, the film is too sedately-paced for its own good and its creep factor too generic from the hooded and masked cultists to an annoying lack of even tantalizing hints of detail about the local traditions other than the usual vague fertility rites requiring a sacrifice. Every development is predictable, including the arrival of the heroine's partner to provide another potential victim. At best, Brackenmore is a reasonably atmospheric timewaster that squanders its actors and production value on an underdeveloped script.

Video


MVD's single-layer progressive, anamorphic encode handles much of the film acceptably from night exteriors, low-light day interiors, and overcast exteriors, but the opening and closing credits look much softer and the tiny credits lettering looking blocky and completely unreadable.

Audio


The sole audio option is an English LPCM 2.0 stereo track that gets the job done with a not particularly demanding or creative sound design. There are no subtitles or captions.

Extras


There are no extras.

Overall


At best, Brackenmore is a reasonably atmospheric timewaster that squanders its actors and production value on an underdeveloped script.

---
DVD Compare is a participant in the Amazon Services LLC Associates Program and the Amazon Europe S.a.r.l. Associates Programme, an affiliate advertising program designed to provide a means for sites to earn advertising fees by advertising and linking to amazon.co.uk, amazon.com, amazon.ca, amazon.fr, and amazon.de.