The Film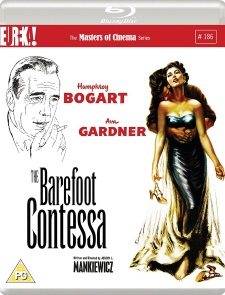 Just a short three years after starlet Maria D'Amata (Night of the Iguana's Ava Gardner) captivated the world with a trio of blockbuster motion pictures she was dead and being buried in at a nondescript funeral service in a cemetery in the Italian countryside of a village she had never heard of just three months ago with a statue to mark the spot. What the rest of the world never knew was that before she was Maria D'Amata the actress, she was Maria Vargas, a nightclub dancer in Spain. No one ever really knew her entirely, but some tried, including writer/director Harry Dawes (The Big Sleep's Humphrey Bogart) who recalls when the trip to Madrid in the party of Texas magnate Kirk Edwards (Forbidden Planet's Warren Stevens) in search of a fresh face to launch his independent Hollywood venture. Then a falling-down drunk who had burned nearly all of his bridges in Tinseltown, Harry tries to pretend that he still has his integrity by needling solicitous public relations man Oscar Muldoon (The Wild Bunch's Edmond O'Brien) and current arm candy Myrna (This Woman is Dangerous's Mari Aldon) who are both so afraid to put a foot wrong before Edwards whose casting by Harry as a Mephistophelian soul dealer offends his pious sensibilities. When they are told by the maître d' that Maria does not mix with her audience and does not make an exception for such illustrious company as Edwards, and subsequently turns down Oscar when he visits her room to sweet-talk her, Harry sees in Maria someone who refuses to be bought (like he claims himself to be) and warns her off meeting with Edwards. Intrigued more so by Harry than by Edwards, Maria meets with them but is put off by Edwards' domineering manner in the form of the silent puppeteering of Oscar. Threatening not only to cancel Harry's picture but to permanently ruin him, Edwards tasks Harry with going after Maria and bringing her to Rome for a screen test. The violent resistance of Maria's mother (Il Bidone's Maria Zanoli) more so than anything Harry says motivates Maria to set sail for Hollywood, and Harry insures that Maria's raw talent will not be buried by Edwards should she defy him by going over Oscar's head and inviting a trio of producers – French (Elena and Her Men's Jim Gérald), British J. Montague Brown(Eye of the Needle's Bill Fraser), and American Max Black (Julius Caesar's John Parrish) – to the screening to see her star power while also placating Edwards by leaving them under the impression that Maria is under exclusive contract to Edwards even though he has made sure that she has signed no such agreement. As the cliché goes, "the rest is history" with the PR machine making Maria a star and guaranteeing that Harry's film is a hit before it screens. A rehabilitated Harry finds marital bliss with script girl Jerry (The Mummy's Shroud's Elizabeth Sellars) and success with two more Maria D'Amata pictures. Maria's story continues through the recollections of Oscar who wrested himself away from Edwards' hold at the same time as Maria when Edwards figuratively locked horns with wastrel Señor Alberto Bravano (The Red Shoes' Marius Goring), one of the richest men in South America, who topples Edwards because he is able to admit to being all the things that the former hypocritically denies. Although Maria goes from being Edwards' "chief asset" to travels the world as Bravano's personal guest, she surrenders no more to Bravano than to Edwards; however, Oscar has the PR savvy to know that Bravano regards it as more important for the world to think Maria was his girl "as long as he got the credit for it." Oscar's narration similarly Bravano's presence at Maria's funeral as another PR move ("If people see the biggest rat in the world walk with his hat off behind a casket, he becomes a lovable codger. Bravano practically climbed into the coffin to be sure they took his picture"). The last time Oscar saw Maria was in Monte Carlo among the international set when Cinderella finally met her prince: the Count Vincenzo Torlato-Favrini (South Pacific's Rossano Brazzi) who gallantly steps in and defends her honor against an attack from Bravano. Whisking her away to his medieval family estate, Vincenzo attempts to seduce her more so with the family legacy and Maria starts to believe that one day she really could realize her "dream of one day being a fine lady." Harry is unable to articulate his misgivings about their union, only able to vaguely warn Vincenzo that Maria really does see herself as Cinderella and may be devastated when reality does not live up to fairy tale. Vincenzo's spinster sister Eleonora (Day for Night's Valentina Cortese), on the other hand, warns her brother that Maria is in love with him and has no way of knowing that she is to be the legacy of a dead family line: the last countess of Torlato-Favrini.


Less structurally intricate than his brother Herman J. Mankiewicz's screenplay for Citizen Kane, writer/director Joseph L. Mankiewicz's The Barefoot Contessa is in some ways more complex if equally accomplished as it makes a cipher out of Maria through the warring impulses within those who try to know her. Just as Maria is tugged between the fairy tale ideal and belonging "in the dirt of the streets" where she feels safe, Harry may have hit rock bottom and sold his soul to Edwards; yet he still wants to create as much as he wants to warn Maria away from losing her own soul. Oscar's perspective of Maria changes from cynicism to admiration as he moves from under Edwards' thumb to that of Bravano; but he is prevented from really knowing her by his constant need to smooth things over between her and her host and his fear of falling out of favor with his employer. While the Torlato-Favrini siblings' discussion of being the last of the line adds a sense of the gothic to the film, and Eleonora likens her inability to have children to her brother's but never goes so far as to suggest it is a curse, Vincenzo feels that the aristocracy has outlived their usefulness yet his desire to leave something behind prevents him from seeing Maria as anything more than the princess (or countess) that he and she thinks she wants to be. Tragedy results from Vincenzo confessing the truth of his physical situation and Maria misunderstanding Vincenzo's desires and believing that she can rectify her own betrayal as a means of making him happy in an aborted twist that brings to mind Lady Chatterley's Lover. While none of the men in Maria's life may ever have really known her, their attempts to understand her leave them for the better with the messiness of her life giving foundation to Harry's blasé assertion that life is not like the movies, Oscar realizing just deeply he has mired himself in his own cynicism to serve such vile masters, and Vincenzo realizing too late that he could have had something of more substance than a physical representation of his family line. Shot in Italy – with Lazio and San Remo standing in for Spain and the French Riviera – at Cinecittà Studios in Technicolor by the great Jack Cardiff (Black Narcissus), the film also provides as much a showcase for Mankiewicz's mastery of visual language as for his words. The displays of Maria's talent all occur offscreen as the camera emphasizes the spectators, from the leering men and long-suffering women in the Madrid nightclub and the covetous producers at the screen test to the fawning public pointed to the latest object of adoration by press men and flashbulbs. While scenes repeated from the perspective of another character unfold from a different camera angle with much of the dialogue elided by framing narration, the trial of Maria's father is the standout sequence in which Oscar's monologue – for which he justifiably won an Oscar – that makes the case for just how Maria could give the performance of her career without intending to do so, casting aside concerns about her public image and putting the sacredness of motherhood on trial for her version of the truth; and indeed the latter might have been conjectured by Edwards as another act of defiance however inadvertent.

Video


Although the original aspect ratio was 1.75:1, the US and UK DVDs from MGM were presented unmatted. Although the limited edition Twilight Time and Eureka Blu-rays obviously required a new high definition master for their source, it is obvious that the 1080p24 MPEG-4 AVC 1.85:1 widescreen presentations do not come from a photochemical or extenstive digital restoration. Colors are generally rich but highlights in some sequences are sickly pink (which admittedly does lend a touch of the infernal to one of O'Brien's monologues) while the bright skies can lean towards the green, and the effect on skintones is also not helped by the pancake make-up on the actors. The film looks at its best during the Italian sequences, both exteriors and studio interiors.

Audio


The Barefoot Contessa was released to theatrers in both Perspecta Stereo and mono mixes; the latter mix not really stereo as we know it but a mono mix that utilizes tones to move the single track back and forth between three channels as sounds and dialogue moved from the across the screen with the audio only occupying one channel at a time. While Twilight Time included a recreation of the Perspecta track in DTS-HD Master Audio 3.0 as well as 5.1 and 2.0 mono tracks, Eureka has included the DTS-HD Master Audio 5.1 track while the LPCM 2.0 track is labeled stereo in the menu and but is mono. The loss of the Perspecta track is unfortunate but the 2.0 is involving and the 5.1 faithful to the original mix. Optional English HoH subtitles are also included.

Extras


Eureka ports over Twilight Time's audio commentary with film historians Julie Kirgo and David Del Valle in which both not only have a lot to contribute but strike up a nice rapport in doing so. In addition to comparing the film to Citizen Kane scripted by Mankiewicz's brother, they also cite similarities to All About Eve and A Letter to Three Wives. They note audience disppointment in Bogart's casting not as a romantic lead but as Mankiewicz's surrogate, likening Gardner to her character as a woman who believed in pleasure rather than love (and for whom her relationship with Frank Sinatra was a source of much pain), the daring to put motherhood on trial as well as the representations of the male gaze and sexuality in the film. Most interesting is the discussion that stems from Kirgo's observation of Mankiewicz the director warring with Mankiewicz the writer through the film's use of narration and its visual language. The disc also includes the film's theatrical trailer (1:52). Not included for review is the enclosed collector's booklet featuring a new essay by Glenn Kenny and rare archival material.

Overall


Less structurally intricate than director Joseph Mankiewicz's brother Herman's screenplay for Citizen Kane, The Barefoot Contessa is in some ways more complex if equally accomplished a work.