The Film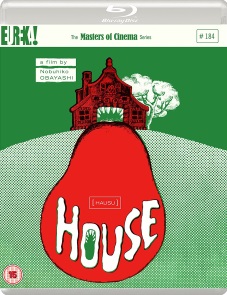 While her friends are looking forward to spending the summer holidays by the seaside, Angel (The Man Who Stole the Sun's Kimiko Ikegami) is planning to spend time at her family's villa with her beloved composer father (novelist Saho Sasazawa) who has just returned from Italy. When her father introduces beautiful RyŰko (The Stairway to the Distant Past's Haruko Wanibuchi) Ė whose scarf is billowed by an offscreen wind machine in every shot Ė and announces that she will be her new stepmother, jealous Angel flees to her room and seeks comfort in memories and photographs of her mother who died eight years previous. When handsome teacher Mr. TŰgŰ (His Motorbike, Her Island's Kiyohiko Ozaki) announces to Angel's six friends Ė athletic Kung Fu (Miki Jinbo), imaginative Fantasy (Kumiko Oba), studious Prof (Shogun's Ai Matsubara), musical Melody (Eriko Tanaka), obliging Sweetie (Masayo Miyako), and always hungry Mac (Mieko SatŰ) Ė that they cannot stay at his sister's seaside guesthouse because of her pregnancy, Angel invites them to come with her to her aunt's home in the countryside where her mother grew up. Writing to her aunt apologetically about imposing the invitation upon her, she is answered not with a letter but with the arrival of a mysterious white cat she names Snowy who is revealed upon arrival at the remote and imposing hilltop mansion to be the pet of wheelchair-bound Auntie (Voice Without a Shadow's YŰko Minamida). Auntie, who remained a spinster when her fiancť did not return from the war and never left the house, is overjoyed at their presence and seems to get younger and more nimble as the girls start to literally disappear into the woodwork of the hungry House.

Horror films about haunted houses are nothing novel for the studio Toho, but the feature debut of TV commercial director Nobuhiko 'bayashi (The Visitor in the Eye) is something else entirely: like a feature-length episode of Scooby Doo, Where Are You! on acid. Beneath the Freudian notions of a sexually-repressed elder's domicile consuming girls on the cusp of womanhood and the visually audacious ways in which this happens, there is actually quite an interesting logic at work. The girls given nicknames define their key traits right away, but it is also these key traits that determine the nature of their attacks and how long they survive; for instance, Fantasy's vivid imagination may indeed be allowing the forces in the house to haunt her in such bizarre ways while also terrorizing her by having her witness some of the deaths of her friends, Sweetie's fearful nature has her subjected to the most "conventional" attack as futons wreak telekinetic activity, while not only Angel's blood ties but also her nascent vanity (in the form of her fascination with her resemblance to her mother when she was young) allows her to be mesmerized into her aunt's inner world. A veteran of over two thousand television commercials that gave him ample opportunity to experiment with optical effects and animation, with Toho's effects artists and equipment at his disposal, 'bayashi utilizes traditional Toho cyclorama cloudscapes, matte paintings, and miniatures as a backdrop to far more aggressive techniques. Angel's description of her aunt's tragic past takes the form of a projected silent film of which the other girls can apparently also see as they poke fun and make comments about the imagery, silent film-type iris close-ups are not cut into a scene but superimposed over the master shot, the sequence in which the machinations of cat Snowy prevent TŰgŰ from joining the girls as they embark to the countryside is a stylized musical sequence with sprawling camera movements with undercranking used to humorous effect, stop motion is used in a few shots of inanimate objects come to life, while the disembodied limbs of the girls as they terrorize others utilize collage animation. That all of this could be so easily and quickly done digitally now reveals just how impressive an achievement the film still is and the monumental amount of preparation that must have gone into each shot. Asei Kobayashi (Belladonna of Sadness) provides the underscore, ranging from lyrical melodies and leitmotifs for the characters to some prog rock pieces for suspense and horror sequences while the band Godiego provide some memorable original songs, including the English-language "Cherries Were Made for Eating" and the "Love Theme" underscoring the final scene that puts a new spin on the notion that the spirit lives on in the hearts of others long after the flesh has perished.

Video


Given limited theatrical release in the United States by Toho's own theaters, House received its first DVD release in Germany in 2006 through Rapid Eye Movies but that edition was not English-friendly. The first English-friendly edition came out in the UK from Eureka at the beginning of 2010 as the ninety-third title of their "Masters of Cinema" line. That Region 2 NTSC DVD utilized an existing anamorphic broadcast master framed at 1.55:1 and included ninety minutes of archival interviews. In October 2010, however, Criterion came through with a Blu-ray edition (and separate DVD) derived from a brand new HD master of low-contrast print struck from the original camera negative that was framed in the original 1.33:1 aspect ratio and was also brighter, removing the green tinge that most noticeably diluted the whites of the film's costumes from school uniforms to a traditional wedding dress. Eureka's new 1080p24 MPEG-4 AVC 1.33:1 pillarboxed fullscreen Blu-ray Ė number one-eighty-four in the Masters of Cinema line Ė is derived from the same master and appears virtually identical, making it an ideal upgrade from their own DVD for Region B-locked fans of the film.

Audio


The LPCM 2.0 mono Japanese track is subject to the limitations of the period but clean with dialogue (shrill and otherwise), the film's wacky sound design, and the music coming through effectively. There are some differences between the optional English subtitle track and that of the Criterion where Angel was called "Gorgeous" and Snowy was known as "Blanche".

Extras


Extras start off with the same archival interviews (89:09) created by 'bayashi himself for the film's twenty-fifth anniversary in 2002 and playable together or separately as on the DVD edition. In "Nobuhiko 'bayashi: Beginnings" (17:04), the director recalls how revolutionary it was to be an outsider directing a film at Toho Ė in contrast to Akira Kurosawa or YasujirŰ Ozu who he likens to employees who were nevertheless working in genres however personal their films Ė having built up a body of work independently as a director of commercials (among them the infamous Mandom after shave commercials starring Charles Bronson). In "Nobuhiko 'bayashi: Pitch" (7:33) he recalls meeting with studio executives who wanted him to pitch to them something along the lines of Jaws substituting the man-eating animal. Not particularly interested in the concept, he asked his thirteen-year-old daughter Chigumi and, with her, originated some of the basic concepts and imagery which he took to female screenwriter Chiho Katsura (Irezumi). In "Chigumi & Nobuhiko 'bayashi: Script" (15:25), father and daughter discuss the origins of the script in her fear of being eaten by her own reflection, conflicts with her piano teacher and the feeling that the keys were biting her fingers, and the resemblance of a watermelon to a human head among other imagery. 'bayashi reads the preface from the published script in which he states that this is not a traditional Japanese horror film but one intended to be relevant to the fears of modern girls. In "Nobuhiko 'bayashi: Pre-release" (15:33) discusses how he went about drumming up a fanbase for the project long before production with a poster image, bumper stickers, a novelization (usually commissioned by Toho after a film was shot), among other things that would have been costly for the studio, and in "Shoho Tomiyama: Publicity" (3:34), the studio's promotional executive humbly credits 'bayashi to doing most of the work for him in developing promotion for the film and teaching his department a lot about mixed media promotion. In "Nobuhiko 'bayashi: Casting & Production" (20:04), the director discusses his decision to use unestablished actresses from his commercial work as well as enthusiastic cameo appearances by Fumi Dan (Bitterness of Youth) as a PE teacher and Tomokazu Miura (Sweet Revenge) Ė star of a successful series of films with Momoe Yamaguchi, one of which was the A-feature to House's B-feature upon release Ė as the aunt's fiancť in flashback. He also recalls that House was the first Japanese film to employ a stylist as the desire to choose appropriate props, wardrobe, and set elements required someone to coordinate between the various departments whose responsibilities were not so finite in the commercial world. In "Kumiko Oba: Fantasy" (2:13), the actress recalls the challenges of working with the special effects, acting against a blue screen, and in the icy Toho studio pool for the film's climax with no concept of what the sequences would look like until she saw the finished film. In "Nobuhiko 'bayashi: Release and Legacy" (7:31), the director boasts of the release in which there was a greater number of fans anticipating his film than the "Tomo-Momo" A-feature, and that the overspill from both audiences ended up watching the other film. He also recalls that the success of his film opened up opportunities for more amateur filmmakers to get noticed in the mainstream, among them Kiyoshi Kurosawa (Pulse). Strangely, the featurettes' subtitles use zeros for capital oes in words and capital oes for zeros in dates. New to the set is "Unheimlich Manoevers in the Dark" (26:28), a video essay with David Cairns who draws from the aforementioned interviews in discussing the film while also expanding upon various points, most intriguingly screenwriter Katsura's recognition of the parallels between 'bayashi's concept with Walter de la Mare's story "The Riddle" in which seven children in their grandmother's country house are devoured by an antique oak chest. The film's theatrical trailer (1:35) is also included. Enclosed in the case is a forty-three page collector's booklet with the 2009 essay "Unhinged Desire (At Home With Obayashi)" by Paul Roquet. Sadly not included on this set is 'bayashi's short vampire film Emotion which was includedo n the Criterion edition.

Overall


Horror films are nothing novel for the studio Toho, but House is like a feature-length episode of Scooby Doo, Where Are You! on acid.