The Film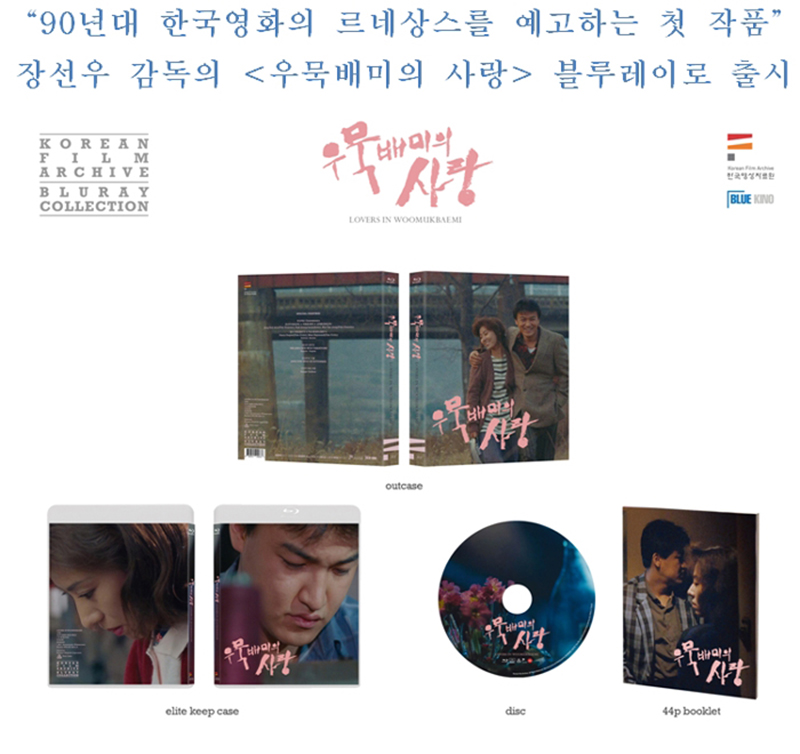 "Lovers in Woomukbaemi" <우묵배미의 사랑> (1990)

Bae Il-do (played by Park Joong-hoon, Myeong-hee (played by Yu Hae-ri) and their young son move from Seoul out to the slightly countryside area of Woomukbaemi as finding work and living in the big city has proven to be difficult. While the couple look to be husband and wife, they are actually not formally married but are together for the sake of their son. Their relationship has been less than fruitful, as Il-do is a down-on-his-luck man not able to find decent work and more interested in playing around rather than taking care of the household. She on the other hand is a feisty one that frequently cusses at him and shows very little in terms of love. After Il-do gets work at a garment factory as the only man mostly surrounded by much older women, he encounters Min Gong-rye (played by Choi Myeong-gil) the only female staff around the same age as him which he finds out is also experiencing an unhappy relationship with her husband (played by Lee Dae-kun. The two unhappy at home but hopeful coworkers form a relationship feeding off each other's positive energy, but that soon leads to a romantic relationship, which severely affects and devastates their home lives...

"Lovers in Woomukbaemi" was directed by Jang Sun-woo, an underground controversial filmmaker in the 1980s with works such as "Seoul Jesus" and "The Age of Success", defying South Korean standards and going against the establishment in full effect. In the 1990s he also made waves of controversy with films such as "A Petal", "Lies", and "Bad Movie", to which even "Lies" has not received an uncut release in its native country to this day. Not to say all those films are similar in tone or direction. Jang dabbled in satire ("The Age of Success"), homelessness ("Bad Movie"), virtual reality ("Resurrection of the Little Match Girl"), among other genres in his filmmaking career. In comparison "Lovers in Woomukbaemi" is a fairly conventional film. In terms of subject matter it raised issues with social and economic divides and marriage infidelity, which is nothing particularly new or groundbreaking for filmmaking, but for the director it was a step towards the mainstream while still partially pushing the boundaries for sexuality.

Graphically the film does not show graphic nudity or show extremes in sexuality. But it does show the emotional and physical breakdown of what sexual infidelity could cause not only for the involved parties but for everyone in the surroundings. Rather than a "love" story, it is almost entirely treated like an addiction movie. While Il-do knows it is wrong to cheat on his wife, and so does Myeong-gil, they still continue to find ways to be together - an emotional high as it is. And while they continue on and off with their sexual encounters, their social lives are still in ruins. He still has a nagging and angry wife with a job that barely makes the bills. She has a son to take care of and a neglecting husband. And not only is his "addiction" with her, but Il-do makes rounds at the whorehouse as well to satisfy his empty needs. Considering at the time in South Korea infidelity was considered an illegal act, the subject matter in the film was quite taboo, but not exactly something that was unheard of.

Structurally the film does have an odd opening. The affair between Il-do and Myeong-gil has already been established. They return home to their angry spouses. It is only after that the story of their encounter and relationship is told and brought up to speed with the audience. From thereon it is standard fare with its structuring of a linear story told through the eyes of multiple characters, with each getting a fair share, even with Il-do's wife having her own backstory and emotional breakdown which comes as the most powerful in the latter portion of the story. Jang who also co-wrote the screenplay lets the story play through the characters interactions and the performances are quite strong. The biggest weakness of the film is the fairly standard plot of basically lowlife characters that are not easy to be sympathized with. Their actions are morally disgusting and even by the end which includes a fairly crazy humiliation scene, the characters do not seem to have any positive future lying ahead. But there sometimes is no bright future, and that's just part of human life and Jang has put the realism on screen as is.

Note: this is a region ALL Blu-ray which can be played back on any Blu-ray player worldwide

Video


The Korean Film Archive presents the film in the original theatrical 1.85:1 aspect ratio in 1080p in the AVC MPEG-4 codec. This is one of the newer film releases by KOFA, and the original elements seem to have been in good condition. The transfer is free of major damage such as specs and scratches, the image is stable and properly framed, and overall has a good look. The colors are especially dark in this transfer, creating deep blacks especially for the night scenes, and a slightly brownish hue for skin tones. Whether it was supposed to be this dark is up for debate, but it does seem to be the case with many film restorations that the overall palate is deeper and darker. There is a bit of digital sharpening of the image but no distracting DNR as grain is still visible. It is easily one of KOFA's better looking transfers with the remastered picture.

The runtime is 116:23 which includes the 20 seconds or so of the KOFA remastering credits.

Audio


Korean DTS-HD Master Audio 2.0 mono
The original Korean language track is offered in lossless 2.0 mono. With many older Korean films having dialogue not recorded on set and later replaced with ADR in studio, for this film almost all dialogue seems to be recorded directly on set. Lip synchronization is not an issue at all and the audio sounds very "natural", but that does come with some issues. Some of the location recording especially outdoors can sound tinny and muffled but this doesn't affect all scenes. Overall there is not an issue with clarity or sound levels as the dialogue and music is well balanced. It's a fair track, but mostly marred by inadequate original recording materials.

There are optional English, Japanese, Korean subtitles for the main feature. The subtitles are in a white font in all three languages, easy to read, and no spelling or grammar errors to be found.

Extras


Audio commentary by director Jung Sun-woo, actor Park Joong-hoon, and film director Kim Tae-yong
The director and star are reunited for an audio commentary as they are joined by filmmaker Kim Tae-yong who moderates.
in Korean Dolby Digital 2.0 with no subtitles

Audio commentary by film critics Darcy Paquet and Marc Raymond
In this English language commentary, critics Darcy Paquet and Marc Raymond not only discuss the film but where it fits in the director's career, about the new wave movement, as well as comments on Jung's other films. It does pack a lot of information in the runtime and is very informative for people eager to know about the state of South Korean films at the time.
in English Dolby Digital 2.0 with optional Korean subtitles

"The Jang Sun-woo Variations" documentary (119:09)
In this 2001 documentary written and directed by film critic Tony Rayns, the filmmaker looks back at his life and career in some unusual places. There are scenes of him getting a massage while talking, then he is in a public bath house enjoying the water while fellow patron's dongs are left uncensored in the background, and some are standard fare in a room with a chair and camera. There are a few other people interviewed including fellow filmmakers and critics, but most of the stories come from the man directly. Talked about are his early days as a student, involvement in political rallies, social issues, and of course direct comments on his fimography. There are various clips of his films featured, with most of them having subpar video quality. While 95% of this documentary is in Korean, the text explanations are in English and some of the interviews are in English. Strangely this documentary features English subtitles but there are no Korean subtitle options.
in 480i MPEG-2, in 1.33:1, in Korean and English Dolby Digital 2.0 with optional English subtitles

"Jang Sun-woo in November" documentary (31:19)
Out in a park in cold November, the filmmaker talks about a variety of topics - and while the topics are captioned with text in English, the director's comments are not subtitled in English.
in 480i MPEG-2, in 1.33:1, in Korean Dolby Digital 2.0 with no subtitles

Image Gallery
An image gallery of 14 stills, comprised of the theatrical posters, lobby cards, and on set stills.
in 1080p AVC MPEG-4

Booklet
A 36 page booklet is included, which is bilingual in Korean and in English. There are film credits, a film synopsis (which is fairly basic and not very well written), photos, and essays. The first essay is "Filmmaker Jung San-woo" written by film critic Lee Yeon-ho in which the director's life and films are discussed. The second essay is "Jung San-woo's Lovers in Woomukbaemi" written by film critic Tony Rayns which is a direct essay on the film and where it stands in Jang's filmography. This particular essay was written in 1994.


There are a good amount of extras with two commentaries and two documentaries but it is disappointing that only half are English friendly. In the past the Korean Film Archive DVDs and Blu-rays have had English friendly options for the bonus features - a rarity for South Korean disc media. But in recent times their releases have had less English translated extras and hopefully this will not be a continuing trend.

Packaging


Packaged in a clear keep case housed in a slipcase, the 36 page booklet fits inside the slipcase. This is #10 in the Korean Film Archive Blu-ray series.

Overall


"Lovers in Woomukbaemi" is a film filled with excellent performances though it is slightly weighed down by convention, and that is surprising considering it comes from a highly controversial and experimental filmmaker. The Korean Film Archive Blu-ray gives great video, fair audio, and lengthy extras - though note not all are subtitled.
| | | | | |
| --- | --- | --- | --- | --- |
| The Film: B | Video: B+ | Audio: B | Extras: B | Overall: B |