The Film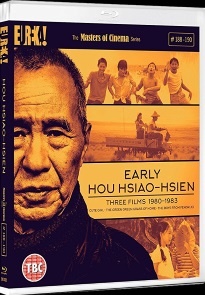 Before he was voted "Director of the Decade" by a Village Voice and Film Comment poll in the nineties for such critically-recognized works as The Puppetmaster, Good Men, Good Women, and Goodbye, South, Goodbye and gaining international fame with the loose millennial trilogy Millenium Mambo, Café Lumiere, and Three Times, director Hsiao-Hsien Hou was a hired gun developing his craft through formulaic studio fare and quickly finding his voice. The collection Early Hou Hsiao-Hsien presents his first, third, and fourth directorial efforts to illustrate the through-line from a fluffy yet technically-nuanced treatment of a romantic comedy to a more episodic and psychologically ambiguous vision.

Mounted as a New Year film and star vehicle pairing singers Kenny Bee (Moon Warriors) and Fei Fei Feng (Misty Moon) – both popular in their respective territories Hong Kong and Taiwan – Cute Girl is the story of surveyor Diagang (Bee), who is so footloose and carefree that he prefers that his adopted son Stone refer to him as "uncle" in public, and student Wenwen (Feng) whose father wants to marry her off to the Qian Ma, the son of a wealthy business associate who is studying in France. Wanting to enjoy what little is left of her girlhood, Wenwen abruptly takes off for the countryside to stay with her Auntie Lin, threatening her father with the refusal to marry if he goes after her. Diagang, who has sited her twice in the city and failed to catch her interest, runs into her again when his team is dispatched to the countryside to plan a road that will run straight through the house of a local healer. Although the disagreement puts them at odds, Wenwen becomes more sympathetic (and amused) when Diagang thinks he is dying from a snakebite and the healer magnanimously treats him for what is actually a caterpillar bite. The two enjoy idyllic romps through the countryside but Wenwen flees back to the city when things get too serious. When Diagang next runs into her, it is at the public announcement of her intended nuptials to recently-returned Qian Ma. Diagang befriends unsuspecting Qian Ma, and Wenwen's fear turns to annoyance when both men get on well with each other to the exclusion of her. Although she is relieved when Qian Ma tells her that he does not want to marry her and has a girlfriend in France, Wenwen's pride is hurt and Diagang leans on Auntie Lin to help win her back and confront the issue of his social unsuitability in the eyes of Wenwen's snobby father. The most straightforward and light-hearted of the three films, Cute Girl seems fairly insignificant within Hsien's oeuvre but it does ably fulfill the requirements of its genre for its New Years audience. The singing voices of Bee and Feng are only heard on the soundtrack, but they are engaging as cardboard characters in undemanding roles while the supporting cast do what they can with even more limited (and sometimes shrill) characterizations. The film merely affords Hsien to show himself proficient at textbook cinematographic language of the comedy genre in terms of camera setups, movement, editing, and musical commentary. Hsien would pair Bee and Feng again in his second film A Cheerful Wind.

Bee returns in The Green, Green Grass of Home as idealistic Taipei teacher Lu Ta Nien who has come to the countryside to replace his schoolteacher sister at the local school. Lu is overwhelmed by the headmaster sees him as the future of teaching and welcomes his input while the butcher shop girl older sister of one of his students is among the women who see him as a prospective mate. Lu, however, falls almost immediately for fellow teacher Su-yun (Meifeng Chen) whose family is putting him and fellow teacher Li up in the loft above the town's local theater. He manages to earn the admiration of the class' mischievous "three musketeers" Yen Cheng-kuo, Huang Chin-shui, and Lin Wen-chin who take to heart his teachings. When he chastises them for trying to fish by electrifying the water with a car battery, the three children gang up on outcast student Chou Hsing-wang whose ex-convict father fishes with an electric rod. When Lu shames the man in front of the children, Chou Hsing-wang runs away with his little sister in search of their aborigine mother who left them years before, and whose absence has been a point of contention between father and son. Lu's courtship is also threatened when his ex-girlfriend from Taipei makes a grand entrance in her sports car and flashy clothes, making a scene and making Lu the subject of gossip. When a humiliated Su-yun's parents warn her that city people are "looser", she avoids him until he calls his father to visit from the city to make case for him to Su-yun and her parents. Lu further cements his place in the town by rallying the students and their parents to start a conservation movement to protect the local creek from illegal fishing and to help Chou Hsing-wang's father (who blames him for his son's bullying) to help bring back his children. Not as narratively simplistic as Cute Girl, The Green, Green Grass of Home makes considerably more ambiguous the dichotomy between city and country by giving well-intentioned Li some baggage to go with a smidgen of arrogance and the family lives of his pupils fraught with angst (treated with as much gravitas be it bad grades, a father killing his son's pet owl after it eats his chickens, or the deep emotional wounds of parents either physically or emotionally unavailable). The conservation angle of the final act seems to echo the words of the mother of the new girl who tells Lu of her daughter's health and her belief that children flourish in the fresh air of the countryside. The film and Hsien were nominated for Golden Horse awards along with child star Chuan-Wen Cheng while other child actor Pin-chun Chou would win.


The Boys from Fengkuei are troublemakers Ah-jung, Ah-yu, Kuo-tzu, and "Piggy" spend their days after high school graduation pranking each other, sneaking into the movies, and trying to make a quick buck in the market. When Ah-jung is accused by a little boy of cheating him out of gambling money, the boy's brother confronts him and is beaten up by Ah-jung and his friends. He retaliates with a group of friends, landing Piggy in the hospital with broken ribs. Cautioned by the police and nagged by his mother, Ah-jung wants out of his little seaside village of birth so Kuo-tzu suggests that they and Ah-yu go to stay at his uncle's empty house in another seaside town where they manage to get into more trouble; whereupon Ah-jung suggests they go to Kaohsiung and stay with his sister as they look for work. The would-be tough guys are quickly out of their element as they slowly realize that Ah-jung's sister Mai-Li is a prostitute and her "unregistered" husband (played by Hsien himself) is her pimp, and the friend Huang Chin-ho who gets them a factory job is a smuggler. While Ah-yu and Kuo-tzu fall in with Chin-ho and his confederates, Ah-jung – haunted by memories of his childhood with his once-proud father who suffered a fractured skull and has since been physically and mentally disabled – starts to study Japanese with the hope of another escape while also entertaining the romantic notion of rescuing Chin-ho's unhappy fiancée Hsiao-Hsing. The most "artful" of the films in the set, The Boys from Kengfuei might as well be Hsien's I Vitelloni as the director works his love of the French and Italian New Wave into an even more episodic story in which both country transplants discover that there is no escaping the troubles of one's past and that there is also no going home again. While the quartet of troublemakers seem patterned after various movie youth gains, only Ah-jung appears to actually seek escape beyond the surface – perhaps he, like director Hsien sees some of himself in the appeal of Alain Delon when they sneak into a screening of Rocco and His Brothers early on – level in movies even if he is not consciously aware, as illustrated in a sequence in which the boys are swindled out of money with the promise of a private screening of European films in "big screen, color" only to discover an empty room on the eleventh floor of a building. While the others are immediately disappointed, Ah-jung does indeed see the color big screen in a Panavision-shaped rectangular window overlooking the city. As the others argue, he contemplates the view, and this sequence marks the point where he "grows apart" from the others. This film, more so than the others, looks forward to Hsien's more illustrious oeuvre. Hsien, the film, cinematographer Kun-Hou Chen (My Favorite Season), and film editor Ching-Song Liao (The Assassin) were all nominated for Golden Horse Awards.

Video


All three films have been restored in 4K from their original 35mm camera negatives by the Belgian film archive Cinematek. Cute Girl and The Green, Green Grass of Home are 1080p24 MPEG-4 AVC encodes framed at 2.35:1 while The Boys from Fengkuei is 1.85:1. In Cute Girl, the palettes of the city scenes lean towards the pale and brown with occasional pops of primary colors, but that is down to the late seventies, early eighties choices of wardrobe and décor while the country scenes sport lush greens and less washed out sky backdrops. Although the city-country dichotomy is also an issue in The Green, Green Grass of Home, we never see the city, and the lush greenery and rugged browns are spiked more generously with bolder colors in wardrobe from orange tracksuits to the pageantry of the climactic stage performance. Both films have moments of distortion in the middle of the frame in wide angle shots that almost look like a film recorded off a screen, but this is a fault of the older anamorphic lenses used on both films. The Boys from Fengkuei – which bears that title in English beneath the Chinese script whereas earlier prints had the title "All the Youthful Days" – also has a generally muted palette suited to both the seaside village and city settings with bolder colors showing up in wardrobe but rarely anywhere else. This is once again due to choices in setting, décor, and the cinematography as the film's flashbacks show what really is a desaturated palette that looks even flatter. Skintones are more varied here than on the SD-DVD edition which was one of those older transfers afflicted with a green tinge.

Audio


All three films feature Mandarin LPCM 2.0 mono tracks of similar quality that were restored from the original sound negatives by L'Immagine Ritrovata featuring clear post-synchronized Mandarin dialogue, sparse sound effects tracks, and music tracks that are generally unobtrusive apart from the vocal numbers on the first two films. Optional English subtitles are free of any glaring errors.

Extras


The video extras share the second disc with The Boys from Kengfuei, consisting of a trio of video essays penned by Adrian Martin and Cristina Álvarez López and narrated by the former. In "Happy New Year" (14:58) on Cute Girl, Martin provides context to the casting of Bee and Feng and makes a case for Hsien's mastery of visual storytelling for the comedy genre in his debut work. In "A Sweet Little Village" (16:38) on The Green, Green Grass of Home, Martin mentions that the film marks the first collaboration of Hsien with novelist T'ien-wen Chu who would work on all subsequent Hsien films, the "mosaic approach" to the episodic narrative, and the contrast with the earlier film in Hsien's use of sustained takes and fewer cutaways. In "I'm Still There" (23:08) on The Boys from Fengkuei, Martin discusses the French and Italian New Wave influences and homages in the film as well as the more melancholic tone of the film. Not provided for review were the limited edition o-card on the first print run of 2,000 copies and collector's booklet featuring a new essay by Phillip Kemp.

Overall


Before he was voted "Director of the Decade" by a Village Voice and Film Comment poll in the nineties, director Hsiao-Hsien Hou was a hired gun developing his craft through formulaic studio fare and quickly finding his voice, and Eureka's Masters of Cinema collection Early Hou Hsiao-Hsien illustrates the through-line from a fluffy yet technically-nuanced treatment of a romantic comedy to a more episodic and psychologically ambiguous vision.