Stage Struck [Blu-ray]
Blu-ray A - America - Kino Lorber
Review written by and copyright: Eric Cotenas (23rd April 2018).
The Film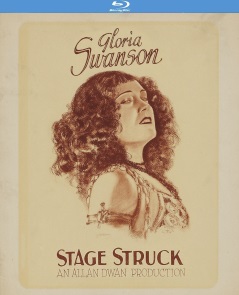 Canteen waitress Jenny Hagen (Manhandled's Gloria Swanson) daydreams of becoming a stage star, promising herself that no matter how famous she becomes she will always have only one man: wheat cake flipper Orme Wilson (A Face in the Fog's Lawrence Gray). Too shy to make her feelings known, Jenny pines for him daily, and Orme is too thick to realize that the reason that he never gets a bill from the laundry is because Jenny washes and irons his clothes. Aware that Orme is just mad for starlets, Jenny has been spending her free time and money on correspondence school acting lessons, emoting in front of the mirror with her stuffed toy dog as her scene partner. When she burns one of Orme's shirts with the iron, she must forgo sending in the five dollars for the "legitimacy" of an acting school diploma at just the moment when the steamboat stops in town for showman Buck (He Who Gets Slapped's Ford Sterling) to debut his newest star Lillian Lyons (The Cat and the Canary's Gertrude Astor) who choses Orme as her escort. Jenny tries to copy Lillian's style and comportment at the annual picnic only but is ridiculed for her attempt. With Lillian eager to move onto bigger and better things, Buck is eager to make a new discovery and lights upon Jenny who tells him that she is an actress. Jenny keeps her lips sealed anticipating Orme's surprise, but her stage debut on the steamboat is not at all what she had in mind.

The last of the collaborations between Swanson and Allan Dwan (Driftwood) and the first film under her renewed Paramount contract, Stage Struck finds Swanson lampooning her "clotheshorse" image in her opening fantasy montage in which she is not seen acting on the stage but "performing" for her adoring fans in a variety of costumes. A shot of Jenny as Salome holding the head of John the Baptist on a tray amusingly dissolves to Jenny holding a plate of baked beans, and she just as effortlessly embodies the downtrodden dreamer (although we never truly know whether Jenny dreams of becoming a star out of her own ambition or simply because the man she pines for has a thing for actresses). Perhaps because the film is about a woman searching for happiness in married respectability with a man – regardless of whether she becomes famous or not ("There is but one thing I long for... just a simple stack of wheat-cakes!") – the film is more overly and consistently funny than Manhandled which had Swanson comically navigating the perils of being a single working girl in the big city. The opening and closing sequences were photographed in two-color Technicolor.

Video


Long unavailable after its Paramount theatrical release, Stage Struck has been restored from 35mm elements preserved by the George Eastman House including the Technicolor sequences. The 1080p24 MPEG-4 AVC pillarboxed 1.33:1 encode looks better than that of Kino's Manhandled for which only 16mm materials were known to survive. The two-color Technicolor sequences are comparable to those in other films utilizing the process, benefitting the saturated colors of Swanson's fantasy costumes in the opening while the closing sequence's more reserved colors are rendered with a kind of handcolored vintage postcard look. Damage is present and does not appear to have been rigorously cleaned in digital post but is not distracting for those accustomed to the wear and tear of even the best of silent film restorations.

Audio


No complaints about the audio since the DTS-HD Master Audio 2.0 stereo track is a new recording of a contemporary piano score by Andrew Simpson.

Extras


The sole extra on the disc is an audio commentary by film historian Frederic Lombardi who crams a lot of information into the alotted time without seeming to overlap too constantly with the Manhandled commentary track by Gaylyn Studlar as he discusses the collaborations between Swanson and Dwan as well as the various behind the scenes conflicts that may have lead to the studio-mandated dissolving of the partnership as well as the dinner meeting between Dwan and Swanson in which he told her that he had recommended Manhandled scripter Frank Tuttle (Island of Lost Women) to direct her in The Untamed Lady). Enclosed with the disc is a booklet by Farran Smith Nehme.

Overall




---
Rewind DVDCompare is a participant in the Amazon Services LLC Associates Program and the Amazon Europe S.a.r.l. Associates Programme, an affiliate advertising program designed to provide a means for sites to earn advertising fees by advertising and linking to amazon.co.uk, amazon.com, amazon.ca, amazon.fr, amazon.de, amazon.it and amazon.es . As an Amazon Associate, we earn from qualifying purchases.