A Woman's Devotion [Blu-ray]
Blu-ray A - America - Kino Lorber
Review written by and copyright: Eric Cotenas (16th April 2018).
The Film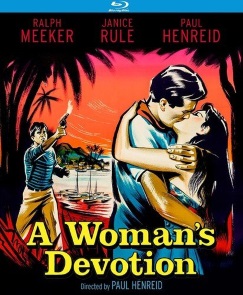 Just six weeks into their marriage, painter Trevor (Kiss Me Deadly's Ralph Meeker) and Stella Stevenson (3 Women's Janice Rule) are traveling the world on a honeymoon of indefinite length owing to Trevor's recent inheritance. When Trevor's illness makes it necessary for them to get off a freighter in Acapulco, they check into the pensione of cheery Señora Reidl (The Treasure of Pancho Villa's Fanny Schiller) whose nephew is the womanizing police captain Henrique Monteros (Now, Voyager's Paul Henreid). While Stella turns in early, a seasick Trevor settles his stomach at a local cantina where he spots a pretty waitress. Although he asks her to model for him, she and others who overhear them take it as a proposition. Trevor returns to the pensione at dawn and is sedated when Monteros shows up to question him about his whereabouts the night before when the waitress was murdered. Trevor tells Montero that he arranged for the waitress to come to the pensione to pose and that he spent the night walking the beach; however, Reidl's maid Maria (Cauldron of Blood's Rosenda Monteros) approaches Stella with sketches found in the dead woman's house and requests a "reward" on the behalf of the woman's prizefighting widower "Amigo" Herrera (The Sinister Invasion's Yerye Beirute) who subsequently threatens to turn the sketches over to the police. Trevor admits that he lied because he was afraid of hurting Stella and wants to go to the police to clear things up. A fearful Stella – who has learned from Monteros that her own war hero husband had spent a year in a mental hospital with amnesia due to battle shock – wants to pay off the blackmail and flee the country instead. With the likelihood of the docks and the airport being watched by the police, Stella comes up with the idea to pay a fishing boat for an excursion that goes out farther to sea than usual but an infatuated Monteros warns her off the attempt and condescendingly refunds her deposit. Knowing that the sketches that place Trevor in Herrera's house will incriminate him now more than ever, he goes to the house to pay him off but finds the man dead drunk and his lover Maria wants more than just the money from Trevor. When Herrera wakes up to discover Maria's dead body, Monteros' superior believes they have a more likely suspect and Stella fears that the man that she loves really is a murderer. The second directorial effort of actor Henreid, A Woman's Devotion is a mixed bag of a film: part thriller, part noir, part romantic tragedy and never coalescing into a whole. Opening with a flowery theme song by future American International in-house composer Les Baxter (Wild in the Streets) over beautiful Trucolor scenery of sunny Acapulco, the film hints at the seedy side of Latin America – from women in service positions prostituting themselves in hopes of a better life, opportunists profiting on illegalities, and the fear of government and police corruption (Stella refers to Monteros as "that Gestapo" and more than one person calls Monteros on his attraction to her coloring his suspicions however strong they are) – as well as American soldiers coming back from war with psychological damage, the association of artists and perversion or neurosis (including a blackout trigger that recalls the device of Hangover Square), and the titular self-destructive power of A Woman's Devotion couched within a mystery that really affords little of any of these ideas to fully develop. Henreid, Meeker, and Rule get by on their screen charisma, and the film's denouement is both unexpected and refreshingly ambiguous. Although Henreid would direct a number of episodes for Thriller and Alfred Hitchcock Presents, but his next screen Dead Ringer with Bette Davis in a dual role would be another disappointment.

Video


Shot in Consolidated Film Laboratories' two-strip Trucolor process, this Republic Pictures production has been restored in 4K from the orignal 35mm negative and positive separations and given a mid-range bitrate 1080p24 MPEG-4 AVC 1.85:1 widescreen encode (it was not shot in Republic's Naturama 2.35:1 anamorphic process as stated at IMDb). Once the softer and grainier title opticals are finished, the image retains its grain structure but looks crisper with well-detailed close-ups and slightly softer wide shots that, combined with the color process, have an appropriately picture postcard look.

Audio


The sole audio option is a DTS-HD Master Audio 2.0 mono track that cleanly conveys the dialogue, music, and sparse sound design that is heavier on general atmosphere than effects until the climax. There are no subtitles.

Extras


The only extras are a quartet of bonus trailers for other Kino releases.

Overall


A Woman's Devotion is a mixed bag of a film, part thriller, part noir, part romantic tragedy and never coalescing into a whole; but the screen presences of Ralph Meeker, Janice Rule, and Paul Henreid are always as welcome as the newly-restored Trucolor image.

---
Rewind DVDCompare is a participant in the Amazon Services LLC Associates Program and the Amazon Europe S.a.r.l. Associates Programme, an affiliate advertising program designed to provide a means for sites to earn advertising fees by advertising and linking to amazon.co.uk, amazon.com, amazon.ca, amazon.fr, amazon.de, amazon.it and amazon.es . As an Amazon Associate, we earn from qualifying purchases.