Offerings (Blu-ray) [Blu-ray]
Blu-ray B - United Kingdom - 88 Films
Review written by and copyright: Rick Curzon (18th April 2018).
The Film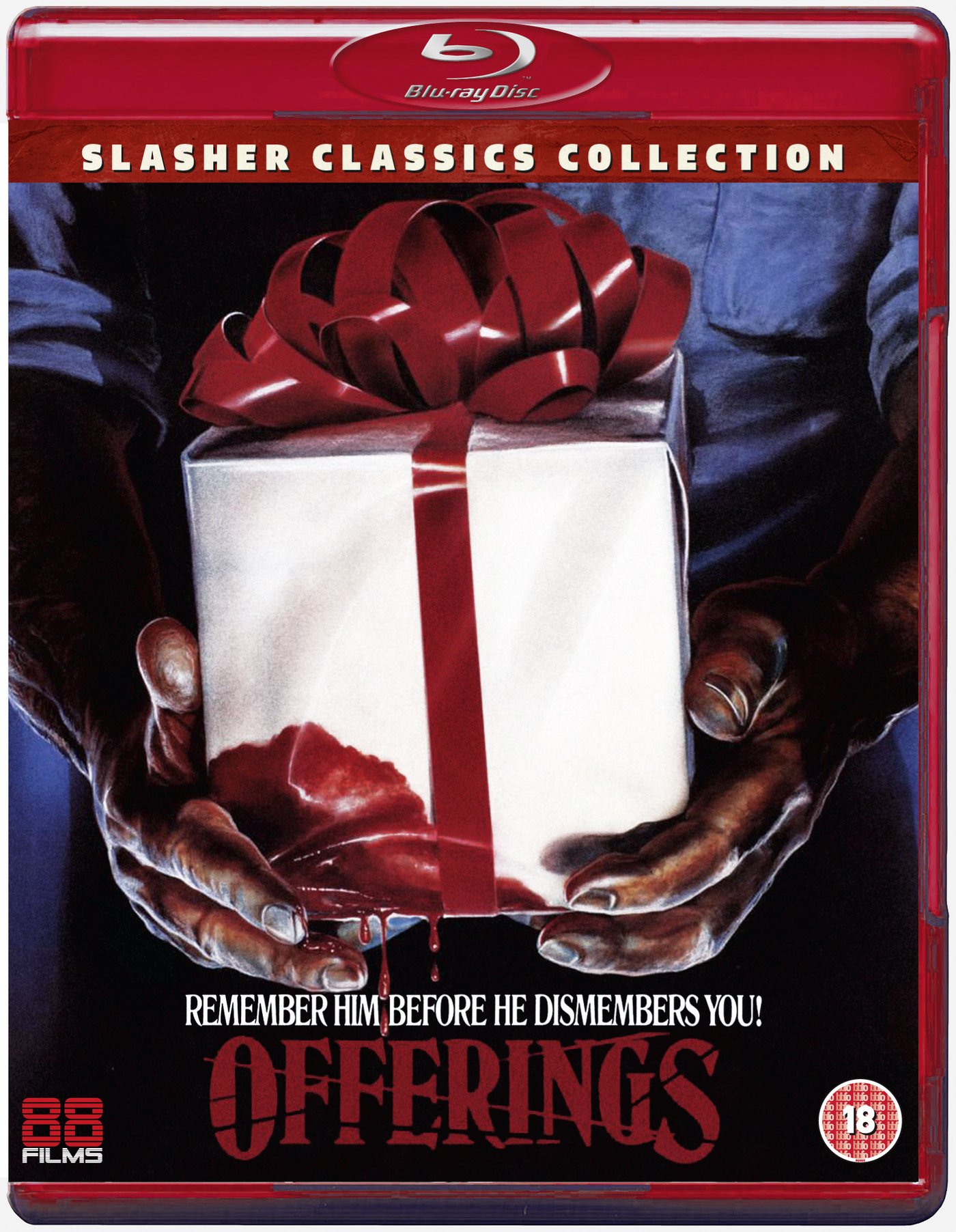 If the slasher film formula teaches us anything it is not to bully a young child because, chances are, they might grow up to slice, stab and slaughter those who once wronged them. And from Jason Voorhees to PROM NIGHT (1980) and the late eighties shocker OFFERINGS there is one thing for sure - the body count is going to build and build as an adult avenger takes on a slasher rampage of their own! Released in 1989, the blood-splashed classic OFFERINGS serves up a small town revenge-rampage that is among the genre's most madcap and mesmerising. A perfect example of videotape-era terror, with a knife-wielding avenger that is guaranteed to provoke a spine-tingling reaction, this darkly comic - and proudly plasma-packed - example of teen-tormeting excellence has finally arrived back onto UK shelves in horrible HD courtesy of the controversy-courters at 88 Films!

Video


As blatant a ripoff of Halloween (1978) from story beats and structure down to the score which is virtually plagiarism. There is a certain basic competence to the production but itís mostly flatly photographed on grainy 16mm and has little depth despite this being a new 2K restoration from the OCN. Micro-budget, Oklahoma-shot junk; fun whilst itís on as you laugh at itís obvious steals but a totally forgettable bloodbath.

A new 2K restoration is always a good thing for a low budget horror flick like this, but being a very, very low budget 16mm regional production thereís only so much that can be done. The original cinematography isnít the most dynamic and as a result the image quality is generally dull and lacking in ... oomph, for want of a better term.

Detail is present but never strong and the blacks suffer from a fair amount of crush inherent in the production; colour grading is uneven with dull sections then others which look more florid. Contrast is acceptable although again itís never dynamic and may have been boosted a tad to try and make the image seem sharper than it is. I could see no signs of digital artefacts, and there is print damage hither and tither. Encoding is solid with no clumping or holes in evidence.

Fans of the film will be pleased and newbies will find the transfer more than acceptable given itís 16mm origins and low budget. As always with vintage material of this ilk my gradings represent a standard that is expected given the source and how it faithfully represents it. Itís possible that a more budget enhanced restoration could get more from the material but itís highly unlikely to happen in our lifetimes.

1080/24p / MPEG-4 AVC / 1.78:1 / 94:02

Audio


English LPCM 2.0 Mono
Subtitles: English HoH

The soundtrack also reflects itís source with relatively weak base and a certain flat, tinny quality. The sub-Carpenter score comes off best although more base wouldíve helped. There were no distortions or problems with sibilants. Dialogue is clear and unmolested.

English subtitles are welcome.

Extras


Audio commentary by The Hysteria Continues (Justin Kerswell, Joseph Henson, Nathan Johnson, and Erik Threlfall)

These boys love slasher films and Kerswell is fast becoming one of the gurus of the sub genre and his book Teenage Wasteland is must reading. Iíve heard a few commentaries from these guys and theyíre always good value with plenty of information on the production (where do they find this stuff out?). This track focuses to a certain point on the filmís regional origins which is a break from the norm. Itís unoriginality also comes under scrutiny.

This disc is worth buying just for this track! That said, more couldíve been done.

Trailer (1:15)

Typical of a straight to video film trailer; cheesy and spoilerific.

Reversible sleeve

Choice of Slasher Classics Collection sleeve or basic artwork.

Overall


88 Films have delivered another piece of the Ď80s slasher puzzle with this Oklahoma lensed relic. Which owes more than a bit to other, infinitely superior films (ahem, Halloween). However, whatever you think of the feature itself the presentation is pleasing and probably about as good as weíre likely to see. Apparently, Code Red are planning on releasing this in the US with a newer 4K restoration but given the 16mm source itís unlikely to be a major upgrade and the marginal nature of the film unlikely to tempt many UK fans to double dip unless the extras make it worthwhile.

The 88 Films edition has a wonderful commentary track but thatís about it; more couldíve been done but given the marginal niche this is targeted at the film has got more than one would expect.

Highly recommended as itís cheap and the quality is worth it ... and did I say earlier that the yaktrak is worth the price on itís own!
| | | | | |
| --- | --- | --- | --- | --- |
| The Film: D- | Video: A- | Audio: B+ | Extras: C+ | Overall: B- |

---
Rewind DVDCompare is a participant in the Amazon Services LLC Associates Program and the Amazon Europe S.a.r.l. Associates Programme, an affiliate advertising program designed to provide a means for sites to earn advertising fees by advertising and linking to amazon.co.uk, amazon.com, amazon.ca, amazon.fr, amazon.de, amazon.it and amazon.es . As an Amazon Associate, we earn from qualifying purchases.