Broad City: Season 4
R1 - America - Comedy Central / Paramount Pictures
Review written by and copyright: Eric Cotenas (19th April 2018).
The Show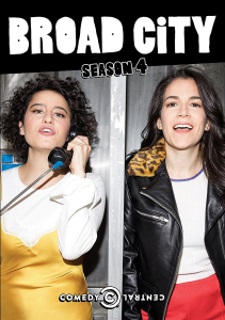 Hip Jewish New Yorkers Abbi Abrams (Neighbors 2: Sorority Rising's Abbi Jacobson) and Ilana Wexler (The Night Before's Ilana Glazer) are back for the fourth season of Comedy Central's Broad City making more cheerfully vulgar satirical jabs at first world problems. With both characters having made some major life changes at the end of the third season, this season reaffirms the status quo of their relationship throughout its ten episodes by demonstrating in the season opener, appropriately titled "Sliding Doors" (21:20), that the two were destined to wind up together as we follow both forks of the road their first meeting might have possible taken. While Abbi's new job turns out to be more of a glorified personal assistant to Dara (Monster-in-Law's Wanda Sykes), Ilana discovers that she has to get mean to make green as a waitress at an upscale bistro under the demanding Marcel (But I'm a Cheerleader's RuPaul) in "Twaining Day" (21:20) in which Abbi is forced to find closure with crush Trey Pucker (Time Traveling Bong's Paul W. Downs) as well as to make true her boast that singer Shania Twain (the season's funniest guest appearance) was among her clientele as a trainer. In "Just the Tips" (21:21), Abbi's new relationship with too-good-to-be-true paramedic Mike (Better Call Saul's Omar Maskati) goes to her head without the tempering influence of Ilana. Similarly, without relatively down-to-earth Abbi to advise her, newly flush with cash Ilana plays rich bitch at an upscale party until a "lethal combination of cheese, champagne, and cocaine" literally gives her the shits in front of the one that got away Damien (Damien Lemon). When they are together, of course, Ilana and Abbi can only just hold it together when Dara needs lifesaving at a part in the trippy "Mushrooms" (21:19). When "Abbi's Mom" (21:20) – played by Frasier's Peri Gilpin – visits and demands a girls' night out, Ilana's seasonal affective disorder prevents her from acting a buffer between mother and daughter when the sex talk comes up. In "Witches" (21:59), Abbi discovers her first gray hair while Ilana reclaims her orgasms with the help of a "Cum Queen" (Marcella Lowery) and discovers that she really is not alone ("orgasms have been down 140 percent since Trump was elected"). While visiting "America's droppy dick" in "Florida" (21:23) with Ilana's parents (Curb Your Enthusiasm's Susie Essman and Eliot Glazer) where the appeal of cheap rent and warm weather wars with rampant gun culture and Trumpism. Ilana and Lincoln (Neighbors' Hannibal Buress) play house while "House-sitting" (21:23) and redefine their relationship (cue a fart montage) while Abbi is surprised to be matched with her former high school teacher (Adult Beginners's Mike Birbiglia). While Ilana and (Bushwick's Arturo Castro) deal with the nightmare of "Bedbugs" (21:28), unemployed Abbi finds a magic bag that gives her confidence until she meets a mugger (Fargo's Steve Buscemi). Finally, in "Friendiversary" (21:53), Abbi and Ilana's night on the town takes a Rear Window-ish turn.

Video


Paramount splits season four's ten episodes between two discs and the anamorphic 1.78:1 widescreen encodes deal well with the undemanding HD videography.

Audio


Audio options include similar sounding Dolby Digital 5.1 and 2.0 stereo tracks since this is dialogue-heavy show. Optional English SDH subtitles are also included.

Extras


The usual array of extras are also split between the two discs, starting with the short web sketches "Hack into Broad City", short "Behind Broad City" segments for all ten episodes - five on each disc - deleted/extended scenes and outtakes segments for five of the episodes, along with additional featurettes on "Costumes" (3:50), "Directing" (3:47), the "Animation" (3:36) of the episode "Mushrooms", and "The Making of Season 4" (6:36) overview.

Overall




---
Rewind DVDCompare is a participant in the Amazon Services LLC Associates Program and the Amazon Europe S.a.r.l. Associates Programme, an affiliate advertising program designed to provide a means for sites to earn advertising fees by advertising and linking to amazon.co.uk, amazon.com, amazon.ca, amazon.fr, amazon.de, amazon.it and amazon.es . As an Amazon Associate, we earn from qualifying purchases.