The Film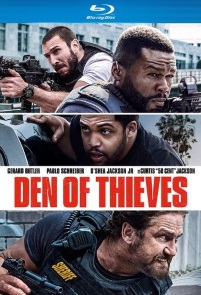 After a daring dawn robbery of an armored car that leaves the drivers and four cops dead – along with six in critical condition – along with one of the robbers, Los Angeles Sheriff's Department Major Crimes head "Big Nick" O'Brien (300's Gerard Butler) and his team – Benny "Borracho" Magalon (End of Watch's Maurice Compte), Gus Henderson (Gridiron's Mo McRae), Murph Connors (House of Wax's Brian Van Holt), and "Tony Z" Zapata (American Violence's Kaiwi Lyman) – puzzle over the theft of an armored car which was actually on its way for a pickup and was empty at the time. Since the pickup was not on the company's regular schedule, it must have been an inside job, but to what end? The likeliest suspect is Ray Merriman (Orange Is the New Black's Pablo Schreiber), who was just paroled from prison eight months before. The commonalities in the backgrounds of Merriman, the robber who was killed – Merriman's former cellmate Marcus Rhodes (Marcus LaVoi) – along with a newer known associate Donnie Wilson (Straight Outta Compton's O'Shea Jackson Jr.), on parole for grand theft auto, in college athletics and military service gives O'Brien an idea of who else might be in his crew: former prison guard Bo "Bosco" Ostroman (Jarhead's Evan Jones), demolition expert Enson Levoux (Escape Plan's Curtis '50 Cent' Jackson), and computer expert Mack (The Walking Dead's Cooper Andrews). Realizing that there is no going back after becoming "cop killers" due to Bosco's hairtrigger, Merriman has decided that their next heist will be the case-proof "bank of banks" the Los Angeles Federal Reserve which has on a daily basis anywhere from five-hundred to eight-hundred billion dollars and has thus far foiled the fifty-three attempted heists. How are they going to do it? Since this is yet another heist movie dressing up yet another slavish attempt to be the next Heat, Merriman's lecture on the layout of the target montage is intercut with "Big Nick" and his team examining Merriman's CV for his modus operandi. When Merriman and his team discover that Donnie has had contact with O'Brien, his life is endangered and the only way he can survive and the team can pull off the heist is with a drastic change of plans.

Dragging on at an interminable two-and-a-half hours (in its director's cut, the theatrical cut was only eight minutes shorter), Den of Thieves offers up nothing new and does it in the most clich้d manner from its sweaty, hardboiled characters – O'Brien sleeps with hookers nightly, always seems to be hungover, and snacks off of evidence at crime scenes – and its gritty desaturated Los Angeles setting. Characterization is minimal without little more substance to the team members on both sides than their nicknames – a federal agent played by Rizzoli & Isles' Jordan Bridges is known solely as "Lobbin' Bob" and shows up solely to annoy O'Brien with his insistence on procedure as well as his veganism – and what is there is so basic as to further pad the running time beyond some flashbacks that really deliver no more than their framing dialogue, what with the breakdown of O'Brien's marriage to Debbie (American Hustle's Dawn Olivieri) and Levoux's protectiveness of the virtue of his teenage daughter. The plot is contrived enough so that Merriman espouses the wisdom of knowing your enemy after recon on the armored truck robbery site reveal that O'Brien and Major Crimes is involved before seeming to forget about him and his progress with the investigation until O'Brien steps up and deliberately brings his past contact with Wilson to light. The ensuing cat-and-mouse game between the two is almost non-existent apart from the gun-range equivalent of whipping out and measuring, robbing their final scene – which is, of course, the final scene of Heat of its intended pathos (not to mention the other casualties on either side) – before moving on to what may be the dumbest iteration of The Usual Suspects' twist since that film was released. However much Schreiber may try to make something of his role, Butler seems to be on autopilot as if he has realized that the film is just a retread. On the commentary track, writer/director Christian Gudegast – whose previous credit was the screenplay to London Has Fallen – speaks of his intention to write a film for the cops and the criminals and boasts of getting emails from cops praising his accuracy; and it seems that they may be the only ones who will get much enjoyment from Den of Thieves, although their number is apparently enough for Universal to have greenlighted Den of Thieves 2.

Video


Given a token theatrical release before its home video and digital debut, Den of Thieves is present on Universal Blu-ray in a 1080p24 MPEG-4 AVC 2.40:1 widescreen encode that utilizes seamless branching in order to include both the theatrical cut (140:28) and the director's cut (148:49) on the same disc. The encode delivers what one expects in an Arri Alex-photographed, 2K mastered film with some nice detail in the settings, clothing, and rugged skin textures beneath the usual unimaginative color correction.

Audio


The sole audio option is a DTS-HD Master Audio 5.1 track that explodes with directionality during the bookending gunfights but also keeps all channels active throughout with atmosphere - from weather and crowd noises to the more subtle passing cars and environmental sounds - as well as its use of source music and score. Optional English SDH and Spanish subtitles are provided.

Extras


Extras start off with an audio commentary with director Christian Gudegast and producer Tucker Tooley (Brick Mansions) that accompanies the theatrical cut only and leans heavily on the technical as Gudegast repeatedly points out the switches from first to second unit footage, the digital additions like rain and the seamless transition from helicopter shot to drone when the pilot was not allowed to fly below four hundred feet. Viewers who opted to watch the film's director's cut can also get some information on the differences between theatrical and director's cuts as well as the physical and emotional continuity gaffes that resulted from the removal and reordering of scenes. The alternate ending (4:51) - which drastically reduces Eric Braeden's already meagre screentime - is perhaps less insulting to the audience than the one that remains in both cuts even if it does maintain the dumb twist. Featurettes include "Alpha Males" (2:06) and "Into the Den" (2:06) which offer talking heads about the nature of the film's main characters and "Alameda Corridor (3:13) about shooting the climactic gunfight in traffic. The Outtakes/deleted and extended scenes (23:22) consists of both footage included in the director's cut as well as some additions and extensions that are not in either one (including a tasteless bit involving a snaggle-toothed, fright-wigged prostitute that might actually have provided a bit of levity sorely lacking from the final product). Two iterations of the film's theatrical trailer are also included.

Overall


Dragging on at an interminable two-and-a-half hours, Den of Thieves offers up nothing new and does it in the most clich้d manner in yet the umpteenth slavish paean to Michael Mann's Heat.