Braven [Blu-ray]
Blu-ray A - America - Lions Gate Home Entertainment
Review written by and copyright: Eric Cotenas (25th April 2018).
The Film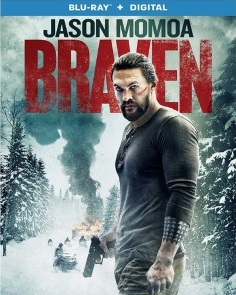 Joe Braven (Conan the Barbarian's Jason Momoa) has been running his family's Newfoundland logging business ever since his father Linden (Don't Breathe's Stephen Lang) took a forty-foot fall that left him with some increasingly worrying memory issues. After Linden's confusing a girl at a bar for his wife starts a brawl in which Linden sustains injuries and Joe nearly gets himself arrested for his brutally efficient defense of his father, he is separately warned by the sheriff (Republic of Doyle's Steve O'Connell) and his father's doctor that Linden may require more care than he and working wife Stephanie (Splinter's Jill Wagner) can give. Although Joe is against putting his father in a home, Stephanie suggests that he actually reason with his father; whereupon, Joe decides to take his father to the family's cabin for a fishing trip and a difficult conversation. Unbeknownst to them, Joe's buddy Weston (Freddy vs. Jason's Brendan Fletcher) has been using his logging truck to run heroin across the border and has flipped it the latest shipment. Desperate to hide the drugs before the police arrive, he and middleman Hallett (Longmire's Zahn McClarnon) stash the drugs in Joe's cabin and have returned with Hallett's sadistic boss Kassan (Deadwood's Garret Dillahunt) and enforcers (The Tall Man's Teach Grant, The Equalizer's Sala Baker),Star Trek Beyond's Fraser Aitcheson, and True Blood's James Harvey Ward) who have surrounded the property and plan to retrieve Kassan's property and leave no witnesses. The only thing preventing resourceful Joe and Linden from engaging in an all-out war is the discovery that daughter Charlotte (Sasha Rossof) has stowed away in the truck with them, but Kassan's threat to her safety and that of his wife means that Joe cannot afford to let any of them survive either. A derivate, lightweight script and undemanding characterizations actually work in Braven's favor as a popcorn movie with some brutal kills (mostly inflicted upon nasty characters) and some crowd-pleasing badass behavior from Momoa, Lang, and Wagner as a character who for once does not show up just to be held hostage. It almost makes up for not giving character actor Dillahunt – always dependably nasty in villain roles – much to scenery to chew on. The production values are modest but the scenic backdrop is stunning, with only some bad greenscreen compositing robbing the finale of some tension in contrast to much of the action as handled by stuntman-turned-director Lin Oeding and a supporting cast with more stunt credits than acting ones.

Video


Shot with the Red Epic camera, Braven's 1080p24 MPEG-4 AVC 2.40:1 widescreen presentation looks great throughout with nice rendering of skin textures and the rugged wilderness along with a convincing sense of depth in the drone landscape shots. The make-up effects and some CGI hold up well apart from a greenscreen composite during the finale, but there seems to be nothing to complain about with LionsGate's encode.

Audio


The sole audio option is a DTS-HD Master Audio 5.1 track that judiciously uses the environment with subtle atmospheres and a lot of silence punctuated by direction effects and music in the surrounds, becoming more aggressive during the action scenes from a run-of-the-mill bar fight to later setpieces involving guns, fire, hurled hatchets and axes, arrows, hot pokers, and bear traps. Optional English SDH and Spanish subtitles are included.

Extras


Apart from trailers, the sole extra is the featurette "The Braven's Views" (10:16) in which Momoa discusses his desire to make a movie in the style of eighties action thrillers like Rambo: First Blood and taking inspiration for the Newfoundland setting from a friend whose family has a similar business. Wagner and Dillahunt also pop up, with the former discussing her admiration for her fiercely protective mother character and how refreshing it is to get in on the action.

Overall


A derivate, lightweight script and undemanding characterizations actually work in Braven's favor as a popcorn movie with some brutal kills and crowd-pleasing badass behavior from Momoa and his co-stars.

---
Rewind DVDCompare is a participant in the Amazon Services LLC Associates Program and the Amazon Europe S.a.r.l. Associates Programme, an affiliate advertising program designed to provide a means for sites to earn advertising fees by advertising and linking to amazon.co.uk, amazon.com, amazon.ca, amazon.fr, amazon.de, amazon.it and amazon.es . As an Amazon Associate, we earn from qualifying purchases.