The Film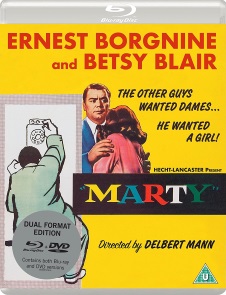 Oscar (Best Picture): Harold Hecht (winner), (Best Actor in a Leading Role): Ernest Borgnine (winner), (Best Director): Delbert Mann (winner),(Best Writing, Screenplay): Paddy Chayefsky (winner), (Best Actor in a Supporting Role): Joe Mantell (nominated), (Best Actress in a Supporting Role): Betsy Blair (nominated), (Best Cinematography, Black-and-White): Joseph LaShelle (nominated), and (Best Art Direction-Set Decoration, Black-and-White): Ted Haworth, Walter M. Simonds, and Robert Priestley (nominated) - Academy Awards, 1956
(Best Actor - Drama): Ernest Borgnine (winner) - Golden Globes, 1956
(Best Foreign Actor): Ernest Borgnine (winner), (Best Foreign Actress): Betsy Blair (winner), and (Best Film From Any Source): USA (nominated) - BAFTA Awards, 1956
OCIC Award: Delbert Mann (winner) and Palme d'Or: Delbert Mann (winner) - Cannes Film Festival, 1955

Marty (The Wild Bunch's Ernest Borgnine) is a thirty-four year old bachelor working in a butcher shop. With all of his elder and younger siblings married with children, Marty must alone endure not only his mother's attempts at matchmaking but also the shaming of the neighborhood busybodies who either think he should be ashamed of himself or believe something must be wrong with him to still be single. He is not the only single man in his thirties in the neighborhood, however, as he spends nearly every night hanging out with best buddy Ange (Chinatown's Joe Mantell), Leo (writer Paddy Chayefsky), and girl-mad Ralph (Gomer Pyle, U.S.M.C.'s Frank Sutton); however, Marty has come to realize that he does not have whatever it is that women want, that he is just a "fat, ugly man" who is tired of getting rejected (which he admits to his mother really hurts). He nevertheless relents in response to worries of his mother Teresa (The Wrong Man's Esther Minciotti) that he will die without a having a son and goes out with Ange to the Stardust Ballroom her nephew Tommy (The Dick Van Dyke Show's Jerry Paris) – visiting her along with his long-suffering wife Virginia (Karen Steele) about the prospect of his mother and Teresa's sister Caterina (Love with the Proper Stranger's Augusta Ciolli) moving in with her and Marty – has promised her is "loaded with tomatoes." Marty is a wallflower until he is approached by a man who offers him five dollars to take a "dog" off his hands. He refuses the offer but does end up offering comfort to schoolteacher Clara (Il Grido's Betsy Blair) and the two connect even as Marty overcompensates for his shyness by running off at the mouth (but not exactly disputing that they are both "dogs"). A late night stroll has the couple detouring to his home after a run-in with Ralph and Leo who try to fob off one of a trio of nurses on him and the pair are given the cold shoulder by Ange who has had no luck on the dance floor. While the two have been hurt too many times to trust easily, Marty and Clara start to connect over their feelings of obligation to their family and coming to understand that they both have used it as an excuse to not take risks out of the fear of being alone in the world. Unfortunately, Marty's family and friends are not so encouraging about his attraction to Clara, letting their own bitterness over their personal situations taint their advice to Marty and color their impressions of Clara (notably those of Teresa who has been shaken by her embittered sister's ranting about "the curse of being a widow" and being displaced by her daughter-in-law).


A modest feature film adaptation of the 1953 The Philco Television Playhouse teleplay production written by the great Paddy Chayefsky (Altered States) and helmed by Delbert Mann (Night Crossing), Marty went on not only to win Best Picture but also to net Academy Award wins for atypical leading man Borgnine (up against James Cagney, James Dean, Frank Sinatra, and Spencer Tracy) in one of his first leads, along with Mann (up against John Sturges, Elia Kazan, Joshua Logan, and David Lean) for his first feature, and the first of three for Chayefsky (followed by The Hospital and Network). While William Holden was scorching up the screen into other Best Picture nominees Picnic and The Rose Tattoo, a day in the life of Borgnine's schlubby-looking Italian-American bachelor struck a chord with critics and audiences. Borgnine's performance is "broader" than that of the teleplay's more low-key Rod Steiger (who would unfortunately be better remembered for the likes The Amityville Horror than his early TV work), but his Marty also conveys the character's loneliness and lack of self-confidence borne both out of rejection in courting and in being the reliable one by his family and friends. The film conveys better than the teleplay the emotional connection formed between Marty and Clara and how the similarities of their situations lead to understanding and the potential to build each other up rather than suggesting that two lonely people should "settle" for one another. Producers Harold Hecht (Sweet Smell of Success) and uncredited Burt Lancaster (From Here to Eternity) had little confidence in the film and took it on as a tax loss, and the monochrome photography of Joseph LaShelle (Laura) combined with the studio backlot-looking New York location photography and hastily put-up sets in Los Angeles – combined with the musical accompaniment of Roy Webb (Notorious) who got his start Poverty Row-adjacent at RKO – cannot have given the audiences the big city glamour for escapist audiences while the open-ended finale could not have given them a love story for the ages in spite optimistic turn given Borgnine's exuberant delivery and the upswell of the scoring; and yet, the film still feels as fresh when watched without the ballyhoo that accompanied the theatrical release and awards season promotion its source revelatory to modern audiences of the kind of subjects explored on the small screen during the golden age of television.

Video


Previously released on DVD in the US and UK by MGM in a barebones fullscreen transfer, and on Blu-ray in the US by Kino Lorber and by Wild Side in France, Eureka's 1080p24 MPEG-4 AVC 1.33:1 pillarboxed fullscreen transfer commences with windowboxed credits suggesting an HD master prepared for DVD with somewhat grayish whites which may be part of the original photography with night exteriors and interiors that are deliberately underlit but not so much noir-ish as just oppressive while textures and depth are variable (owing at least partially to the look of the film which is somewhere between a low budget film and a television production). There has been some debate about the aspect ratio of the film which would have likely been projected at 1.85:1 but presumably Eureka decided in the absence of a 2K or higher open aperture scan not to crop a 1080p master.


As with the DVD editions and the French Blu-ray, this presentation of Marty is short a four minute scene featuring Clara and her parents reportedly present on the VHS release but only restored to Kino's US Blu-ray and DVD. Presumably this was not an accidental deletion as the ~89 minute running time reflects the length of the film's UK theatrical release.

Audio


The sole audio option is an uncompressed LPCM 2.0 mono track that cleanly delivers dialogue and scoring throughout with optional English HoH subtitles also allowing an appreciation of Chayefsky's dialogue.

Extras


Not included on the previous DVDs and Blu-ray editions is the original 1953 teleplay broadcast on NBC (51:40) with Rod Steiger in the lead and The Sopranos' Nancy Marchand as Clara, Betsy Palmer (Friday the 13th) as Virginia, and Lee Philips (Peyton Place) as Tommy with Minciotti, Ciolli, and Mantell inhabiting their original roles. The kinescope sourced production looks as good as it can and HoH subtitle are thankfully also provided for Steiger's low delivery. Supplementing this version of the production is a short archival interview with director Delbert Mann and the cast of the original teleplay (5:44) from The Golden Age of Television hosted by Eva Marie Saint (North by Northwest) who did four plays for The Philco-Goodyear Television Playhouse with brief comments from Mann, Steiger, and Palmer about one of the other eleven Philco plays Chayefsky was working on when he got he inspiration for Marty and the opportunity he had to get the play produced when another one being planned by Mann proved "unsalvageable." For the feature presentation, an tnterview with film scholar Neil Sinyard (19:06) compares the teleplay and film and looks at the circumstances of the film's production and reception, and notes the film's popularity in Europe due to its resemblance to neorealism (noting that it was a favorite film of Federico Fellini and likening Marty and his friends to I Vitelloni). The disc also includes the theatrical trailer (2:58) which was presented by uncredited producer Burt Lancaster.

Overall


A modestly-produced film adaptation of a teleplay that proved a hit with audiences and critics, Marty still feels as fresh when watched without the ballyhoo that accompanied the theatrical release and awards season promotion its source revelatory to modern audiences of the kind of subjects explored on the small screen during the golden age of television.