The Film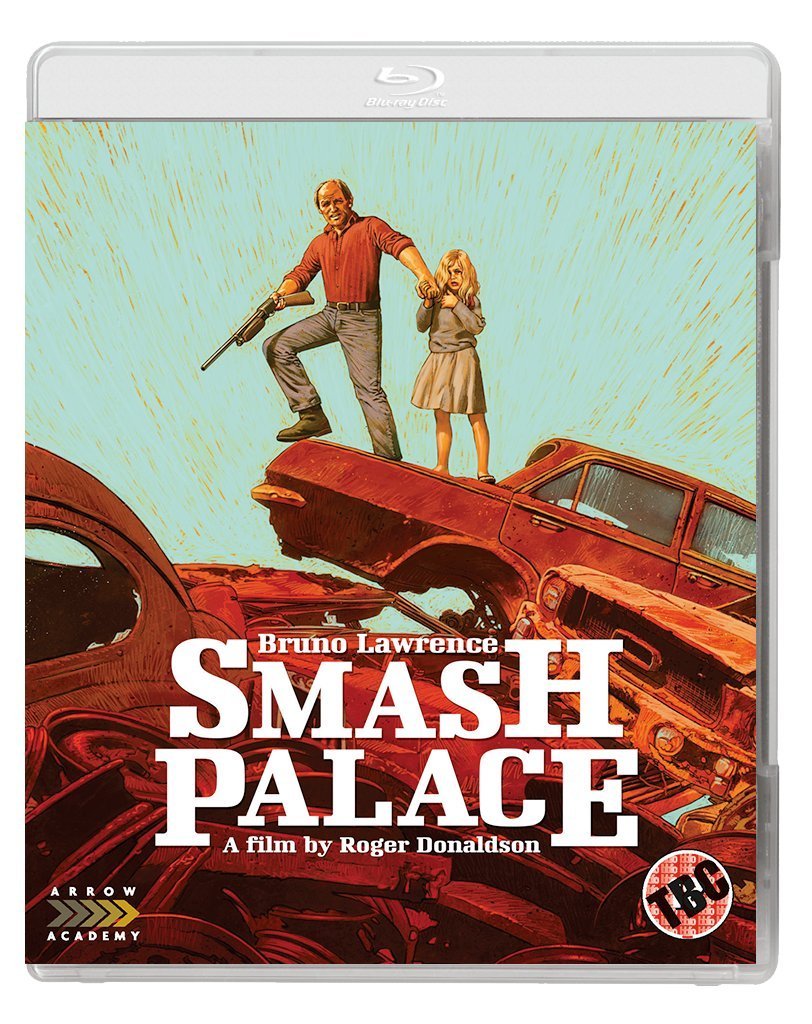 Smash Palace (Roger Donaldson, 1981)

Al Shaw (Bruno Lawrence) owns and operates Smash Palace, a wrecker's yard established by his father. Al is a promising race car driver, spending his spare time bonding with his young daughter Georgie (Greer Robson-Kirk) whilst tinkering with a racing car he enters into regional races. Al admits he could have made it big in American but would rather remain true to his roots. This displeases his wife Jacqui (Anna Maria Monticelli), who betrayed her former fiancé in order to start a relationship with Al. Jacqui, who is from France and wants to expand her horizons by becoming a teacher, wishes Al would sell Smash Palace and tries to manoeuvre a deal with a local developer named Len Parry, but Al drags his heels.

Eventually, Jacqui begins an affair with Al's best friend, divorced police officer Ray Foley (Keith Aberdein). After a fight, Jacqui moves out of the family home and takes Georgie with her, taking up a position as a French teacher at the local school.

Al wishes to take Georgie to Bay Park, where he is entered into a race. However, Jacqui forbids this. Georgie is deeply interested in her father's race and watches it on the television, to the disapproval of her mother. Georgie is alone when she watches her father's victory, on a treacherous track and in difficult weather conditions: Al takes first place in the race. Georgie is unable to celebrate with her father, and Jacqui has no interest in Al's victory.


When Al picks Georgie up and takes her hunting, without Jacqui's permission, Jacqui responds by having an order issues against Al, preventing him from having contact with his daughter. An incensed Al turns up at Jacqui's house and uses his towbar to rip the front door down. Al is arrested; upon his release, a sadistic police officer named Frank (Sean Duffy) arranges for Al to be assaulted by a group of teenage thugs.

Incensed, Al abducts Georgie and fakes their deaths by driving his recovery truck off a precipice. He and Georgie hide out in the bush and celebrate Georgie's birthday with a homemade cake and party hats made from newspaper. However, when Georgie becomes ill, Al is forced to take desperate measures, driving in to town and taking a pharmacist hostage.

Like director Roger Donaldson's debut feature Sleeping Dogs (1977, recently released on Blu-ray by Arrow and reviewed by us here), Donaldson's second feature Smash Palace helped to kickstart the New Zealand film industry. Donaldson would go on to make some incredibly diverse films in Hollywood, his films there often highly competent but workmanlike (such as his Sam Peckinpah remake The Getaway in 1994, or Species in 1995), but the early films he made in New Zealand are very different, offering a localised spin on Hollywood genres; in comparison with the director's Hollywood films, they are distinctive perhaps largely because of Donaldson's involvement in scripting as well as directing them. In a 1981 interview, Donaldson commented that he was 'committed to the New Zealand film industry. Well, I'm committed to my own movies, really: There are real advantages here, though: Smash Palace is my movie, and I couldn't have made it anywhere else. I definitely have more chance to make my movies here: in Los Angeles, I'd just be another hack director' (Donaldson, quoted in Chapman, 2007: 138-9; emphasis in original). It seems that after Donaldson moved from New Zealand to Hollywood, his opportunities to make personal films such as this and Sleeping Dogs were indeed limited. Both Sleeping Dogs and Smash Palace share elements of narrative similarity too. As in Sleeping Dogs, Smash Palace is the story of a man who is displaced from his position within his own family by his wife's affair with a former friend, and also like Sleeping Dogs, Smash Palace builds to an extended sequence in which its protagonist becomes a fugitive, hiding out in the bush. Both films also have strong elements of ambiguity in terms of the motivations and prior experiences of their respective protagonists, and as James Chapman notes they 'refuse to offer easy solutions to real social problems' (ibid.: 142).


As in many American Westerns, such as The Comancheros, in which an immigrant from Europe (in that film, Stuart Whitman) comes into conflict with American values, in Smash Palace there is a conflict between the Old World (Europe) and the New World of the colonies. Al criticises Jacqui's 'hoity toity ways', whilst Jacqui rants at the lack of opportunities within the small New Zealand town for herself and her daughter Georgie: she wants more for Georgie than the suggestion that she will simply grow up 'to marry a baker or a mechanic'. (Ironically, the time Georgie spends with Al provides her with a skillset that she can use in adulthood, and Al's work as an apparently very good racing car driver gives his daughter a sense of ambition; but Jacqui cannot see this, seeing Al as simply a 'mechanic' who smells bad, and when Georgie watches Al win the big race on television, a disinterested Jacqui sits on the porch canoodling with her lover Ray.) Early in the film, Jacqui complains that Al is 'obsessed with that pile of rusting junk out there'. 'That pile of rusting junk', Al reminds her, 'my father spent a bloody lifetime putting together'. Ironically, though Jacqui complains that Al won't sell Smash Palace and move their family away, when she leaves Al for Ray she moves no further than the nearest town, taking a position as a teacher of French at the local school.

For the most part, Al shows little to no interest in his wife, Jacqui. The only sexual interest he displays in his wife follows a vicious argument. Whilst Georgie hides outside the house with the family dog, Jacqui retreats to the bedroom, crying. Al enters and fucks Jacqui animalistically (as noted in Irving Wallace's novel The Seven Minutes, the more polite ways of describing this act do not apply here: it is the 'cold hearted fucking' that Mellors speaks of in Lady Chatterley's Lover), turning her onto her stomach and lowering her trousers before penetrating her from behind. Like the sexual assault upon Amy in Sam Peckinpah's Straw Dogs (1972), the staging suggests Al is penetrating Jacqui anally, and the viewer is reminded of a line earlier in the film in which Jacqui complained that Al was 'too busy greasing up back axles to make sure I'm not up to no good'. The only sex scene in the film, it's a scene in which sex is used as a form of animalistic domination.


The opening sequence features a car driving through the landscape at night, dawn eventually breaking on the horizon as the car crashes and overturns. Al is called out to this accident by Ray. The pressures placed on Al lead him to behaving in a highly irrational manner, the narrative leading Al to face the wreckage of his own life, which overturns much as the car in opening sequence does. A parallel is drawn between human lives and vehicles; both can be wrecked. The title of the wrecker's yard, 'Smash Palace', refers to both the wrecked vehicles in the yard and the lives of the yard's owners. When Smash Palace was released in the US in 1982, comparisons were often made between the film and Robert Benton's 1979 film about divorce, Kramer Vs Kramer. However, unlike Benton's picture Smash Palace refuses to offer solutions to the problems it presents, and it also pulls no punches in terms of its depiction of Georgie's parents. Unlike Dustin Hoffman's Ted Kramer in Kramer Vs Kramer, Al isn't an entirely sympathetic character, and neither is Jacqui. The cost of their cruelty towards one another is writ across the face of their daughter Georgie. When Al and Jacqui have their knock-down, drag-out fight which results in Jacqui asserting that she wants to leave Al, Georgie escapes from the house and hides outside with her dog. Neither parent seems to wonder where their daughter is or show any concern for her. Meanwhile, when Al is involved in the car race which Georgie watches on television, Jacqui having forbidden Georgie from going to the racetrack with her father, Jacqui refuses to even feign interest in her daughter's enjoyment of Al's racing, choosing instead to sit on the porch of the house and canoodle with her new lover Ray, leaving Georgie to watch Al's victory on her own. Finally, as if to reinforce the centrality of Georgie – a passive victim of the wranglings of her parents – to the narrative, the film ends on a freeze-frame close-up of the child's face.



Video
Smash Palace takes up a little under 30Gb of space on a dual-layered Blu-ray disc. The film, which runs for 107:12 mins, is presented in its original aspect ratio of 1.85:1. The 1080p presentation uses the AVC codec.

The film's photography is stellar, featuring a number of key scenes shot during golden hour. These amber hues are communicated excellently in this Blu-ray presentation, which features a consistent and naturalistic palette that, in other scenes, is dominated by earthy browns and greens. A strong level of detail is present throughout the film, the image having texture and depth. Contrast levels are very pleasing. The opening sequence features a car driving at night, the illumination of the headlights tapering off into deepest black. Midtones are richly defined, and there's a nuance gradation from the midtones to black. Finally, a solid encode to disc ensures the presentation retains the structure of 35mm film.









Audio


The disc presents the viewer with the option of watching Smash Palace with either: (i) a LPCM 2.0 track; or (ii) a DTS-HD MA 5.1 track. Both audio tracks are rich and deep, dialogue being communicated with clarity and a good range on display. The 5.1 track has some added sound separation, but the LPCM two-channel track is arguably a little more 'punchy'. Optional English subtitles for the Hard of Hearing are included too. These are easy to read and free from errors.


Extras



The disc includes:
- An audio commentary with director Roger Donaldson and Steve Millen. Donaldson and Millen, a stunt driver on the production, reflect on the making of the picture. The pair talk about the origins of the film in a newspaper cutting Donaldson encountered whilst traveling through England. Interestingly, Donaldson suggests that the scene in which Al is seen welding was influenced by the lighting in a similar sequence from Fellini's Roma (1972), not realising that this would have negative consequences for the actors in this scene – resulting in an actor in one of the smaller roles being briefly hospitalised. Donaldson dominates the conversation, but Millen is a strong foil for his observations. Millen takes the forefront when the pair begin to talk about some of the vehicular stunts which feature in the movie.

- 'The Making of Smash Palace' (53:05). This new documentary looks back on the production of the film and includes input from Donaldson, Keith Aberdein, associate producer Larry Parr, financier Gary Hannam, cinematographer Graeme Cowley, assistant director Suzie Pointon, Geoff Murphy and others. They talk about the origins of the film and its themes, and the performances of the film's actors. Cowley says, very diplomatically, that Donaldson 'knew exactly what film he wanted to be made, but it had to be found'. The interviews are illustrated with clips from the film and some great on-set stills. (It's a shame a separate gallery of some of these stills hasn't been included on the disc.)

- Trailer (2:25).


Overall



Smash Palace is an impactful film, Donaldson's handling of the material is assured – as in Sleeping Dogs – and the picture mimics the form of the Hollywood action film without sopping to its more limiting conventions. Donaldson invests the characters with complexity: Al, Jacqui and even Ray are rounded characters. The guiding point-of-view within the film, however, is arguably that of Georgie as she witnesses the decline of her parents' marriage. The comparisons made, when Smash Palace was first released in the US, with Kramer Vs Kramer are apt, but Smash Palace takes similar thematic material to Kramer Vs Kramer and delivers it in a much more combative manner.

As with Arrow's recent release of Sleeping Dogs, Smash Palace comes with a strong recommendation. The impressive presentation of the main feature is accompanied by some good contextual material.

References:
Chapman, James, 2007: 'Between the National and the International: The Films of Roger Donaldson'. In: Cornich, Ian & Murray, Stuart (eds), 2007: New Zealand Filmmakers. Wayne State University Press : 138-51

Click to enlarge: