The Woman in the Window [Blu-ray]
Blu-ray A - America - Kino Lorber
Review written by and copyright: Eric Cotenas (9th June 2018).
The Film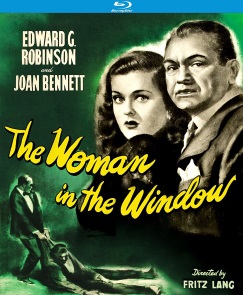 "The flesh is still strong but the spirit grows weaker by the hour," says middle-aged criminology professor Richard Wanley (The Red House's Edward G. Robinson) to cohorts District Attorney Frank Lalor (The Old Dark House's Raymond Massey) and psychiatrist Dr. Michael Barkstane (Gaslight's Edmund Breon) of his prospects for adventure while his wife (Saboteur's Dorothy Peterson) and children (Electra Glide in Blue's Robert Blake and Carol Cameron) are out of town for the weekend even though he has already been drawn to the siren song of a beautiful woman who seems to only exist in a portrait in the store window beside the gentleman's club. On his way home to bed, however, he meets her in the flesh as Alice Reed (Suspiria's Joan Bennett) and makes the ill-fated decision to escort her back to her apartment where she offers to show him some of the sketches the artist made of her prior to the painting. While the proceedings skirt the boundaries of propriety in spite of multiple bottles of champagne, one of her suitors ('s ) abruptly arrives and makes the natural assumption. When the man slaps Alice, Richard gallantly tries to intervene and stabs the man to death with a pair of scissors in self-defense. Richard weighs the possibilities against Alice's fear of going to prison and surmises that no one would believe the truth, conspiring with her to move the body and wipe away all evidence of the man's presence – reasoning that he is unlikely to have told anyone about his relationship with Alice if he did not even tell her his own real name – and their acquaintance with one another. Richard warns Alice of advances in forensics but makes a number of mistakes himself as he takes the body out of town and leaves it in the woods. Days later, it is discovered by a boy scout and identified as high profile financier Claude Mazard (The Blue Dahlia's Arthur Loft) and that the company with which he was consulting is offering a $10,000 reward. Richard fishes for information on the case from Lalor who takes him on a trip to the site of the body's discover as an observer where he learns of the evidence from Inspector Jackson (The Mystery of the Wax Museum's Thomas E. Jackson) that may just lead back to him. He also learns that Mazard's volatile temper and unpredictable behavior lead the company to assign a bodyguard to tail him at a distance, and the man's failure to materialize has made him a suspect. Richard is soon contacted by Alice who has been approached by the bodyguard Heidt (Along Came Jones's Dan Duryea), a former police officer kicked off the force for extortion, who is willing to forego collecting the ten thousand dollar reward for a quick five-thousand in cash. Richard, however, knows that there are only three ways to deal with a blackmailer: pay him and he will come back until he has squeezed them of all they have, turn him into the police and implicate themselves, or kill him.

While director Fritz Lang had previously dabbled in with the nascent film noir genre with pre-war films like You Only Live Once and Fury and gave wartime thrillers an expressionistic twist with Man Hunt, Ministry of Fear and Hangmen Also Die, The Woman in the Window was the first of a trio of film noirs with muse Bennett – the other two being Scarlet Street which reteamed her with Robinson and the more gothic Secret Beyond the Door – that truly crystalized the genre along with Otto Preminger's Laura and Billy Wilder's Double Indemnity. Couched in the domestic sphere with the dissatisfactions of middle age as the path to danger, with Wanley's and his friends' acknowledgment of how easy it would be to slip up possibly motivating him to test himself when Alice seems to materialize out of nowhere in a reflection beside her painting; as such, signifying Alice as femme fatale without oversimplifying Wanley's motivations as strictly noble, idealistically romantic, or libidinous. That everything that can go wrong does when he makes this fateful decision almost makes the film a commentary on the nature of film noir – with Robinson's Wanley casting himself as a doomed hero with the question of whether Alice is a trustworthy or either having set him up or willing to sell him out for her own security projected upon her – while Lang is free to focus on the construction of a string of suspense set-pieces with Wanley's attempt to dispose of the body a masterclass in noir photography and editing while Wanley's revisiting of the crime scene and Alice's encounters with Heidt more dependent on performance with the mechanics secondary and supportive. The resolution first seems like a very un-noir cop-out but ultimately proves amusing and more satisfactory than the happy ending of Secret Beyond the Door.

Video


Released theatrically by RKO and reissued in the fifties by Independent Releasing Organization, The Woman in the Window was not available on home video until a nineties VHS release from MGM, followed by a barebones DVD from MGM in 2007 and a colorized 2012 TGG Direct double feature with The Stranger. Preceded by a forgettable Spanish Blu-ray featuring a low-bitrate MPEG-2 1080i transfer with lossy audio, Kino Lorber's 1080p24 MPEG-4 AVC 1.33:1 pillarboxed fullscreen Blu-ray comes from a new HD master that easily bests MGM's DVD by finally allowing the viewer to distinguish between shots of Bennett which have received the glamour treatment and crisper shots of the other actors (particularly those of Robinson that peer into every line on his face) with a few splices briefly visible and the expected coarsening in grain during opticals.

Audio


The sole audio option is a DTS-HD Master Audio 2.0 mono track that is cleaner than before but not totally free of hiss as one can expect from the old "noiseless recording" systems. Optional English SDH subtitles are also included.

Extras


Besides a theatrical trailer (1:55) and previews for other titles, the disc also features a new audio commentary by film historian Imogen Sara Smith that contextualizes the film not only among the major 1944 noir releases but also the sub-genre of "portrait noir" occupied by Laura along with the film's source novel by J.H. Wallis (adapted again in 1955 for television as part of the Robert Montgomery Presents series with Robert Preston and Maria Riva in the leads) as well as how the script by Nunnally Johnson (The Grapes of Wrath) deviates.

Overall




---
DVD Compare is a participant in the Amazon Services LLC Associates Program and the Amazon Europe S.a.r.l. Associates Programme, an affiliate advertising program designed to provide a means for sites to earn advertising fees by advertising and linking to amazon.co.uk, amazon.com, amazon.ca, amazon.fr, and amazon.de.