Oh Lucy! [Blu-ray]
Blu-ray ALL - America - Film Movement
Review written by and copyright: Eric Cotenas (9th June 2018).
The Film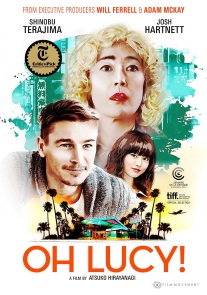 Critics' Week Grand Prize and Golden Camera: Atsuko Hirayanagi (nominated) - Cannes Film Festival, 2017
NHK Award: Atsuko Hirayanagi (winner) - Sundance Film Festival, 2016

Setsuko (The Shell Collector's Shinobu Terajima) is a lonely middle-aged office worker in Tokyo quietly as disconnected as the other commuters who seem to throw themselves in front of the train on a daily basis. Receiving a desperate call from her niece Mika (Deadpool 2's Shioli Kutsuna) who works at a café staffed by girls in maid uniforms, she learns that the girl has signed up for an English-language class but is unable to take time off of work because she needs the money. Since she cannot get a refund on the class, she asks her aunt if she would like to take it in her place for the cost of the course. Setsuko goes to the class for a trial session and is pleasantly surprised at the unusual teaching methods of instructor John (30 Days of Night's Josh Hartnett) who is not simply teaching English but American English by forcing his students to adapt a casual attitude, stepping into personal space as a "hugger", and having them adapt American personas (christening Setsuko as "Lucy" and outfitting her with a blonde wing). She is put more at ease with the approach when interacting with fellow classmate "Tom" (Shall We Dance?'s Kôji Yakusho) who seems just as reserved (and lonely) as her, but it is the promise of John's closeness that has her deciding to take the class and paying Mika only to discover upon returning to class that John has abruptly quit and return to Los Angeles on the same day that Mika has also quit her job and disappeared. Feeling as though she has been taken for a fool by her niece and devastated at John's departure, Setsuko gets drunk and makes a scene at a goodbye party of co-worker Yoshiko (Shutter's Miyoko Yamaguchi) whose forced retirement seems her own destiny. Her passive-aggressive sister Ayako (The Great Yokai War's Kaho Minami) is seemingly unconcerned about her daughter's disappearance, blaming Setsuko for helping her in the first place. When Setsuko receives a postcard from Mika addressed from Los Angeles, however, she decides to make use of her unused vacation time, and Ayako insists on going with her. The John they discover there is a pot-smoking wastrel late on his rent, which Setsuko pays to the disapproval of Ayako who then obligates him to help them find Mika. Renting a car, they take to the road in search of another destination on a postcard. While Setsuko explores the Californian landscape and starts to remake herself into what she thinks John might find attractive, Ayako confronts John about Mika's pregnancy and her erratic behavior and she may or may not be looking forward to her sister realizing that she is making a fool of herself.

Expanded upon her award-winning short film, writer/director Atsuko Hirayanagi's feature debut is quite a pleasant surprise, and more so when one discovers that it was backed by the likes of Will Ferrell (Anchorman: The Legend of Ron Burgundy) and Talladega Nights: The Ballad of Ricky Bobby (Adam McKay). While there is a certain comical aspect to Setsuko's increasingly cringe-worthy antics of desperation, Terajima and the character remain human and the viewer remains optimistic that the process of remaking herself will ultimately be worth whatever disappointment she suffers. The increasingly dark turns of the story however truly leave the viewer wondering if Setsuko is doomed to a life a misery and just might be the next anonymous worker to throw herself off of the platform or if the successive rupturing of both personal and professional relationships may ultimately be liberating. The drama is spiked with comedy, although a deleted scene on the Blu-ray release reveals that Hirayanagi wisely cut it back, with the usually bland Hartnett providing dimension and warmth amidst a supporting cast of broader American characterizations essayed by the likes of Will & Grace's Megan Mullally, Raising Hope's Todd Giebenhain), and Eddie Hassell (The Kids Are All Right). If the better-known Yakusho seems underutilized, TV actress Minami will be a pleasant discovery for Western viewers, and one can hope that Hirayanagi's future ventures will continue to veer towards the complex rather than becoming more formulaic when tackling romantic comedy or other genres.

Video


Shot on the Arri Alexa and mastered in 2K, Film Movement's 1080p24 MPEG-4 AVC 1.85:1 widescreen encode looks well-detailed with a reserved color palette during the Japanese scenes with occasional pop from wardrobe and some set decoration while the California scenes take on a warmer feel.

Audio


As with Film Movement's other titles with 5.1 mixes, they have provided both a DTS-HD Master Audio 5.1 track and a Dolby Digital version with the dialogue-heavy film making sparse use of effects in the Japan sequences and more in the early Los Angeles scenes. A single set of English subtitles transcribes English dialogue and translates Japanese dialogue so one cannot have one without the other.

Extras


The major extra is a NYAFF Chat Interview with director Atsuko Hirayanagi (18:06) in which she discusses the simultaneous Cannes and Sundance reception of the original short film - sadly not included here - and her response to her agent inquiring as to whether she had any ideas for a feature by spending six months to develop the short into a feature script with co-writer Boris Frumin to perfect it instead of making a casual pitch. She and her interviewer muse on the different expectations of Cannes and Sundance panels and audiences and how the short might have resonated with both before discussing the development of the feature, and how the added American backing helped in terms of casting and visualizing the film while she felt no pressure to cater to the assumed tastes of either the American or Japanese sides of the funding. The two brief deleted scenes (2:40) include an expansion of Mullally's short role as a woman who has the misfortune to be seated in between the feuding sisters on the plane to Los Angeles. The theatrical trailer (2:09) is also included along with trailers for six other films (only one of which was released by Film Movement as DVD-only).

Overall

---
DVD Compare is a participant in the Amazon Services LLC Associates Program and the Amazon Europe S.a.r.l. Associates Programme, an affiliate advertising program designed to provide a means for sites to earn advertising fees by advertising and linking to amazon.co.uk, amazon.com, amazon.ca, amazon.fr, and amazon.de.