The Film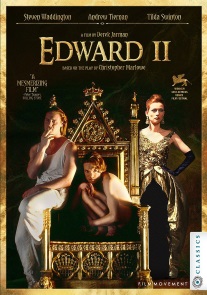 FIPRESCI Prize (Forum of New Cinema): Derek Jarman (winner) and Teddy (Best Feature Film): Derek Jarman (winner) - Berlin International Film Festival, 1992
Volpi Cup (Best Actress): Tilda Swinton (winner) and Golden Lion: Derek Jarman (nominee) - Venice Film Festival, 1991

Upon the death of his father, Edward II (The Imitation Game's Steven Waddington) takes the opportunity to send for Piers Gaveston (300's Andrew Tiernan), once a favorite of the king, who had been exiled to France by the Bishop (Cockneys vs. Zombies's Dudley Sutton) and the earls – lead by Mortimer (Excalibur's Nigel Terry) – who looked down upon his origins while Edward's brother Kent (Game of Thrones' Jerome Flynn) and wife Isabella (Orlando's Tilda Swinton) are more concerned with the Edward's affection for Gaveston ("Is it not queer," askes Isabella with perhaps more emphasis the adjective than playwright Christopher Marlowe may have intended, "that he is thus bewitched?") Gaveston avenges himself upon the Bishop who is beaten by his thugs and placed in the Tower of London, but even Edward's brother Kent meekly objects when Edward bestows several titles and earldoms upon Gaveston to which Mortimer and the other earls – titled in the end credits as "The Chorus of Nobility" – vociferously object and threaten to remove their support of Edward should he not exile Gaveston again. With Gaveston gone, Isabella hopes to win back Edward's affections but he knows that she has been consorting with Mortimer so she decides to play both sides by supporting Edward's desire to bring back Gaveston and suggesting to Mortimer that they will be faultless should the almost universal hatred for Gaveston drive "some base slave" to kill him upon his return; however, Gaveston enrages Mortimer who stabs him, causing Edward to publically denounce Mortimer and the earls, and Isabella to take sides as the "wronged" wife, with their son Edward III (War Requiem's Jody Graber) caught in between.

Embelling upon the homoerotic desire of Edward II and Piers Gaveston in the play by Christopher Marlowe as an outgrowth of his biographical portrayals of the historical figures Sebastiane, Caravaggio, and Wittgenstein, director Derek Jarman transforms the historical criminalization of homosexuality into a rallying cry for gay rights in the eighties and nineties amidst the conservative persecution in respnose to the AIDS epidemic (Jarman having publically come out of as HIV+ and joining Peter Tatchell's direct action group Outrage). Indeed, one of the film's major sequences has a rioting public represented as gay rights activists being talked down upon by a Thatcheresque Isabella coolly explaining to them that they are mistaken in the nature of their enmity. That the film takes liberties with Marlowe's text is a given, but the loose adaptation works well for Jarman's purposes in that Gaveston's sexuality seems independent of his manipulation of the king, and that it is attributed as a perversion by Mortimer and the earls to his low birth with the king "bewitched" and the seeming acceptability of difference so long as it does not cross class lines evident in scenes depicting Mortimer's sexual masochism indirectly expressed in his relationship with Isabella and more explicitly with his loyal housemaids as prostitutes, as well as young Edward III being allowed to run around the castle wearing his mother's dresses, shoes, and ear rings (so long has he wreaks destruction with his toy soldiers and trucks); as such, it is easier to believe that Edward would feel as if it was his right to love Gaveston that was being persecuted. The outré production design and costumes of the film were as much an effect of the low budget as an outgrowth of the more pared-down aesthetic Jarman and production designer Christopher Hobbs (Gothic) had innovated from their work with director ">Ken Russell and the music videos Jarman had directed for The Smiths and The Pet Shop Boys. The film is told as a series of flashbacks from Edward's dungeon cell shared with Lightborn (The Garden's Kevin Collins), Edward's assassin in the Marlowe play, the film adaptation of which leaves ambiguous as to which version of their final scene is imagined. A certain degree of passivity is required on the part of Waddington's Edward II to let both the plotting to go on behind his back and Gaveston to let loose on the earls, with Tiernan, Terry, and Swinton sinking their teeth into their roles with relish (quite literally in the case of Swinton who appropriately won the Volpi Cup at the Venice Film Festival). Also appearing in smaller roles are John Lynch (Isolation) who becomes Edward's replacement "favorite", production designer Hobbs and costume designer Sandy Powell (Shakespeare in Love) as a seamstress, and Eurythmics' Annie Lennox who serenades Edward and Gaveston with Cole Porter's "Every Time We Say Goodbye" on the eve of his second exile.

Video


Released theatrically stateside by Fine Line Features and on home video by New Line – along with a letterboxed Criterion Collection laserdisc that included Annie Lennox's music video for "Every Time We Say Goodbye" – Edward II received two domestic DVD releases: the first as a single-disc from Image Entertainment which featured an anamorphic transfer and a reading by Tilda Swinton at the 2002 Edinburgh Film Festival, and then as an Image Entertainment triple feature with Twelfth Night and All Over Me while Second Sight released a remastered DVD in the UK with a new featurette that has been ported over to Film Movement's 1080p24 MPEG-4 AVC 1.78:1 widescreen BD50 Blu-ray. The back cover touts a "new digital restoration" (which press releases amend as a 2K restoration) and the image is in keeping with the slick MTV look of eighties and nineties while zooming into the image reveals a fine layer of grain while details like hair and the textures of the costumes hold up to magnification, and also revealing faces to have been made up heavily to look almost pale and porcelain (more so than usual in the case of Swinton) in contrast to the unwashed likes of Lightborn.

Audio


The sole audio option is an LPCM 2.0 encode of the film's Dolby Stereo track which is more active in terms of centralized dialogue and scoring than directional effects apart from some of the "large scale" sequences. Optional English SDH subtitles are also helpful with some of Marlowe's dialogue.

Extras


Apart from the film's theatrical trailer (1:32) and trailers for other Film Movement titles, the only other video extra is "Derek's Edward" (23:40) featuring moving recollections about the film and Jarman's life from actor Waddington, producers Anthony Root (Tales of the City) and Steve Clark-Hall (Sherlock Holmes: Game of Shadows), cinematographer Ian Wilson (Erik the Viking), and Outrage activist Peter Tatchell. Enclosed with the disc is a booklet featuring "Queenie Queens on Top" a new essay by filmmaker Bruce LaBruce with a prologue by star Tilda Swinton.

Overall