Black Magic (Part 2) AKA Gou hun jiang tou (Blu-ray) [Blu-ray]
Blu-ray B - United Kingdom - 88 Films
Review written by and copyright: Rick Curzon (18th June 2018).
The Film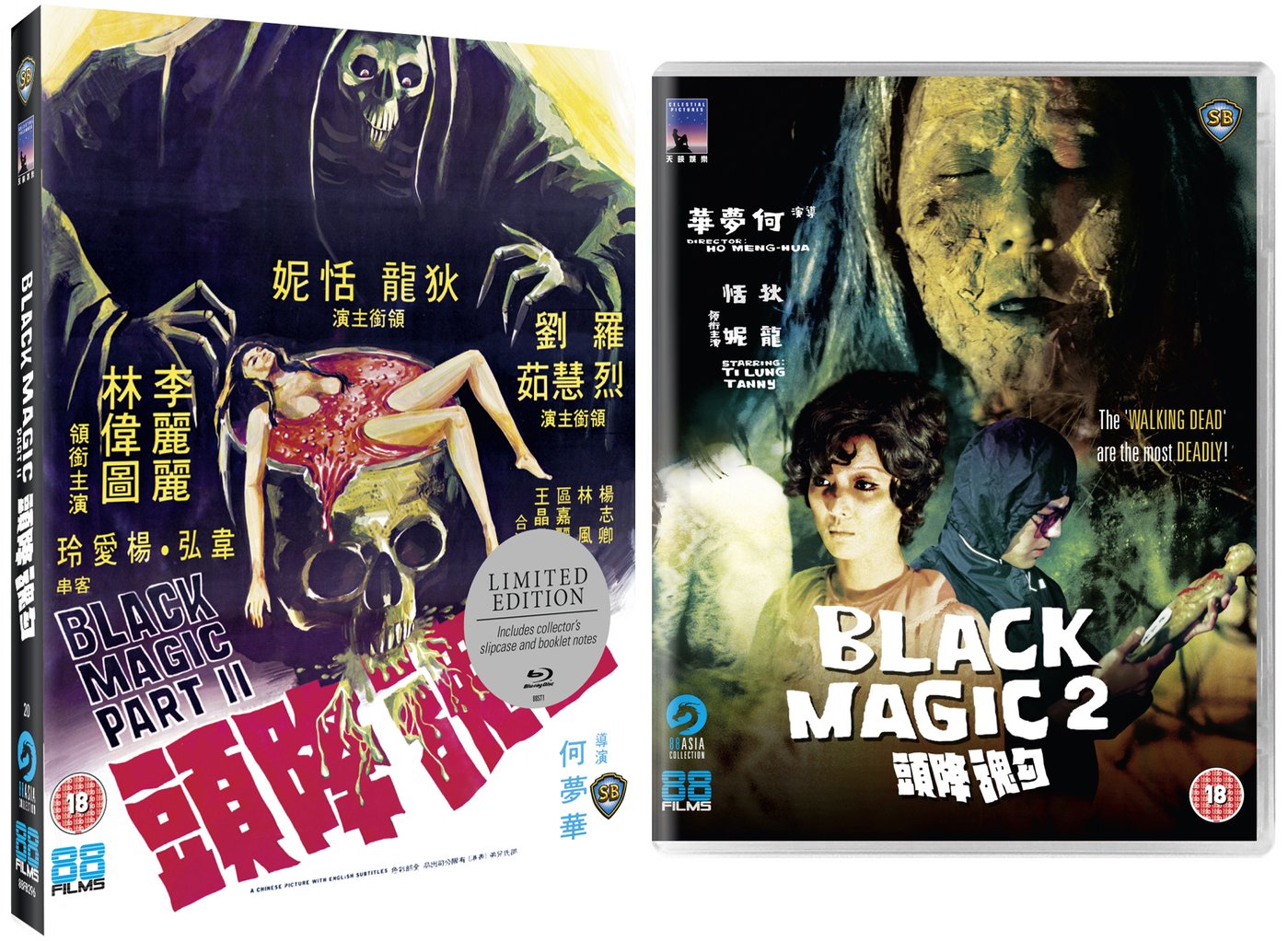 The sequel to the 1975 Hong Kong horror spectacular has finally arrived in HD!!! Long considered one of the greatest Asian fright films ever concocted, and released in 1976 to the sound of stomachs churning all across the Far East, most fans will be in agreement that BLACK MAGIC 2 (1976) is even more outlandish than its provocative plasma-packed predecessor! Starring the genius of Ti Lung (A BETTER TOMORROW) and directed by the legendary Meng Hua Ho (THE OILY MANIAC) this is one of the original Oriental zombie horrors as the undead begin to crawl out of their graves whilst perplexed 'experts' try and work out why they are being faced with corpses that can't be controlled! Meantime the macabre moments come thick and fast alongside several gross out set pieces that have to be seen to be believed! Originally released in American theatres under the title REVENGE OF THE ZOMBIE'S, where it proved a surprise grindhouse success, 88 Films is proud to present the powerfully creepy perfection of BLACK MAGIC 2 on UK Blu-ray!!!

Video


This wild, funky horror film is an in name only sequel to Black Magic (1975) has plenty of action and imagination is always coming up with weird things, like the bit where the wizard pulls a giant nail out of the head of a woman and she ages to death in seconds (this magical nail is his control method). Beautifully shot in widescreen ShawScope with an at times a vivid, Hammeresque colour palette. Great fun!

Like most of the 88 Films Shaw titles this features slightly sharper image than their oldest title, One-Armed Swordsman (1967) but is still not optimal although 88 Films do a decent job presenting what they've been given. Colours are generally very rich and the film favours a warm, brown accented palette with touches of red popping up fetchingly throughout and making an impression.

As with all of these Shawscope productions you'll notice anamorphic distortion at the extreme left and right of the 2.35:1 frame; mainly in wide angle shots. This is due to the lens used during production and is typical of anamorphic widescreen processes (see the 35mm Panavision John Carpenter films).

As we've seen with 88 Films' releases of Shaw Brothers films the basic transfer here is very good with very little damage in evidence and a nice stable image. I have found that with many transfers from the far east they favour rather grey black values and as a result if I want to create deeper blacks I just tick the brightness down a notch or two on my TV. Happily, this transfer is an an improvement as the blacks are deeper and richer than other transfers although there is occasional crush in night time scenes which is most likely a side effect of the way the film was shot; a relatively low budget effort shot fairly quickly.

We have an essentially sound basic transfer probably taken from the OCN, with decent contrast, no blowouts and good black levels. Colours are strong with a palette that favours the warmer end of the spectrum. The 2006 master has been subjected to a fair amount of DNR and digital manipulation; Celestial Pictures transfers from the time have a reputation for this. This was most likely created to service DVD and HD TV broadcasts which with less consistent resolution and greater compression. That said, in brighter scenes and in closeups I noticed more fine detail creeping in and I'd say this is one of the better Celestial / 88 colaborstions.

I watched from a distance of approximately ten feet on 58" 4K LCD TV and found this a pleasing view but the closer you get to the screen the waxiness and lack of fine detail become obvious. Grain is also almost entirely absent; this is a 35mm lensed production and ought to have plentiful fine grain.

If you watch this on anything bigger than 60" and especially projected then the flaws in the presentation will become much more evident. However, we're unlikely to get anything better. 88 Films have given this a high bitrate, a reasonable encode and from a distance it was a pleasing view, but hardcore techno-savvy folks will not be satisfied, alas.

As always, it's very important to note that he vast majority of will be perfectly happy as it is a definite improvement on DVD or HD TV broadcasts.

1080/24p / MPEG-4 AVC / 2.35:1 / 91:57

Audio


Mandarin LPCM 1.0
English LPCM 1.0
Subtitles: English (optional)

Pretty standard mono tracks of the era which lack base and the kind of fidelity we are accustomed to with modern soundtracks. There are some issues with sibilants and a certain "recorded in a booth" quality to both tracks, but this is too be expected given that the Shaw Brothers shot their films silently and produced the soundtrack in the studio afterwards.

Obviously, the Mandarin track is the only real choice here as it was the language spoken on set and the one that matches the lip movements. It also lends the film more credibility; the English track is as silly as usual.

Subtitles are welcome and in 2018 a must, well done.

Extras


Audio commentary with Ian Jane

Jane is one of the reviewers for the late, lamented DVD Maniacs a website that I always used to use. Jane has done his homework and this is a stunningly good commentary track. He's up there with David Kalat and Tom Weaver in the dense, detailed yaktrak alumni who never relies on play by play but packs the track with a huge amount of trivia from the making of the film, background to production and plenty of nostalgic personal comments. There's lots of great info on the films stock music score; we get some music heralding from Italian giallos! There's even info on the Chinese rituals on display and the accuracy or lack thereof.

4-page liner notes leaflet "The Living Dead: Kowloon Style" by Dr. Calum Waddell

Another in the long line of fine essays by Waddell; this one obviously covering the film under discussion and it's cast and crew.

Reversible sleeve

A choice between a another 2018 photoshop cover or the rather wonderful original poster art; an easy decision to make as the original art is so wonderful.

Collectable slipcase with the first pressings

The slipcase reproduces on fine card stock the original poster art.

Overall


88 Films have done a great job making the most of the 2006 master provided by Celestial Films for this wonderfully nuts supernatural horror film. The master is showing it's age but is one of the better ones from Celestial Films. The image is less problematic than others from this company; but happily, the audio remains strong so long as the viewer bears in mind the nature of dubbed films like this.

Extras are as limited as usual but I felt cut above with a topnotch commentary and a typically great Callum Waddell essay.

You know the score, the price is right open another tab and buy the bugger!
| | | | | |
| --- | --- | --- | --- | --- |
| The Film: B | Video: B- | Audio: B+ | Extras: A | Overall: B+ |

---
DVD Compare is a participant in the Amazon Services LLC Associates Program and the Amazon Europe S.a.r.l. Associates Programme, an affiliate advertising program designed to provide a means for sites to earn advertising fees by advertising and linking to amazon.co.uk, amazon.com, amazon.ca, amazon.fr, and amazon.de.