The Film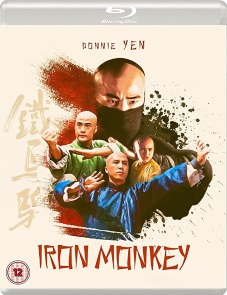 Corrupt governor Cheng (A Chinese Ghost Story's James Wong) lives in fear of Iron Monkey, a masked martial artist who steals from the rich to give to the poor, raiding his horded coffers for funds that were meant to help the refugees who live on the outskirts of the city. When the police force of constable Fox (Forbidden City Cop's Shun-Yee Yuen) proves ineffective against the masked marauder, the governor calls upon a quartet of Shaolin monks but their training and their traps only slow Iron Monkey down. In a desperate attempt to capture Iron Monkey before an inspection from the imperial official, Cheng orders the arrest of anyone having any possible link to Iron Monkey (including entertainers with trained monkeys, sellers of monkey stew, and the like). When police officers witness newly-arrived physician and martial artist Wong Kei-ying (Ip Man's Donnie Yen) ably defending himself against the elder leaders of a gang of child pickpockets, he too is arrested along with his young son Wong Fei-hung (Angie Tsang). Convening the prisoners for a combined interrogation and trial, Cheng orders Iron Monkey to step forward or all will be punished. When Wong Kei-ying steps up to prevent his son from being branded, he is the likely suspect until Iron Monkey turns up and to assure the governor and the constable that he is not among the prisoners. Believing Iron Monkey to be a villain, Wong Kei-ying offers to capture him if the governor will release the prisoners. Cheng gives Wong Kei-ying until the end of the week before the arrival of the imperial officer and detains Wong Fei-hung to ensure his return. Venturing into the city, Wong Kei-ying discovers that he is unpopular among the citizenry who refuse to sell him food or help with his investigation. The only person to offer him hospitality is Miss Orchid (Once Upon a Time in China and America's Jean Wang), the assistant to physician Yang Tianchun (My Father is a Hero's Rongguang Yu). Little does anyone suspect that Yang Tianchun is actually Iron Monkey, using his abilities as a physician to treat refugees and the constable's guards (after injuring them) alike, gathering intel from loquacious Fox and also misdirecting his investigations. While Wong Kei-ying carries on his mission, setting traps along the rooftops of the village and surveilling them by night, Yang Tianchun and Miss Orchid – a former prostitute who has become Yang Tianchun's assistant and first pupil in martial arts – have discovered that Wong Fei-hung has contracted the plague in jail and taken him back to the dispensary for treatment. Yang Tianchun and Miss Orchid disguise as the imperial official and his envoy to fleece the governor of the last of his ill-gotten gains. The governor is deceived until the real imperial official arrives in the form of the sadistic Hin-hung (Once Upon a Time in China's Shi-Kwan Yen), an expelled Shaolin monk who burned down his temple and has turned to crime and profit. Hin-hung proves an even more formidable challenge with his lethal palm as he takes on both Wong Kei-ying and Yang Tianchun to recover the stolen gold.

A success in Hong Kong and mainland China, Iron Monkey also proved to be fairly popular in English-speaking territories in the wake of Crouching Tiger, Hidden Dragon – on which director Woo-Ping Yuen served as uncredited action director before helming Crouching Tiger, Hidden Dragon: Sword of Destiny for Netflix – when Miramax gave it a theatrical release eight years after its original 1993 release date. This is understandable with the simplistic Robin Hood-esque plot which is allowed to begin in media res thanks to stock situations and characterizations in a quick ninety-minutes that is able to encompass not only two master martial artist heroes and a super villain but also kickass Miss Orchid and the training and mastery of the art by juvenile Wong Fei-hung without burdening the Western audience with the fact that it is also an alternate origin story for the Chinese folk hero essayed by Jackie Chan in Woo-Ping Yuen's Drunken Master, Jet Li in Iron Monkey producer Tsui Hark's Once Upon a Time in China series and Woo-Ping Yuen's Last Hero in China, and most recently Eddie Peng in Rise of the Legend. The thin plotting, in which razor-sharp Yang Tianchun takes the longest time to realize that Wong Kei-ying is hunting him, and Wong Kei-ying also seems not to realize that the locals regard Iron Monkey as a hero, facilitates several lengthy fighting set-pieces designed to one-up the previous sequence and culminating in the finale in which the heroes and the villain hop across posts above a blazing inferno. The follow-up Iron Monkey 2, in which Yen took over the title role, was not as well received.

Video


Released theatrically by Miramax in 2001, Iron Monkey was subjected to approximately five minutes of trims and a new score by Miramax in-house musician James Venable (Scary Movie 3) while the film screened uncut in the UK in 1993. For DVD, American viewers had their choice of Disney's anamorphic DVD of the edited rescore or tai Seng's uncut but non-anamorphic DVD while UK and region free American viewers could avail themselves of Hong Kong Legends for a good for the time transfer of the feature and their decade later ultimate edition for a second disc of extras. Disney failed to reinstate the cuts or the original score for their Blu-ray while the uncut Hong Kong Blu-ray turned out to be an upscale. With the Hong Kong master an upscale and the American one looking alternately soft and oversharpened, Eureka commissioned a new 2K master and their 1080p24 MPEG-4 AVC 1.85:1 widescreen Blu-ray look exceptional in a manner for which many of us are largely unfamiliar when it comes to HK titles, the film materials of which were often poorly archived and the various DVDs and Blu-rays of variable quality (as borne out by the aforementioned HK release). Colors are vivid, detail is a welcome surprise from close-ups of characters, their clothes, and splintered wood during the fight scenes while a couple shots of wirework in which the camera is undercranked could almost be mistaken for some ropey early CGI (particularly the first wide shot of the town at night in which we see the dark figure of Iron Monkey first crossing the rooftops). While other titles in the Eureka Classics line have had to contend with older, existing masters, one can assume that Iron Monkey did not get the Masters of Cinema banner treatment for one or more of a few reasons: the director is not considered a master of cinema, whoever is in charge of the Eureka Classics line got to the title first, or the absence of any newly-produced extras in favor of ported over interviews. Whatever the case, it is likely the most visually-pleasing of the Blu-ray editions out thus far and American fans would do well to go region free.

Audio


Originally released with a mono mix, Iron Monkey was revamped stateside with a new score and stereo surround track. The original mono mix has been included in Cantonese in LPCM 1.0 along with a DTS-HD Master Audio 5.1 mix prepared for home video editions while the Mandarin dub is presented in LPCM 2.0 stereo (presumably also prepared for home video rather than a mainland China stereo theatrical release) while the English DTS-HD Master Audio 5.1 and LPCM 1.0 mono mixes feature the original score rather than the American one (suggesting that the English dub was prepared for export rather than created for the US theatrical release). The Cantonese tracks are recommended along with the Mandarin as the English tracks are unevenly mixed – in addition to being more jokey – with an English spoken word replacement of a sung lullaby sounding almost muffled. Optional English subtitles for the Cantonese track are provided along with an English HoH track for the English dub.

Extras


All of the discs extras have been ported over from the Hong Kong Legends Ultimate Edition starting with an interview with Donnie Yen (19:36) in which he discusses the importance of the character of Wong Fei-Hung in Chinese culture, Hark's interest in exploring the Wong Fei-Hung family tree following the Once Upon a Time in China trilogy, and Yen convincing Hark to trust him in his use of specific fighting moves that the producer was concerned had been played out in the seventies by the Shaw Brothers. An interview with producer Tsui Hark (24:36) has Hark prefacing his discussion of the film with his recollection that Once Upon a Time in China came about when Golden Harvest producer Raymond Chow (Enter the Dragon) sought his advices about the suitability of Jet Li who had at the time only headlined a handful of films from smaller companies (including his only directorial effort Born to Defense which was produced in 1986 but not released in the United States until 2004 with the tagline "Once Upon A Time In China A New Hero Emerged…") and that sequels were not intended, presenting a challenge of how to continue the story after each happy ending, as well as how a conflict with Li's contract with Golden Harvest meant that Once Upon a Time in China III would be the last of the series which lead Hark to come up with a new angle. In the interview with Yu Rong-kwong (26:24), the actor recalls training in the Peking Opera under his famous father, being discovered by film producers, learning Kung Fu to expand his options as an actor, and notes that Hark directed parts of the film. In the interview with stuntwoman and actress Li Fai (25:21), the actress recalls getting into martial arts and competing before becoming a reserve sports player, and her persona as "Kung Fu woman" before giving birth in 1996 and then getting into Long Style Boxing and becoming a martial arts teacher of children. In the interview with Angie Tsang (19:59), she recalls getting into martial arts at age ten, competing and winning prizes at thirteen, and being cast in the film at age fourteen as well as her feelings about playing a boy, having her head shaved, and having to learn how to act on the set. "Iron Fist" (16:01) is a behind-the-scenes look at the film's action choreography by Cheung-Yan Yuen (True Legend) whose Peking Opera performer father Siu Tin Yuen had played Beggar So in Drunken Master, while "Shadow Boxing" (8:11) featurette on Hong Kong action choreography featuring Alex Yip that is not related to the film but gives a nice visual tutorial on how fight scenes are conceived as a series of angles and inserts. Only one of the two selections of Footage of Li Fai and Angie Tsang competing at the 2003 Wu Shu Championships (9:10) has been ported over, and the extras close out with the theatrical trailer (4:43). The first pressing comes with a limited O-card and a collector's booklet featuring a new essay on the film (which has not been provided for review).

Overall


Eureka Classic' Blu-ray of Iron Monkey may not be a Masters of Cinema title, but the 2K restoration makes it a must for Region B-accessible fans.