Spiritual Boxer (The) AKA Shen Da (Blu-ray) [Blu-ray]
Blu-ray B - United Kingdom - 88 Films
Review written by and copyright: Rick Curzon (21st June 2018).
The Film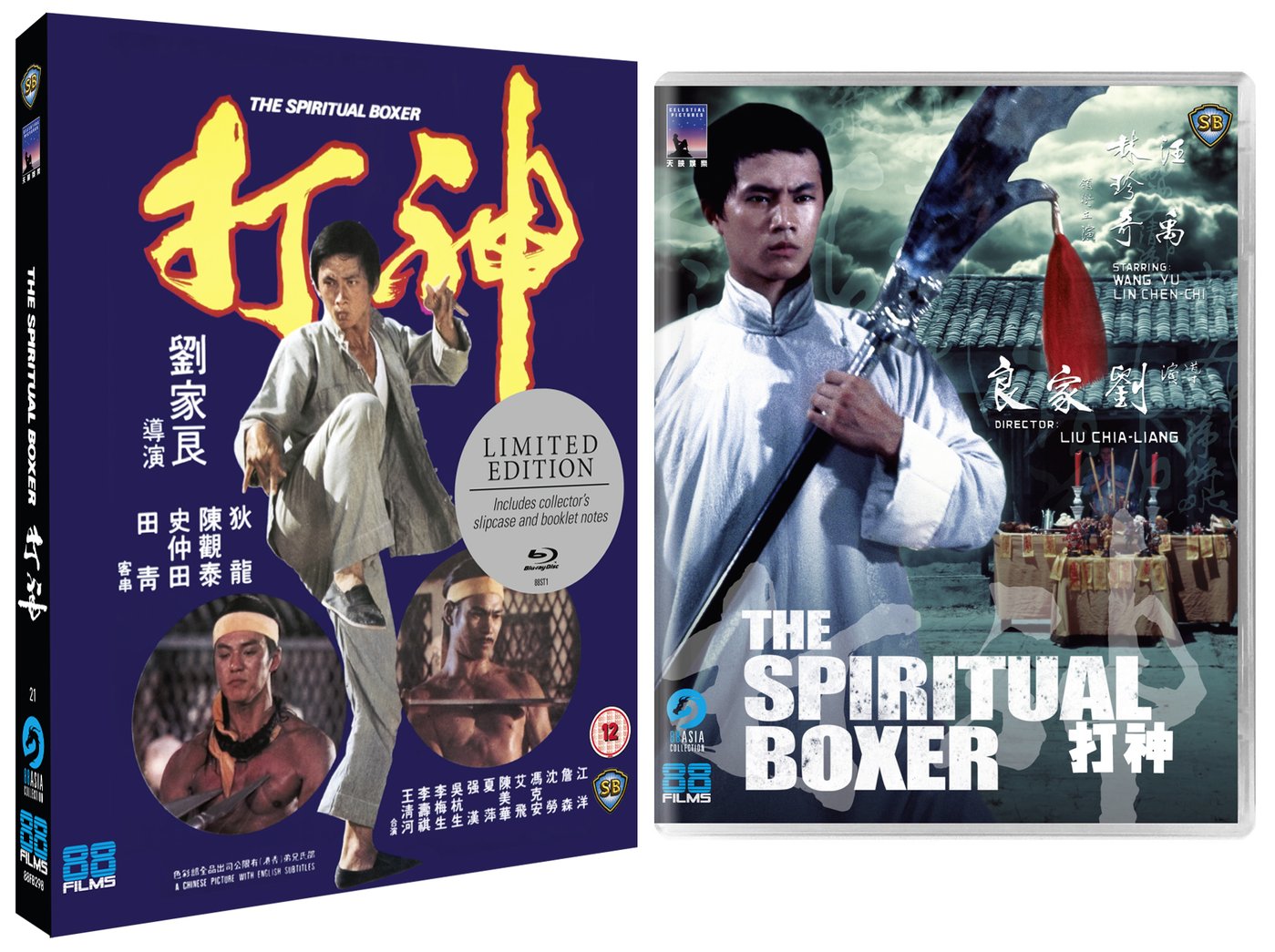 Wham, bam, thank you Lau Kar-leung!! The legendary director of such kung-fu mega hits as 36th CHAMBER OF SHAOLIN (1978), TIGER ON THE BEAT (1988) and DRUNKEN MASTER 2 (1994) got his career rolling with the martial arts masterpiece THE SPIRITUAL BOXER (1975) a standout chopsocky classic from the glory days of Hong Kong genre cinema. Adding comedy to the familiar fisticuffs formula, this beloved blockbuster tells the story of a travelling conman who claims to have supernatural powers. Robbing village after village, our antagonist quickly bees expected to use these fictional strengths against some sudden enemies... Resulting in several hilarious moments combined with breakneck examples of all out action and adventure! Fans of head-cracking carnage cannot possibly go wrong with THE SPIRITUAL BOXER... finally unleashed in HD by the Asian celluloid scholars at 88 Films!!!

Video


Beautifully shot in widescreen ShawScope with an at times a vivid, Hammeresque colour palette. Great fun! This one is more in the vein of One-Armed Swordsman (1967) only with added humour and has obviously had much more money spent on it than some other films in the 88 Films range.

The master used here these best of the Shaw Brothers films I've seen from 88 Films and they've done a decent job presenting what they've been given. Colours are very rich and the film favours a warm, albeit slightly more naturalistic palette. This coupled with the fact the film is largely shot in broad daylight means the film is mostly bright and sharp.

Shawscope was a patented anamorphic widescreen process and you'll notice distortion at the extreme left and right of the 2.35:1 frame; mainly in wide angle shots. This is due to the lens used during production and is typical of anamorphic widescreen formats (see the 35mm Panavision John Carpenter films).

As we've seen with 88 Films' releases of Shaw Brothers films the basic transfer here is very good with very little damage in evidence and a nice stable image. I have found that with many transfers from the far east they favour rather grey black values and as a result if I want to create deeper blacks I just tick the brightness down a notch or two on my TV. Like their recent Black Magic (Part 2) release, this transfer is an an improvement as the blacks are deeper and richer than other Celestial masters. I noticed no black crush at all, bravo.

I watched from a distance of approximately ten feet on 58" 4K LCD TV and found this sharp with well delineated detail. The waxiness and lack of fine detail become that was obvious on other Shaw titles is largely absent and grain is present albeit very fine. If any digital manipulation has been used, then it's been judiciously done. 88 Films have given this a high bitrate, a good encode.

1080/24p / MPEG-4 AVC / 2.35:1 / 103:25

Audio


Mandarin LPCM 1.0
English LPCM 1.0
Subtitles: English (optional)

Pretty standard mono tracks of the era which lack base and the kind of fidelity we are accustomed to with modern soundtracks. There are some issues with sibilants and a certain "recorded in a booth" quality to both tracks, but this is too be expected given that the Shaw Brothers shot their films silently and produced the soundtrack in the studio afterwards.

Obviously, the Mandarin track is the only real choice here as it was the language spoken on set and the one that matches the lip movements. It also lends the film more credibility; the English track is as silly as usual.

Subtitles are welcome and in 2018 a must, well done.


Extras


Audio commentary with David West

As with West's commentary track on 88 Films' recent Blu-ray of The Dragon Missile (1976) this a nice mix of the light and the academic with all sorta of trivia discussed about the making of this film.

4-page liner notes leaflet "The Living Dead: Kowloon Style" by Dr. Calum Waddell

Another in the long line of fine essays by Waddell; this one obviously covering the film under discussion and it's cast and crew.

Reversible sleeve

A choice between a another 2018 photoshop cover or the rather wonderful original poster art; an easy decision to make as the original art is so wonderful.

Collectable slipcase with the first pressings

The slipcase reproduces on fine card stock the original poster art.

Overall


This is easily the best looking of the 88 Asia Collection releases that I've seen; I've heard it's culled from a more recent transfer with the film looking and sounding splendid. Extras are as limited as usual but with a very agreeable and informative commentary and Waddell's essay doesn't disappoint. As always, 88 Films offer good value for money and fans should rush out and buy this.
| | | | | |
| --- | --- | --- | --- | --- |
| The Film: C+ | Video: A- | Audio: A | Extras: B | Overall: B+ |

---
DVD Compare is a participant in the Amazon Services LLC Associates Program and the Amazon Europe S.a.r.l. Associates Programme, an affiliate advertising program designed to provide a means for sites to earn advertising fees by advertising and linking to amazon.co.uk, amazon.com, amazon.ca, amazon.fr, and amazon.de.