Modern Romance (Blu-ray) [Blu-ray]
Blu-ray ALL - United Kingdom - Powerhouse Films
Review written by and copyright: Rick Curzon (1st July 2018).
The Film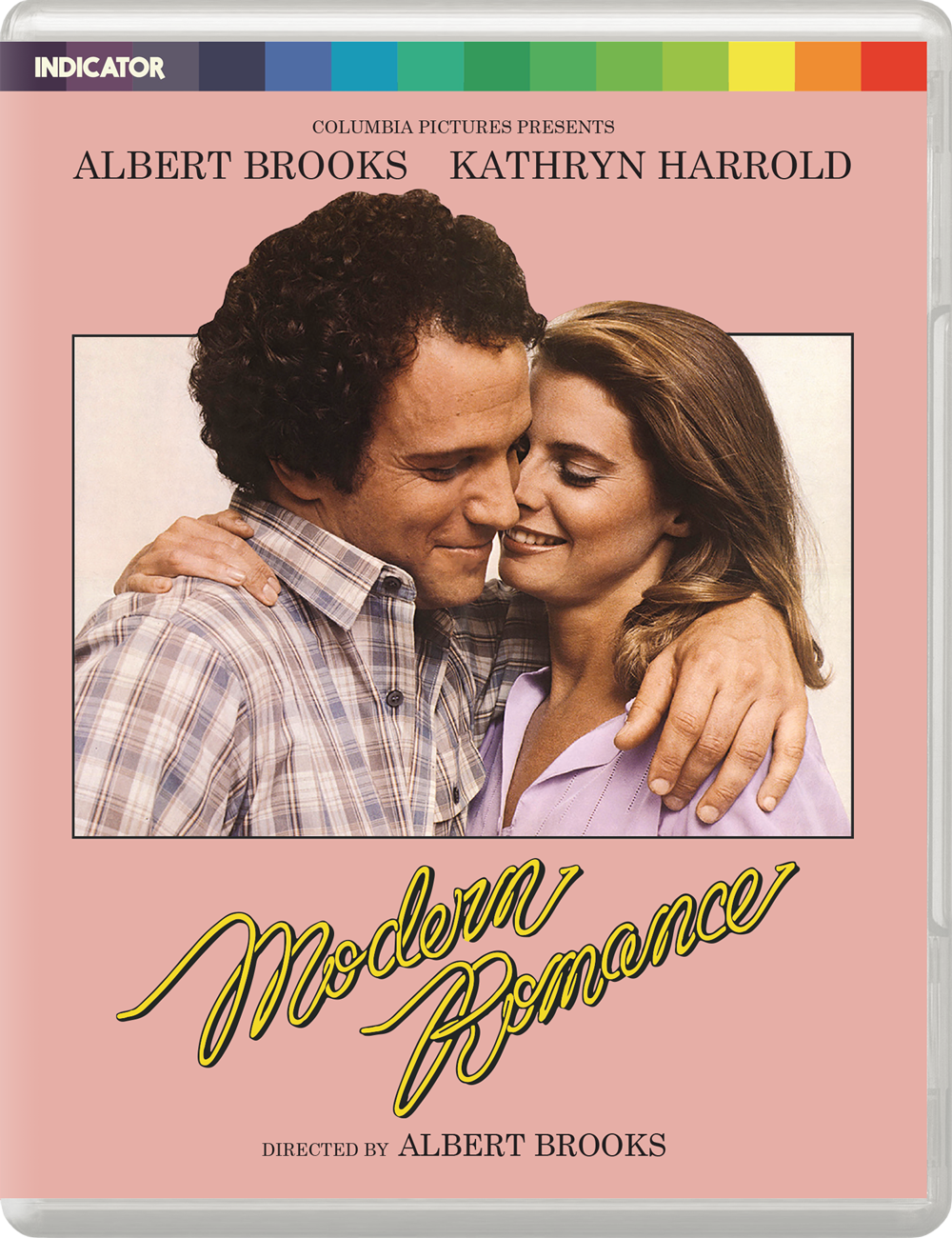 Limited Blu-ray Edition (World Blu-ray premiere)

Neurotic, self-obsessed Robert Cole (Albert Brooks) is a successful film editor who splits up with his on-off girlfriend (Kathryn Harrold), only to try and win her back when he finds he canít live without her. Considered by many to be one of Americaís greatest comic talents, and sought out by filmmakers including Martin Scorsese, Judd Apatow, Steven Soderbergh and Nicolas Winding Refn, actor-writer-director Brooks created what is perhaps his most caustic and excruciatingly honest film in Modern Romance.

Video


This is a film that has a naturalistic look typical of Hollywood dramas of the period in that itís straight forward with healthy colour values and a very professional look. Itís not the kind of story that requires great visual flourishes in that the location is nit. A major player in the story, unlike Woody Allenís Manhattan (1979) which was shot in anamorphic Panavision and in B&W and in which the city of New York was very much a character in the drama itself.

This film is set in the Los Angeles film community and could translate extremely well to the stage; itís a story about people in rooms mainly discussing themselves and their relationships.

We have a lovely film-like appearance throughout with a very fine grain field. The colour palette is matter of fact with no use of gels or any other more artificial lighting techniques. Colours are rich when they need to be with the odd moment of striking reds and other bright colours occasionally appearing but on the whole the look favours a warm, brown patina.

Black levels are expertly handled by the original production and are supported by the high quality encode. Contrast is correctly subtle allowing textures and details to shine. I saw no signs of crush or conversely blown out highlights. Also, I could see no signs of print damage; I assume that the master was taken from the OCN and it was in top notch shape.

Being a dialogue heavy actorís piece we have plenty of time to scrutinise facial details and fabric textures. Detail is ever present despite the natural softness inherent in the film stock used.

A high quality product from Powerhouse Films that is nit to be missed by fans and cineastes alike.

1080/24p / MPEG-4 AVC / 1.85:1 / 93:41

Audio


English LPCM 1.0
Subtitles: English HoH

A solid mono track that does exactly what it should. This is a straightforward comic melodrama full of dialogue and music both of which never trample on each other. In terms of itís range itís as limited (obviously) as any other mono track but a film like this doesnít necessarily benefit from having an active surround sound field. The film has a typically fine John Barry score and a number of songs in the soundtrack. All are served well here with no distortions of any kind.

The subtitles are of particular value here with such a dialogue heavy film.

Extras


Audio commentary with Nick Pinkerton

If youíre a fan of the film then this learned commentary by a journalist who is a self confessed fan of Brooksí work is indispensable. In fact, if youíre not a fan of the film then this commentary is a much more interesting way to spend your time. We learn that the movie is essentially based on the life and times of director Brooks himself and on various relationships heíd had over the course of a decade.

ďMovie Love with Eric Saarinen, ASCĒ featurette (14:47)

Much more interesting that the film under discussion as it provides us with a window into the working processes of co-writer-director Brooks. Saarinen had done some very interesting work such as The Hills Have Eyes (1977) for Wes Craven and he paints a none too flattering picture of Brooks as essentially the character he plays in the film. An indecisive narcissist who could dither over edits for days, calling colleagues in the middle of the night etc. Itís interesting that Brooks claimed that Stanley Kubrick loved this film claiming that he always wanted to make a film about jealousy. There is a real sense that Brooks is a craftsman when it comes to shaping scenes and his story; a real film maker and a true seeker.

Theatrical Trailer (2:09)

Standard trailer for an A-list American comedy of the period.

Modern Romance Image Gallery: Original Promotional Material (14 images)

Good, but slight still gallery in HD.

28-page liner notes booklet by Isabel Stevens, with extracts from interviews with Albert Brooks on Modern Romance, an overview of contemporary critical responses, and film credits

A typically meticulous little booklet from Powerhouse that is another feather in their cap.
Iím a big fan of these contextual booklets and this one has all the usual; a overview essay that is very insightful, a vintage interview with Brooks, contemporary critical views and some great insight into the late co-writer Monica Johnson (1946-2010) who worked with Brooks on crafting his onscreen persona.

Overall


Iím not a fan at all of Albert Brooksí comedy and his central character is like a much more narcissistic, dislikable version of Woody Allenís nebbish routine. However, for the purposes of this technical review that is irrelevant.

This disc is yet another credit to Powerhouse Filmís reputation; a standard comic melodrama doesnít usually provide much in the way of a visual feast but this is a stunning disc, reproducing the filmís soft, natural, film-like appearance very well indeed. Sony are known for the quality of their masters and although this one is almost certainly older, as usual a top notch encode, dual-layering and a hefty bitrate sing a wonderful song for the fans. Extras are also extremely good if not plentiful so a winner all round.
| | | | | |
| --- | --- | --- | --- | --- |
| The Film: D+ | Video: A+ | Audio: A+ | Extras: B+ | Overall: A |

---
DVD Compare is a participant in the Amazon Services LLC Associates Program and the Amazon Europe S.a.r.l. Associates Programme, an affiliate advertising program designed to provide a means for sites to earn advertising fees by advertising and linking to amazon.co.uk, amazon.com, amazon.ca, amazon.fr, and amazon.de.