Black Peter [Blu-ray]
Blu-ray ALL - United Kingdom - Second Run
Review written by and copyright: Eric Cotenas (7th July 2018).
The Film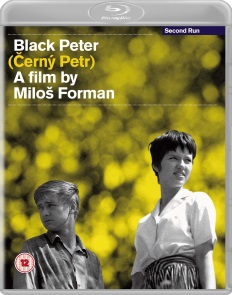 The feature film debut of acclaimed director Milos Forman (Valmont), Black Peter is plot-wise nothing more than a chronicle of a few days in the life of an aimless sixteen-year-old boy. Petr (Slaughterhouse-Five's Ladislav Jakim) has left school and is making his first tentative steps towards manhood with a trainee position at a grocery shop. Amidst a gaggle of female shop assistants, Petr has been appointed a store detective by his boss (Frantiska Skalova) who schools him in keeping his eyes out for shoplifters in spite of otherwise proclaiming that he runs his shop on the honor system and trusts his customers implicitly. His father (Intimate Lighting's Jan Vostrcil) harangues him on a daily basis about his shiftlessness while his mother (Bozena Matuskova) is concerned that he will become a hooligan. When Petr comes home rather than returning to work after trailing a suspected shoplifter far from the job yet failing to ascertain whether he actually did steal anything, his father continues to disbelieve that he has found a job until shows up at the store to castigate him for standing around when he is supposed to be observing customers; whereupon, Petr's father presumptuously believes this gender-stratified position might be the path towards his son eventually taking over the store himself one day. When Petr falters when witnessing an actual theft and gets in trouble for it, he either lacks the words to describe his reaction to the event or has been so browbeaten by his father that he seems to confirm the older man's assessment that he is hopeless and will wind up a hooligan. The film also depicts Petr's leisure time with Asa (Pavla Martinkova) but a combination of aimlessness and disaffected cool tempers his expression of romantic interest to the point of distantly observing his rival Mara (Jaroslav Bendl) being rebuffed by Asa. A couple run-ins with bricklayer "bumpkins" Cenda (Loves of a Blonde's Vladimír Pucholt) and Zdenek (Zdenek Kulhanek), held up by his father as productive members of society because of their weathered hands, reveals the false bravado of being "masons" and the co-dependency of the two to bolster one another's egos. When not on the shop floor, Petr witnesses the backroom dealings by his boss but full understanding and resolution escapes him when he at last points out the returning suspected shoplifter to his boss (had Petr continued on in his position at the grocery store, one suspects that his boss might have also drawn a distinction for him between those shoplifters whose status allowed for him to overlook their crimes and those who should be prosecuted). Forman reportedly agonized about the ordinariness of the story, but it is his handling of non-professional actors and the feel that the audience is looking in on the ordinary that is the film's strength (which he would develop in subsequent Czech pictures along with his first American film Taking Off before embracing more conventional "Hollywood" subjects, stars, and higher budgets including his return to Barrandov Studios with Amadeus). The film, which beat out Jean-Luc Godard's Contempt and Michelangelo Antonioni's Red Desert at the 1964 Locarno International Film Festival, may have resonated with younger audiences for its adept depiction of aimless youth - Petr is told by his boss and a vendor that what makes him so special is that other young men aspire to be astronauts or cosmonauts and that the boys who usually want to work in the shop are cripples - without offering hypothetical causes or solutions, while film as much inspired by earlier Italian Neorealism and the concurrent French New Wave as much as a parallel development with the latter.

Video


Not released until 1971 in the United States, Black Peter was previously available on DVD from Facets in a predictably poor transfer, so Forman fans on both sides of the pond should be more than satisfied with Second Run's region free 1080p24 MPEG-4 AVC 1.37:1 pillarboxed fullscreen transfer derived from a new 4K restoration. The opening text states that the purpose of the restoration was to bring it as near as possible to the theatrical experience, including imperfections typical of the time period, but that really just amounts to the stamped-in reel change markers and some faint scratches. The presentation is exemplary throughout with a nouvelle vague look to its mostly natural light setups and the only softness an effect of Forman's use of telephoto lenses to follow his performers within their environments.

Audio


The sole audio option is a Czech LPCM 2.0 mono track that is free of distracting hiss or any noise that might have resulted from archival damage to the optical tracks, with music, song lyrics (regrettable not translated even though Michael Brooke in his commentary emphasizes the usage of music in the film), and dialogue always intelligible whether bellowed or muttered. Optional English subtitles are free of any obvious errors.

Extras


Extras start off with an audio commentary by film historian Michael Brooke who discusses Forman's feature debut in the context of his film Auditions which observed the real participants of a talent competition – Forman's observational approach having subsequently lead to criticism of his disdain of his subjects – which turned out to be too long to be shown as a short and too short to be shown as a feature, leading the director to film another medium-length film If Only They Ain't Had Them Bands on the weekends to be shown with Auditions while also at work on Black Peter. In addition to discussing the usage of a few establish actors (Vostrcil and rising young star Pucholt) and non-professional actors – including lead Jakim who was actually a law student and would appear in a few more films before going onto a career as a lawyer – he also covers Forman's tendency in these early projects to withhold the script from his performers and develop the scenes with them on the set as a sort of "controlled improvisation." "Life as It Is: Milos Forman on His Early Czech Films" (31:22) is the first part of a multi-part interview – which hopefully heralds more Forman Blu-rays from Second Run – in which he describes how he first fell in love with show business, failing an audition for theatre school but passing the exam for film school. He then recalls how lucky he and his contemporaries were at the time that several blacklisted writers – including Milan Kundera – were working at the time as teachers, as well as his frustration that Barrandov was only turning out five or six films per year while the film school was graduating as many directors at the same time before covering how he amassed experience in the interim before his debut. Most interesting is how he recalls that Italian Neorealism was the only "politically correct" world cinema they were allowed to watch, and how it allowed them to recognize that Czech national cinema was propaganda depicting how the government thought its citizens should live raher than The interview with actress Pavla Martinkova (15:58) is less informative as the actress recalls meeting Forman as a teenager, developing the character in concert with how she idealized herself as a teenager, and how Forman's technical directing style was largely hands off apart from a few scenes in which blocking was crucial for the framing. The disc also includes the theatrical trailer (1:39). Housed with the disc is a booklet by Jonathan Owen which provides some more context to the social environment during production, including Forman's practice of dismissing his films a comedies to avoid scrutiny of the censors (which backfired with The Firemen's Ball which was banned in 1968 by subsequently submitted to the Academy Awards as a contender for Best Foreign Language Film).

Overall

---
DVD Compare is a participant in the Amazon Services LLC Associates Program and the Amazon Europe S.a.r.l. Associates Programme, an affiliate advertising program designed to provide a means for sites to earn advertising fees by advertising and linking to amazon.co.uk, amazon.com, amazon.ca, amazon.fr, and amazon.de.