The Show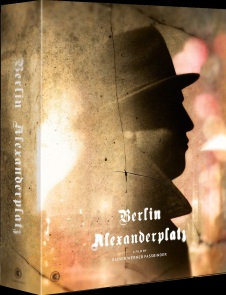 Just finishing a four year sentence for the murder of his lover Ida (Effi Briest's Barbara Valentin) in a jealous rage, Franz Biberkof (Das Boot's Günter Lamprecht) has grown accustomed to total isolation apart from exercise and daily meals, and he finds the prospect of being thrown back into "the same mire as before" frightening. After reliving the horror of his crime with Ida's sister Minna (What Have You Done to Solange?'s Karin Baal) and almost being tempted back into the pimping by devoted former prostitute Eva (The Marriage of Maria Braun's Hanna Schygulla) and her shady partner Herbert (Querelle's Roger Fritz), Franz resolves not to "go on as before." Through his enterprising best friend Meck (Kill Cruise's Franz Buchrieser), he meets prostitute Lina (In a Year with 13 Moons's Elisabeth Trissenaar) and experiences such happiness in her arms that he make an oath to "stay honest." Although his landlady (Kamikaze 89's Brigitte Mira) has agreed to let Lina live with him, their initial happiness is cut short by a notification from the police who regard him as a danger and forbid him from living in several municipalities. With the help of Meck, he puts himself under the supervision of the Prisoners' Aid charity that will make monthly reports on his employment and living conditions. Refusing to let Lina go back to work as a prostitute, Franz tries his hands at several manual jobs, starting with selling tie clips as an orator on the street and almost dealing in sex manuals. Although he seems to have landed a stable job selling the Nazi gazette Völkischer Beobachter, the job and the swastika armband that he must wear alienates him from his Jewish and communist former comrades. Although he reasons that his friends do not understand how it is for someone who has done time in prison, Franz is nevertheless convinced by Lina to give up the job and accept the help of one of her "uncle" Otto (Kings of the Road's Marquard Bohm) who is also an ex-con who gets him a job selling shoelaces door-to-door. He meets a widow (Angela Schmid) who tips him handsomely for the sex they have as a means of assuaging their mutual miseries; however, when Franz confides in Otto and he attempts to take advantage of the situation, Franz goes on a bender and abandons his home and Lina for a flophouse, embracing the hopelessness of his situation as he had upon being released. Through Meck, he falls in with a smuggling group run by Pums (Anastasia's Ivan Desny) and right-hand man Reinhold (GoldenEye's Gottfried John) while also reconnecting with Eva and Herbert whose own business interests run in competition with those of Pums. Drawn to Reinhold in a manner he cannot explain, Franz refuses to think badly of him even after he "accidentally" pushes Franz off a truck during a heist, leading to the amputation of his arm. Franz cares not for the nature of his work only because he has found happiness once again, this time with Mieze (Lola's Barbara Sukowa) who he sees as a "true woman" even after discovering that she too is a prostitute and wants to support him due to the limitations placed by having only one arm; but the jealousy and envy of himself and others lead once again to tragedy.

Based on the 1929 novel by Alfred Döblin – previously adapted in 1931 by Phil Jutzi – the thirteen-part, fifteen-hour television miniseries adaptation by Rainer Werner Fassbinder (Ali: Fear Eats the Soul) was a sprawling canvas onto which the director could not only explore at length the novel's depiction of Weimar Germany through the eyes of an undesirable concerned more with getting over than moving up, but also a showcase for his acting troupe in a melodramatic and theatrical world of social misfits and the criminal underworld: from John's slimy psychopath to Schygulla's femme fatale and other Fassbinder female muses Valentin and Sukowa as hookers with hearts of gold destined to be mistreated by pathologically jealous or exploitative men. Amidst all of those respectable citizens and rabid patriots who will stand by or just follow orders in the years to come, Franz Biberkof feels even more limited and can only think that to "never do anything different from what others do" as a means of redemption and salvation, and ultimately ends up in a position where he is content to keep his head down with war on the horizon. The cast also features such Fassbinder regulars as Margit Carstensen (The Bitter Tears of Petra von Kant), Harry Baer (Fox and His Friends), and Günther Kaufmann (Veronika Voss) as well as cinematographer Xaver Schwarzenberger (Lili Marleen) on his first assignment for the director, composer Peer Raben (Dorian Gray im Spiegel der Boulevardpresse), and editor Juliane Lorenz (Malina), along with familiar German faces like Udo Keir (Melancholia), Helmut Griem (The Damned), and Adrian Hoven (Mark of the Devil).

Video


Released to television in most territories in 1980 and on American television in 1983, Berlin Alexanderplatz remained unavailable on home video even as the Rainer Werner Fassbinder Foundation was making more of his feature films available for reappraisal and rediscover on VHS and DVD. In 2006, the Rainer Werner Fassbinder Foundation and Bavaria Film International undertook a painstaking high-definition restoration from a 2K scan of the original 16mm camera negatives supervised by cinematographer Xaver Schwarzenberger. A dark and heavily-filtered film, the restoration allowed the image to be brightened without harming the contrasts of the lighting, the warm color-timing of various interior scenes, or the sculpting of light on Fassbinder's starlets. Simultaneous multi-disc DVD editions came out in Germany from Süddeutsche Zeitung GmbH – followed by a 2010 reissue from – an English-subtitled edition from Second Sight in the UK, and The Criterion Collection in the US the following year. The US edition was the source of controversy because the film was shot at 25fps, requiring Criterion to slow the film down by 4% in order to yield a progressive image for their DVD – not unlike what they did for their DVD of Pedro Costa's Colossal Youth which had been shot on PAL DVCAM – which would normally add anywhere from two to four minutes to a film of average length. With Berlin Alexanderplatz, however, it added a half-hour to the fifteen-hour running time. With the laborious process of restoration the film underwent for the film's 2006 restoration, it was unlikely that the attempt would be made again; and so, Second Sight has had to utilize the decade-old master for their six-disc (the film on five discs plus a disc of extras) 1080i50 MPEG-4 AVC 1.37:1 pillarboxed fullscreen presentation. The heavily-skewed color timing and the dreamy filtering of some scenes means that we do not get the kind of HD bump up expected, but there is an enhanced sense of texture and skintone while fine detail in clothing and setting gets more breathing room than on DVD. More apparent in HD is how characters in this 16mm production who move out of focus not only soften in sharpness but dissolve into the film's heavy grain. A newer scan might have better resolved the grain of the lower-lit sequences and brought out more nuances in detail during these bits, but it seems more and more unlikely that another restoration will be undertaken (at least not with Schwarzenberger and Lorenz at hand). The pleasures of this presentation lie in being able to watch the restoration at its intended resolution rather than a standard definition facsimile.

Audio


The sole audio option is a German LPCM 1.0 uncompressed track that is free of distracting surface noise and delivers Raben's subtle underscoring with as much presence as the dialogue. The forced English subtitles appear to be the same translation.

Extras


The series occupies the first four Blu-ray discs while a fifth consists entirely of extras new and ported over from the Second Sight DVD edition. New to the edition is Christian Braad Thomsen's 2015 documentary "Fassbinder: Love Without Demands" (107:06) charting the relationship between filmmaker Thomsen and Fassbinder who he had first met in 1969 when Fassbinder's debut Love Is Colder than Death was widely booed during its premiere as "pure narcissism" through to the end of their friendship and Fassbinder's death via Thomsen's narration and two filmed interviews: the first in 1972 at his most productive and the second in 1978 which found him more loose-lipped about his work by way of drugs and a lack of adequate sleep as he struggled to keep up the pace of his work. Also new is An Appreciation by Tony Rayns (44:26) in which the film historian discusses the importance of the source novel in Fassbinder's teenage life, his identification with Franz Biberkof – even naming his character in Fox and His Friends as a sort of "romanticized projection," and the "attraction" between Biberkof and Rheinhold which he interprets as not being sexual but having drawn Fassbinder to the work; indeed, Fassbinder is recollected to have been bored by the book until the introduction of Rheinhold. "Fassbinder Phantasmagoria" (6:10) is a new a visual essay by Daniel Bird exploring how the film utilizes the optical technique in the film's epilogue, the device's deployment by Karl Marx, and how the fantastical elements of the epilogue touch upon Biberkof's awareness of the situation around him.

Ported over from the DVD edition is "Berlin Alexanderplatz: A Mega Movie and Its Story" (65:20) in which editor Juliane Lorenz interviews actors Lamprecht, John, Schygulla, and Sukowa on their memories of Fassbinder and the film, as well as long-time associate/actor Baer – who also visits the film's Berlin locations – cinematographer Schwarzenberger, costume designer Barbara Baum (Smilla's Sense of Snow), producer Günter Rohrbach (The Neverending Story), and line producer Dieter Minx (Despair) on the monumental task of coordinating cast, costumes, props, sets, and locations (they decided to shoot as much of the street scenes as possible on a large backlot set erected for Ingmar Bergman's The Serpent's Egg. "The Making of Berlin Alexanderplatz" (43:59) is an extensive vintage making-of Hans-Dieter Hartl from which much of the behind the scenes footage in the other featurettes is excerpted. Restoration Notes by Juliane Lorenz (31:54) look at the 2K ARRI scanning of the original 16mm negatives, digital clean-up, and the grading sessions with Schwarzenberger, and is accompanied by a Restoration: Before and After (7:28) montage. Also ported over are the Original Broadcast Recaps (4:19) and the Berlinale 2007 Trailer (6:59).

Packaging


Packaged with the disc is a 60-page perfect bound booklet featuring new essay by Cahiers Du Cinema's Stephane du Mesnildot and archive material by Wim Wenders, Thomas Elsasser and Christian Braad Thomsen that was regrettably not supplied for review.

Overall


Berlin Alexanderplatz, the epic culmination of Rainer Werner Fassbinder's literary and cinematic obsessions, receives treatment worthy of its pedigree on Second Sight's limited edition Blu-ray.