The Film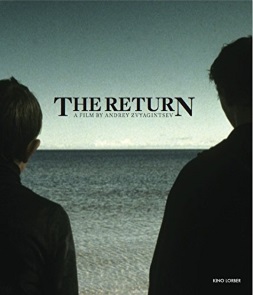 Golden Globe (Best Foreign Language Film): Russia (nominated) - Golden Globes, 2004
César (Best Foreign Film): Andrey Zvyagintsev (nominated) - César Awards, 2004
Golden Eagle (Best Feature Film): Andrey Zvyagintsev and Dmitriy Lesnevskiy (winner), (Best Cinematography): Mikhail Krichman (winner),(Best Sound): Andrey Khudyakov (winner),(Best Director): Andrey Zvyagintsev (nominated), and (Best Film Editing): Vladimir Mogilevskiy (nominated) - Golden Eagle Awards, 2004
'CinemAvvenire' Award (Best First Film): Andrey Zvyagintsev (winner), Golden Lion: Andrey Zvyagintsev (winner), Luigi De Laurentiis Award: Andrey Zvyagintsev (winner), SIGNIS Award: Andrey Zvyagintsev (winner), and Sergio Trasatti Award: Andrey Zvyagintsev (winner) - Venice Film Festival, 2003

Growing up without a father, brothers Andrey (Vladimir Garin) and Ivan (Elena's Ivan Dobronravov) have always been close in spite of the usual threats to their bond from peer pressure and the slight difference in their ages which is becoming more of a gulf as both get older. One day, the pair return home from playing with friends to learn from their mother (Nataliya Vdovina) that their father (The Banishment's Konstantin Lavronenko) has returned after a twelve year absence. Relations are understandably strained, at least to the children since the father seems to expect that they treat him as such while there mother and grandmother (Galina Popova) seem more withdrawn than submissive. The father announces his intention to take the boys on a fishing trip which excites the brothers who plan to chronicle the trip with photographs and a shared journal. While Andrey seems eager to please his father, Ivan grows increasingly resentful at his father's gruff manner and dismissive responses to questions about where he has been for over a decade (no longer buying his mother's story that their father is a pilot who has come by while on vacation). Ivan tests his boundaries with his father and grows increasingly hostile when Andrey's overcompensating goes unrewarded with any display of kindness. When Andrey is robbed of his father's wallet by a local kid and fails to give chase, his father nabs the boy and orders both Andrey and Ivan to strike him. When neither will do it, the father seems more proud of the thief for having the guts he accuses them of lacking. When their father abruptly cancels the trip and tells them to catch a bus home, he seems to conform to Ivan's low expectations only to reverse his decision and inform them that he is taking them on an extended trip to an island off the coast. The increasing tension between Ivan and his father spills over into the relationship between the brothers when the three are isolated on an island and open defiance provokes violence.

The debut feature of Andrey Zvyagintsev (Elena), The Return has a basic storyline that could just as easily make a good thriller as a family drama; but Zvyagintsev favors an ambiguity as maddening to the audience as to Ivan (and Andrey if he would speak up) with an emphasis on family dynamics rather than definitive answers as to why the father disappeared more than a decade before and what he has been doing, even going so far as to introduce a McGuffin in a locked strong box the father digs up on the island that teases the viewer with the idea that it may indeed confirm Ivan's suspicion of the father's criminality. The director introduces the father in a shot explicitly patterned after Andrea Mantegna's "The Lamentation of Christ" with the sleeping Lavronenko foreshortened by the perspective of the children from the doorway; however, the expected reverence of the boys is not immediate, as they must steal away to the attic and search out an old family photograph in order to confirm that he is their father. The women in the film offer no defiance or assurance, and even a scene in which the father joins the mother in bed gives us little insight into their relationship and whether it was actually resumed at that point (and whether it was actively so on the mother's part). Zvyagintsev's approach is deceptive from the start with the viewer expecting that it is the arrival of the father that lead to a reversal of personalities with Andrey becoming meek and susceptible to authoritarian manipulation by a father figure while Ivan becomes defiant; however, a look back at the brothers' introductory scenes with their friends shows Andrey submitting to peer pressure to ostracize his brother for being afraid of heights and Ivan physically attacking him in a fight he would surely lose had Andrey not run off to tell his mother when Ivan tore his shirt. While audience sympathy will lie mainly with Ivan – and, to a lesser extent, Andrei as would be peacekeeper – in response to the father's seemingly uncompromising expectation that the two boys should love him and respect him as if no time had passed at all, Lavronenko deftly conveys through facial expressions both uncertainty when challenged by Ivan (as excellently played by then fourteen-year-old newcomer Dobronravov) and something that could just as easily be amused disdain or pride. It is very easily to place blame between the two characters unwilling to unbend for the cause of the tragic climax but does little to assuage the guilt of the survivors. The Return is a masterful debut and a genuine contemplative pleasure that feels more personal and refreshingly unlike most international film festival fodder.

Video


Given theatrical arthouse exposure by Kino International in the United States, and the late lamented UGC in the UK, The Return was released to DVD stateside via Kino in 2004 in the US and Fox in the UK in 2008. The film has a deliberately cool look of blues, greens, and browns that was serviceable in standard definition, but Kino's 1080p24 MPEG-4 AVC 1.85:1 widescreen Blu-ray – and presumably Artificial Eye's Blu-ray from the same master – improves substantially with a darker image which remains cool without blowing out the background skies while the blue cast that sometimes looked like a filter in front of the lens in standard definition is relegated to the sky and water in high definition with other subtle shades becoming more apparent in the landscape. If anything, the new master looks more "naturalistic" while the older one seems as if it were manipulated towards the teal rather than simply being subject to the limitations of digital mastering in the early 2000s.

Audio


Audio includes DTS-HD Master Audio 5.1 and 2.0 Stereo mixes of the Dolby Digital mix which is understandably subdued and front-oriented for much of the running time with the surrounds being utilized sparingly for atmosphere - more so during rain-drenched sequences - and music. Optional English subtitles are free of any obvious errors.

Extras


Both UK and US Blu-ray carry over the 2004 documentary "The Return: A Film About the Film" (63:31) in which Zvyagintsev shot interviews year after the film's release – and the accidental drowning death of sixteen-year-old Garin the night before the Russian premiere – interspersing comments from actors Dobronravov, Vdovina, and Lavronenko along with Zvyagintsev himself, producer Dmitriy Lesnevskiy (The Banishment), cinematographer Mikhail Krichman (Leviathan), and composer Andrey Dergachev (Loveless) with behind the scenes video covering every aspect of the production. Exclusive to the American release is a new interview with director Andrey Zvyagintsev (12:42) in which he recalls training as an actor but falling in love with cinema after seeing Michelangelo Antonioni's L'Avventura, and then immersing himself in the works of Akira Kurosawa, Yasujirô Ozu, and Kenji Mizoguchi in the twelve years between his graduation and his debut. He made short films and TV commercials before catching the attention of Ren Film's Lesnevskiy and is still grateful for the opportunity to make the leap to 35mm and Dolby sound. He also discusses the casting of the kids, the film's bittersweeet opening in light of Garin's death, and reveals that he found the original closing sequence "trite" and decided to replace it with a montage of photographs taken by the brothers on the trip (actually shot by DP Krichman), and the process of selecting twenty-two photos for the sequence from roughly twelve-hundred. The disc also includes bonus trailers. The cover is reversible, and in a very un-Kino-like move, both this and the concurrent Blu-ray release of The Banishment include digital copy codes.

Overall


The Return is a masterful debut and a genuine contemplative pleasure that feels more personal and refreshingly unlike most international film festival fodder.