The Film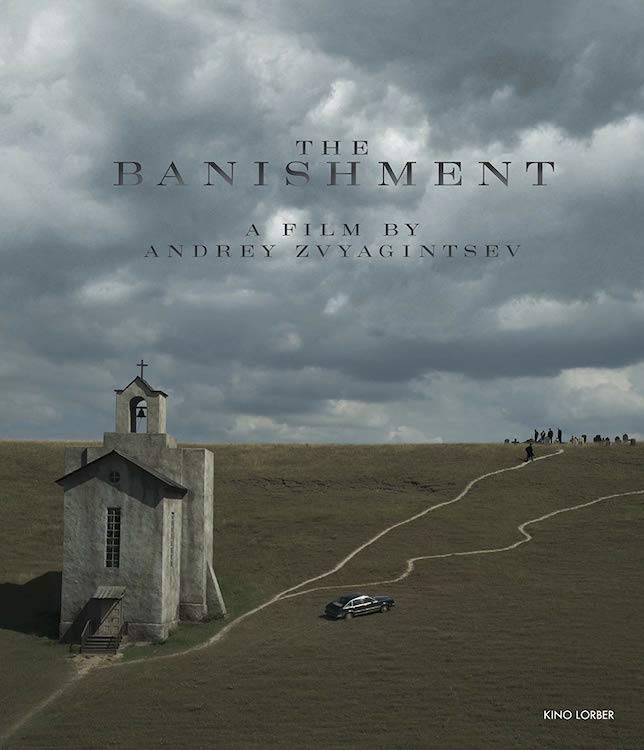 This is Andrey Zvyagintsevís second feature after the stunning debut, "The Return" (2003) which greatly impressed me and I was curious to see what this film would be like. "The Banishment" is a similar breed of film but most certainly stands alone on its own merits; the source material was William Saroyanís novel, "The Laughing Matter". Once again, Zvyagintsevís focus is on the family but this time his attention turns to the adults and their problems.

In "The Return", Konstantin Lavronenko was the missing father who mysteriously returns after a 12 year absence; Lavronenko (Alex) once again is the main character, but this time he is a man placed in a precarious emotional position when his wife Vera (Maria Bonnieve) informs him that she is pregnant, but he is not the father. Utilizing a pastoral country setting, Zvyagintsev uses the great natural setting of the imposing landscape to further isolate and restrict his characters from freedom. The subject matter of this film is a mix of several themes including family bonds, brotherly love, a lack of communication, secrets and fear, love and hate. This is a heady mix of subjects to tackle and in lesser hands it would have become a predictable melodrama, but instead Zvyagintsev creates a portrait of a man that is stretched thin by the boundaries of family and country.

The first eight minutes that opens the film is a gripping journey by car through the idyllic countryside and into an urban industrial area and at first glimpse it seems that we are in store for an edgy neo-noir thriller. The driver is seen stopping at a railroad crossing and tightening a belt around his arm in a make shift tourniquet is Mark (Aleksandr Baluev) and he stops at his brother Alexís (Konstantin Lavronenko) apartment to have him remove the slug. The fact that Alex simply complies with Markís request and doesnít argue with him wordlessly fills us in on the true nature of their relationship; Mark may possibly have some shady underworld ties and calling a doctor is simply out of the question. The operation is completed and nothing more is said.

In the following days Alex and his family; Vera (Maria Bonnevie), Kir (Maksim Shibayev) and Eva (Yekaterina Kulkina), arrive in the country at Alexís fatherís house, which seems to not have been occupied for some time. After taking the shutters from the windows, the family is observed sitting down to dinner, and the camera is placed outside a window looking inward on them. Throughout the film Zvyagintsev will use this type of shot to emphasis the isolation of various characters and to apply distance between the family members. The surrounding countryside resembles something in a Andrew Wyeth painting with its huge sweeping fields and idyllic conditions, but as such there is an imminent feeling of some sort of unseen menace, an impending feeling of doom that surrounds the house and its inhabitants.

After the children retire for the night, husband and wife sit outside on the porch and share a drink. Suddenly, out of nowhere, Vera informs Alex that she is expecting a child and that he is not the father. Alex walks away in wordless disgust and wanders to the railroad station where he borrows a car from a local man; he calls his brother on the phone and tells him that he needs to see him, but then after driving for a while, Alex pulls the car over and returns back home. Cinematographer Mikhail Krichman keeps a respectful distance from his subject, filming Alex from the backseat of the car, leaving Alex to struggle with his thoughts, without an intrusive camera invading his space. Like in his previous effort in "The Return", Zvyagintsev uses silence in the best possible way; using the lack of a soundtrack to emphasis the loneliness of a scene and allowing the viewer to share the space with the characterís involved, he gives his actors and us room to breathe. However Andrey Dergachev's score is pure beauty in its usage and it underlines several important scenes. The surround sound 5.1 track fills the room with ethereal voices and supplies an otherworldly soundtrack to the film.

For the sake of not revealing several plot twists, I will not comment on the revelations that are forthcoming, but I encourage those that are curious to seek out this film for a surprising take on a familiar theme. Zvyagintsev is a powerful influence to be reckoned with and his obvious clear insight into what film can accomplish is without doubt a powerful inspiration to all serious filmgoers. This film is not as clear cut as his previous effort, but that just means that the subject is not an issue that can clearly be defined in terms of good and bad, black and white, friend or foe. Again this is an interesting film and I encourage anyone that is interested in excellent filmmaking to seek this out.

Video


Presented in widescreen 2.35:1 HD 1080p 24/fps mastered in AVC MPEG-4 compression. I love the painterly quality of some of the scenes in the film with the countryside used as a canvas to capture the beauty. There are shots in the film that easily qualify as being incredible with a quiet grace and beauty that makes the viewer sit up and take notice.

Audio


Two audio tracks are included in Russian DTS-HD Master Audio 5.1 surround and Russian DTS-HD Master Audio 2.0 stereo, Andrey Dergachev's breathtaking score is impressive and is used to emphasize the emotional loneliness of several scenes. Dialogue is clearly presented in English subtitles that can be removed, and the soundscape is rich in detail.

Extras


The Disc features an interview with Andrey Zvyagintsev (19:00). The director talks about his influences and obvious love of cinema.

"Behind-the-Scenes" documentary (24:00), is a look behind the scenes footage and some interviews with the director and cast members.

The original Russian theatrical trailer for "The Banishment" in Russian, with English subtitles (2:00).


Bonus trailers for two other films by Zvyagintsev are also included:

- "Elena" (1:40)
- "The Return" (2:10 )

Packaging


Comes packaged in a plastic clamshell case with nice cover art.

Overall


"The Banishment" is another classic production from Kino Lorber, and the overall scope of the film is flawlessly presented. Picture quality is superb and the entire film is beautifully lensed. This film is definitely a keeper!
| | | | | |
| --- | --- | --- | --- | --- |
| The Film: A | Video: A | Audio: A | Extras: B | Overall: A- |