Footsteps in the Fog (Blu-ray) [Blu-ray]
Blu-ray ALL - United Kingdom - Powerhouse Films
Review written by and copyright: Rick Curzon (26th July 2018).
The Film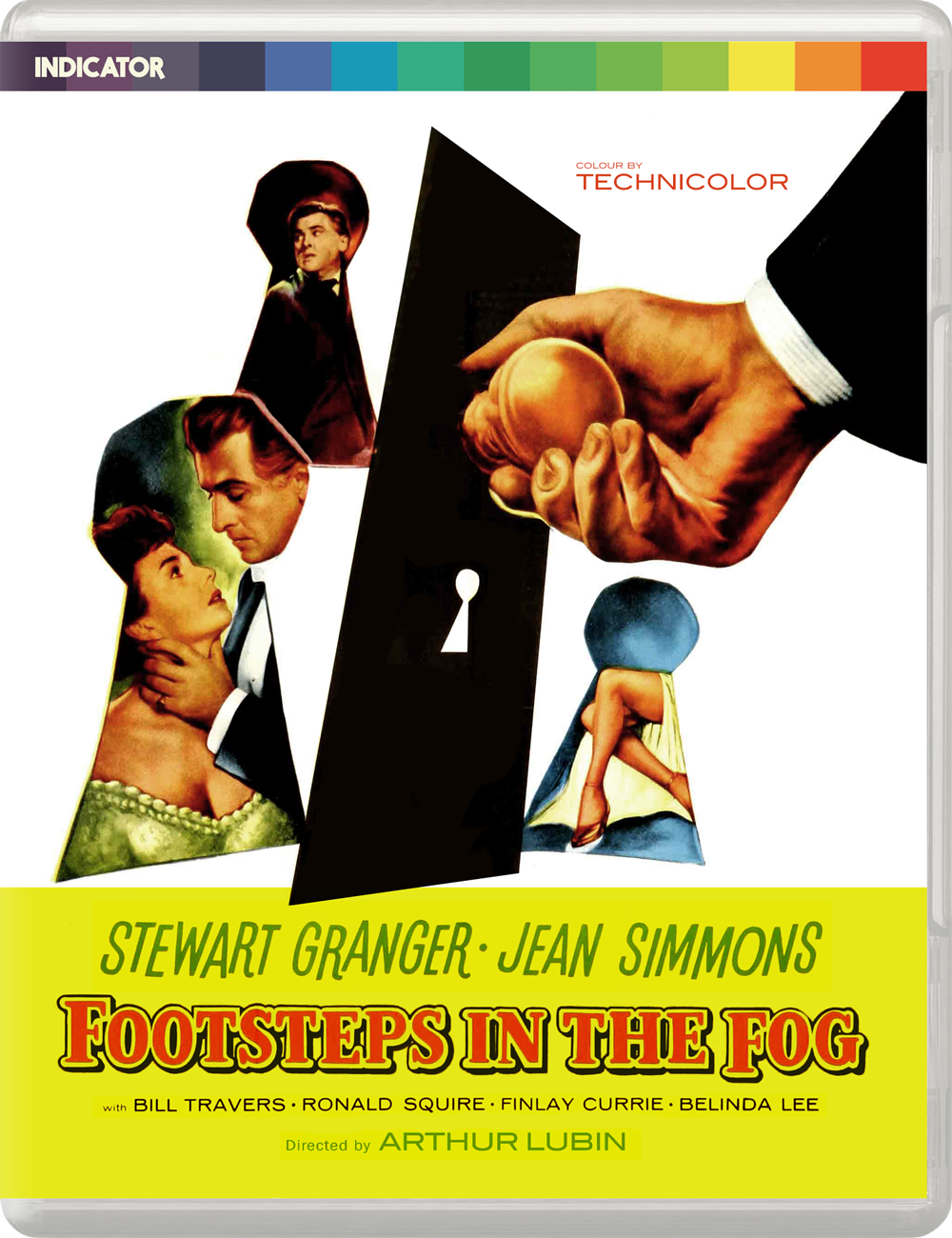 Limited Blu-ray Edition (World Blu-ray premiere)

Shot in glorious Technicolor by award-winning cinematographer Christopher Challis (The Tales of Hoffmann, A Dandy in Aspic, Villain), this classic Gothic melodrama stars the then real-life husband and wife acting team of Stewart Granger and Jean Simmons in the tale of a murderous London businessman and the scheming housemaid who shares his dark secret.

Video


When Stephen Lowry (Stuart Granger) murders his wife by poisoning, his maid Lily Watkins (Jean Simmons) finds out and blackmails him in to keeping her on and promoting her to head of the household. They soon become lovers and start hatching plans.

The script is good if predictable from first frame to last; it's well made with gorgeous sets and costumes and it still manages to be involving despite the two main leads being utterly unsympathetic. That said, we have Bill Travers and Belinda Lee as the sympathetic core of the film. Great melodramatic performances and the Technicolor look - rich velvety textures and colours - is wonderful.

Techicolor was a process involving three strips of film emulsion with light filters green, magenta and red exposed to a strip of film each passing through the camera camera. It had a distinct, velvety texture and rich colour values. Part of the problem with the process was that the three strips could warp over time which cause colour registration issues which could affect sharpness and lead to bleeding and fringing.

If you've seen the likes of Black Narcissus (1947) or The Red Shoes (1948) you'll known what I mean. Flesh tones have a mile, pastel look but reds are vivid and striking and Footsteps in the Fog (1955) is no different.

Sony has done it's usual stunning job in mastering this in HD and restoring the film with no registration issues that I could detect. Colours are vibrant and subtle by turns according to the scene. Black levels are very deep and luxuriant with no crush and plenty of detail. Contrast is suitably modest and pitched perfectly to allow plenty of detail and textures come through. No blown out highlights and the foggy scenes look creepy and well managed.

Grain is evident all the way through as is to be desired and expected given the film stock. The opening funeral is a beautifully handled sequence with a lovely blue-grey cast with a fine grain field. If you ever wanted to see what a Hammer Horror film would look like given a bigger budget then this is it.

The encode is top notch and handles all of that lovely grain with no blotching or gaps and it's consistent throughout. There's no signs of print damage or any kind of digital tinkering or artefacts.

1080/24p / MPEG-4 AVC / 1.75:1 / 89:48

Audio


English LPCM 1.0

Subtitles: English HoH

A solid, robust mono track of the period without any distortions. Music and dialogue never trample on each other and despite being typically limited given the era it was made in, it has nice base and is full blooded.

Subtitles are very welcome.

Extras


"The Guardian Interview with Stewart Granger: The National Film Theatre, London 30 September 1990" plays as an alternate audio track over the film (68:26)

As good a pice of raconteuring asIi've ever heard. Granger starts as he means to go in full of humour and he engages the audience all the way through. Masses, and I mean masses of comical stories about how he became an actor and his career. He really plays the audience like a violin. Tremendous stuff; worth the price of the disc by itself.

Belinda, Godess of Devon: Steve Chibnall on Belinda Lee" featurette (27:00)
Chibnall knows his stuff and he gives a more than decent account of Lee, her life, career and her tragic end in a car accident in California in 1961. We hear of her working with Val Guest, marriage at 19 and her initial success in The Belles of St. Trinian (1954). She becomes a sexy stooge for comedians by Rank but was ambitious to do better work. She took up with Gualtiero Jacopetti and was working on Mondo Cane (1962) when she died.

"Something in the Air: Josephine Botting on Footsteps in the Fog" featurette (26:30)

Botting drom the BFI gives us plenty of analysis of the film as a part of the sub genre "Gaslight Noir" and it's history and themes. Very interesting.

"Gothic Imprints: Kat Ellinger on Footsteps in the Fog" featurette (17:00)

Another splendid piece focusing on the gothic aspects of the film and it's antecedents from the editor of Diabolique magazine.

Theatrical Trailer (2:07)

Typical trailer for an A-list, prestige production of the period.

Footsteps in the Fog Image Gallery: Original Promotional Material (76 images)

Excellent HD still gallery with plenty of interesting material.

36-page liner notes booklet with a new essay by Steve Chibnall, pieces on the original short story, making of the film and vintage critical responses

Extensive and absorbing collection of pieces on the film; meticulous and yet another extra worth the price of the disc by itself. Well up to the extremely high standards set by previous booklets from Powerhouse.

Overall


Another largely forgotten film given the deluxe treatment by Powerhouse Films. The Sony master is probably older, but no slouch and Powerhouse have worked their usual magic with a David MacKenzie encode that allows the material to come over naturally. Sound is solid and the extras superb. It seems to me that every Powerhouse Indicator release could take the mantle of disc of the year and this is no different.
| | | | | |
| --- | --- | --- | --- | --- |
| The Film: A | Video: A+ | Audio: A+ | Extras: A+ | Overall: A+ |

---
DVD Compare is a participant in the Amazon Services LLC Associates Program and the Amazon Europe S.a.r.l. Associates Programme, an affiliate advertising program designed to provide a means for sites to earn advertising fees by advertising and linking to amazon.co.uk, amazon.com, amazon.ca, amazon.fr, and amazon.de.