A Bill of Divorcement [Blu-ray]
Blu-ray A - America - Kino Lorber
Review written by and copyright: Eric Cotenas (2nd August 2018).
The Film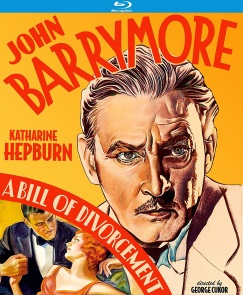 It is Christmas and the Fairfields are planning to ring in the New Year with some big changes. Margaret (The Wizard of Oz's Billie Burke) is engaged to debonair attorney Grey (The Four Skulls of Jonathan Drake's Paul Cavanagh), and her headstrong daughter Sidney (The Lion in Winter's Katherine Hepburn) has just accepted the proposal of suitor Kit (Dracula's David Manners) an will be leaving with him to seek his fortune in Canada. Casting a pall over the festivities is Margaret's spinster sister-in-law Hester (Pal Joey's Elizabeth Patterson) at the injustice of mother and daughter forgetting the absence of father Hilary Fairfield (Topaze's John Barrymore) who has been institutionalized since before Sidney's birth due to shell shock and amnesia from the war. For Sidney, it is almost as if she never knew him – having never been allowed to visit Hilary in the asylum – while Margaret, having impulsively married him right before he was called to he front, feels as if he has been dead all these years and has fallen in love with Gray while he was obtaining a divorce for her. The day after Christmas, however, Sidney receive a phone call and learn that Hilary has come to his senses and escaped the hospital. Sidney is worried about how her mother will react, however, Margaret accidentally lets slip that insanity runs in the bloodline and that Hilary's was only exacerbated by the war, making Sidney suddenly apprehensive about marrying Kit and having the large family of which they had dreamed. Although Hilary mistakes her for her mother, Sidney feels a kinship with the father she never knew, and tries to spare her mother the pain of her father's affections – for him, it is as if no time has passed – and her father the shock of her mother's divorce and plans to remarry. Sidney also suddenly treats Kit coldly, taking the "cruel to be kind" approach to send him packing without knowing her misfortune. Gray, Kit, and family doctor Alliot (Captain Blood's Henry Stephenson) – who unfortunately lets slip his own belief of the pervasiveness of mental illness in the family line – try to intervene, but it is a family affair, and mother, daughter, and father must determine whether the pull of family obligation is worth the unhappiness that comes with it.

Adapted from the stage play by Clemence Dane aka Winifred Ashton (Murder!) – previously adapted in 1922 and subsequently in 1940 with Maureen O'Hara followed by a 1949 Kraft Theatre television adaptation – A Bill of Divorcement seems on the surface as if it will become a light comedy; however, it is earlyGeorge Cukor (The Philadelphia Story) which tends towards the melodramatic. The play was originally staged at a time when America was still reeling from the aftermath of the first World War – and popular enough to merit its first screen adaptation a year later – Cukor's A Bill of Divorcement is plenty melodramatic but cannot help but feel tainted for contemporary viewers by his subsequent works so much as to almost feel like a parody (Burke's voice and delivery is very suited to such dialogue but it is hard not to impose the image of Glinda the Good Witch floating in her pink bubble over poor Margaret). A fresh-faced Hepburn had not yet refined her dramatic skills and it almost feels as if she is "being melodramatic" when she quickly decides to sacrifice her own happiness with Manners' Kit – who, like the other male principals, actually gets to cry in a film of this period (in reaction to romantic rejection rather than major calamity) – as much for fear of her heredity as to devote herself to the father she feels that only she can handle ("We're in the same boat," is all offers to her father when he asks about why she has cut things off with Kit, and Hilary accepts it). Barrymore commands the screen as soon as he enters near the half-way mark, and is really the only performer who seems a force apart from Cukor's direction and the camera of Sidney Hickox (The Big Sleep) which manages a few striking long takes and movements around the large set. The film is best enjoyed in a maudlin mood, or within the context of Cukor's development as a future auteur of more stylized Hollywood melodrama and comedy than as more grist for the David O. Selznick mill in his quest for a hit.

Video


Released theatrically in 1932 by RKO and long unavailable until CBS/Fox released on tape in the nineties, A Bill of Divorcement comes to Blu-ray from Kino in a 1080p24 MPEG-4 AVC 1.37:1 pillarboxed fullscreen encode from a 4K master that has seemingly not undergone extensive restoration but is relatively clean apart from some vertical scratches for the bulk of the presentation. The final reel is in lesser shape but acceptable.

Audio


The DTS-HD Master Audio 2.0 mono track is relatively clean for the bulk of the presentation, only sounding muffled (but still understandable) during the aforementioned final reel.

Extras


There are no extras apart from trailers for other releases.

Overall


A Bill of Divorcement is best enjoyed in a maudlin mood, or within the context of Cukor's development as a future auteur of more stylized Hollywood melodrama and comedy than as more grist for the David O. Selznick mill in his quest for a hit.

---
DVD Compare is a participant in the Amazon Services LLC Associates Program and the Amazon Europe S.a.r.l. Associates Programme, an affiliate advertising program designed to provide a means for sites to earn advertising fees by advertising and linking to amazon.co.uk, amazon.com, amazon.ca, amazon.fr, and amazon.de.