The Film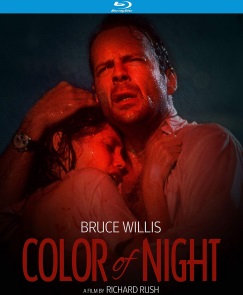 Golden Globe (Best Original Score): Jud Friedman, Lauren Christy, and Dominic Frontiere (nominated) - Golden Globes, 1995
Razzie Award (Worst Film): Buzz Feitshans and David Matalon (winner), (Worst Actor): Bruce Willis (nominated), (Worst Actress): Jane March (nominated), (Worst Supporting Actor): Jane March (nominated), (Worst Screen Couple): Bruce Willis and Jane March (nominated), (Worst Supporting Actress): Lesley Ann Warren (nominated), (Worst Director): Richard Rush (nominated), (Worst Screenplay): Matthew Chapman and Billy Ray (nominated), and (Worst Original Song) Jud Friedman, Lauren Christy, and Dominic Frontiere (nominated) - Razzie Awards, 1995

After an emotionally unstable patient (Witchboard's Kathleen Wilhoite) commits suicide in front of him, the displaced guilt of psychologist Bill Capa (Hudson Hawk's Bruce Willis) takes the form of the erasure of the color red from his vision. Giving up his practice against the advice of mentor Larry Ashland (True Grit's Jeff Corey), Bill tells his lawyer to pay whatever the patient's family wants in their lawsuit and travels across the country to reconnect with college rival Bob Moore (Lord of Illusions' Scott Bakula), a psychiatrist who has struck big with a bestselling book yet still conducts a weekly group therapy session. Bill sits in on a session and meets a group of neurotics who have formed a dysfunctional dynamic: nymphomaniac/kleptomaniac rich bitch Sondra (Clue's Lesley Ann Warren), asshole artist Casey (Deep Rising's Kevin J. O'Connor), obsessive compulsive accountant Clark (One Flew Over the Cuckoo's Nest's Brad Dourif), hardass Buck (Aliens' Lance Henriksen) who is still grieving the loss of his wife and daughter, and Richie, a court-mandated teenager with gender identity disorder, social anxiety, and a violent streak. Bill learns that Bob has recently beefed up security on his lavish beachside home because of a series of death threats over the last few months that he suspects are coming from one of the group. Although Bill is known for his "turning fork" brain and able to diagnose the more expressive of the group members, he is not able to offer up any insight before Bob is brutally murdered in his office one night after the group session. Crass Lieutenant Martinez (Predator 2's Rubén Blades) asks Bill to break the news of Bob's death to the group, hoping that Bill will be able to ferret out the culprit. The group takes the news badly as expected, but Sondra and Clark beg Bill to take over the group despite the suspicions and objections of Casey and Buck. In trying to convince them that he is not what they need, Bill opening up about his own issues since the death of his patient convince them even more that he is the ideal replacement. In spite of Martinez's order that he shut down the group since there is a potential murderer among them that may turn on him, Bill cannot abandon them and starts getting to know them while also investigating his friend's murder. While discussing relationships in group, Bill learns that Sondra, Buck, Casey, and even "emotionless black hole" Clark are all currently in relationships with partners so impossibly perfect for them that it has thrown them into emotional tailspins in light of their past destructive relationships and life choices. Bill himself has met his "angel" in young Rose (The Lover's Jane March) who meets cute with him in a fender bender. He impulsively dives into a heated relationship with the girl of whom he knows practically nothing, not even her address or phone number as she seems to drop into his life magically and disappear abruptly. While Martinez brings him up to speed on the violent behavior in the pasts of his patients, Bill becomes intrigued with young Richie whose guardian brother Dale (Buffy the Vampire Slayer's Andrew Lowery) wants Bill's help getting him out of therapy which he views as "psycho-servitude." Meanwhile, Bill starts getting malicious phone calls from someone using a child-like voice which escalate to attempts on his life.

In a rational world, Color of Night would have been a low-budget production with the likes of nineties erotic thriller royalty Andrew Stevens (Night Eyes) and Shannon Tweed (Cannibal Women In The Avocado Jungle Of Death), and it may have received overseas theatrical release while going direct to video stateside in R- and unrated versions. Fortunately, this is not a rational world, and Color of Night is a wonderfully overblown film helmed by Richard Rush who was still resting on the critical laurels of The Stunt Man with a forty-million dollar budget, a dedicated Bruce Willis (baring more than his ass while attempting to bare his soul), an incredible supporting cast (all of the names of which billed after the title are all recognizable), and high production value in a psychological thriller as ludicrously plotted as Frank De Felitta's earlier Scissors (with a pre-Basic Instinct Sharon Stone) of which it is more so akin than its erotic thriller contemporaries or even the Brian De Palma-funneled giallo style it appears to ape with its setpieces. The copious amounts of nudity from Willis and March – a cause célèbre for her turn as an underage girl involved with an older Chinese man in Jean-Jacques Annaud's film adaptation of Marguerite Duras' "The Lover" due to rumors of unsimulated sex onscreen between nineteen-year-old March and co-star Tony Leung (Ashes of Time) – skirts gratuitousness because the sex scenes are just as stylistically overwrought as everything else in the film thanks to the slick photography of Dietrich Lohmann (Love Is Colder than Death) and the lush scoring of Dominic Frontiere (Brannigan) with many orchestral iterations of them end credits theme song by Lauren Christy. The pro supporting cast – which also includes Shirley Knight (As Good as it Gets) as the reclusive widow of Richie's first therapist and Eriq La Salle (Jacob's Ladder) as Martinez's much-abused colleague – are over-the-top in an appropriately camp fashion in deliberate contrast to Willis who turns in a low-key performance that nevertheless includes a couple Die Hard dives away from peril accompanied by battle cries (it could be argued that the difference between the theatrical and director's cut is that Rush knows that the plot is ludicrous and has fun with it in the latter version). The climax set in creepy, fog-bound location full of mannequins, mirrors, and nail guns, that leaves characters in peril dangling high above the unforgiving ground seems in keeping with Willis' action hero image but throws in a twist that leaves him passive for part of it. The end result is no masterpiece, and certainly not the return to prestige of Rush, but this messy yet entertaining effort shows exactly why the "erotic thriller" genre faded into the direct to video and late night cable haze.

Video


Released theatrically in a cut tampered with by producer Andrew Vajna (Evita) and subjected to further MPAA cuts, Color of Night appeared on VHS and laserdisc in Rush's director's cut (itself an R-rated compromise between Rush and the MPAA) which was fifteen minutes longer (including roughly eight minutes of sex cut from the theatrical version). The longer cut would also appear on DVD in a non-anamorphic letterboxed version that matted off some nudity that was unintentionally revealed on VHS, and this cut would get an HD bump-up on a double feature Blu-ray with Playing God from Mill Creek. Kino Lorber's two-disc Blu-ray edition features 1080p24 MPEG-4 AVC 1.85:1 widescreen encodes of the film's theatrical cut (122:55) and director's cut (139:19) on separate discs (it should be noted that the international versions of both cuts had some additional nudity not forfeited to the MPAA but they do not seem to have turned up on home video, presumably the video companies were supplied video masters by Hollywood Pictures and the catalogue's subsequent owners). The director's cut looks darker with sometimes richer colors, although it does not appear to be a new master, or the preparers did not take time to stabilize some jitter which is evident during a couple long pans and the end credits which are difficult to read at times without pausing. The theatrical cut looks a tad brighter and softer but viewers will probably only revisit it to skim through for differences after a listen to the commentary. Neither version has been freshly restored, but the finer points (March's breasts and brief glimpses of Willis' "Little Bruce" if you are so inclined) are better rendered here than on DVD.

Audio


Both cuts include the original Dolby Stereo mix in DTS-HD Master Audio 2.0 as well as a 5.1 remixes that give the more music additional spread than the directional sound effects that still sound front-oriented for the most part while some rear channel stuff does not quite jump out from behind you. Optional English SDH subtitles are provided for both cuts.

Extras


The director's cut is accompanied by an audio commentary by director Richard Rush moderated by Elijah Drenner in which the director recalls signing onto the project in spite of his previous bad experience with Vajna on Air America that he scripted with Sean Connery and Kevin Costner slated for leads only for Vajna to give the film to Roger Spottiswoode (48 Hrs.) and "territorially urinate" on everything with his mark (including the rewritten screenplay). Nevertheless, he was offered a high budget, Willis in the lead, and allowed to completely rewrite the script. He discusses the difficulty of working with Willis – who he admired but had a tendency to direct actors behind his back to get the reactions out of them that favored his interpretation of his character – casting March (who married Willis' associate Carmine Zozzora who started interfering with March's schedule and what she would be allowed to show onscreen until the intervention of Rush's French wife), his regular editor Jack Hofstra (The Specialist) adapting to digital editing, and the battle over final cut with Vajna that lead to a press war in which the producer tried to pin the blame on the reception of the theatrical cut on Rush, and Rush threatening to take his name off the film if he was not given the right to release his cut on video (nothing that Vajna was pissed off when he discovered that the MPAA allowed sex scenes that they ordered cut from the theatrical version). The disc also includes the theatrical trailer (2:06) as well as bonus trailers for other Hollywood Pictures titles. The theatrical cut is accompanied by an audio commentary by screenwriter Matthew Chapman moderate by Heather Buckley, in which he characterizes the original script by Billy Ray (Shattered Glass) as scrappy and gritty low-budget L.A. noir and goes into his processes of rewriting which he considers an intellectual challenge (this discussion really is interesting as he takes a more methodical approach than some artists). He also discusses his work with Rush, and his feelings about the "overthought" rewrite and final film. The disc also includes an image gallery (2:11).

Overall


In either cut, Color of Night is no masterpiece, and certainly not the return to prestige by Rush, but this messy yet entertaining effort shows exactly why the "erotic thriller" genre faded into the direct to video and late night cable haze.