The Film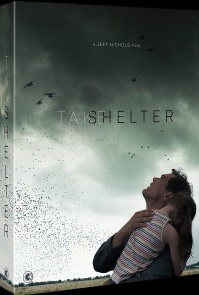 Curtis (Bug's Michael Shannon) is a family man living in the Midwest with his wife Sam (Zero Dark Thirty's Jessica Chastain) and deaf daughter Hannah (Tova Stewart) and working construction. At age thirty-five, he starts suffering recurring nightmares of a fierce storm that seems to wreak havoc with nature and people to go mad, attacking him and Hannah. After a dream in which his own dog takes a chunk out of his arm, the lingering feeling of pain in his uninjured arm drives him to erect a pen around the doghouse to the bewilderment of his wife who has always trusted the dog around their daughter. With subsequent dreams and severe sleep paralysis, he simultaneously seeks covert medical advice while also starting work on renovating and expanding the old storm shelter on his property. When his doctor (Promised Land's Ken Strunk) prescribes mild sedatives, he is able to sleep well but starts experiencing visual and auditory hallucinations during his waking hours. He expresses his fear for his mental health to his doctor since his mother Sarah's (Cold Mountain's Kathy Baker) own schizophrenia emerged at the same age. His doctor recommends that he see a psychologist colleague but he instead goes to a free clinic to speak to counsellor Kendra (Jackie Brown's LisaGay Hamilton) who advises him that she is not qualified to treat him, but he finds comfort confiding in her. Sam has grown suspicious and increasingly frustrated by her husband's withdrawn behavior – including his refusal to seek medical attention after suffering a seizure when he takes too many of the sedatives – but she is just as preoccupied with trying to get Curtis' health care to pay for a cochlear implant for Hannah and arranging a beach vacation for the summer (which seems shallow and extravagant but may be a much-needed break from how she really sees their lives behind her optimistic exterior). When Curtis does confide in his wife, her attempt to be understanding is frustrated by the revelation that he took out a risky home improvement loan for his personal project. Curtis recruits coworker and best friend Dewart (Non-Stop's Shea Whigham) into helping him expand the storm shelter using company equipment, but his increasingly erratic behavior threatens his job (and thus, funding for Hannah's operation) and frightens Sam who was already self-conscious about Curtis' withdrawn behavior in front of her religious family and friends before he started having the nightmares.

Despite its Midwestern "bible belt" setting of Sunday dinners, church suppers, and craft fairs, and Shannon's family man with little religious faith, Take Shelter appears on the surface to be a modern take on Noah's Ark. Writer/director Jeff Nichols (Shotgun Stories), however, eschews Oscar-baiting moral grandstanding movie moments and an epic climax in favor of exploring the fragility of a sense of self and the stability of family ties. Whether Curtis is receiving supernatural premonitions or is exhibiting signs of mental illness, it appears from his family history as though he has tried to lose himself in his role of husband, father, and provider with his daughter's disability and his impersonal work preoccupying him; indeed, his storm shelter expansion could be interpreted as his only personal interest. Curtis' initial visions of his dog turned violent and indistinct figures who could be looters or escaped mental patients seem like relatively "normal" fears in a nightmare about a natural disaster, but later visions in which people he knows become violent towards him take the film into genre territory; yet, all of these are merely part of the external view of a man trying to deal with what he believes is hereditary mental illness in what he sees as a rational manner – it appears as if he goes to see a free clinic counsellor rather than a recommended doctor as much due to his worries about the cost (and worries about the stigma of mental illness to his employers privy to his medical insurance records) as to fool himself into believing his anxieties do not require clinical treatment – while ultimately seeking comfort in his uncertainty and shelter in his family by preparing for an apocalyptic with the storm shelter rather than taking to the streets as a prophet of doom. Shannon's performance overshadows all others – including supportive work by Chastain, Whigham, Baker, and Mike & Molly's Katy Mixon as Dewart's wife and Sam's best friend – with his predominant low key moments as powerful as his third act public blowup. It is a characterization so powerful, that the ambiguous ending seems at first a betrayal of character and story but ultimately seems to suggest a recovery of faith in family bonds by three characters.

Video


Released theatrically in the UK by Universal Pictures, Take Shelter was issued by that company on Blu-ray and DVD in an edition that offered up only a short behind the scenes featurette and a selection of deleted scenes while the Sony-distributed US Blu-ray and Ascot German Blu-ray included an audio commentary track with director Nichols and star Shannon apparently not licensed to any of the territories in which the film was owned by Universal. Second Sight's limited edition package features the same 1080p24 MPEG-4 AVC 2.40:1 widescreen transfer which is what one would expect of a Super 35mm production with a digital intermediate process with the fashionable subdued color scheme that is appropriately oppressive to the look of the film while the range of detail is strong from the natural landscapes and digitally-augmented nature gone off-kilter to close-up details from faces and natural features to Curtis' subjective worldview in the dream sequences.

Audio


Audio options include a powerful DTS-HD Master Audio 5.1 track that is immersive in the nightmare sequences while also emphasizing just how out of place are the sounds that are part of Curtis' auditory hallucinations amidst the subdued atmosphere. Dialogue is often delivered in a low key manner but is always clear, and optional English SDH subtitles have also been included.

Extras


Second Sight was not able to license Universal's audio commentary, so they have attempted to create a comprehensive look at the film from a brand new interview with Nichols and a collection of interviews from Nichols, Shannon, and Chastain from various film festival screenings. In "Building The Shelter" (27:20), Nichols discusses his earlier film with Shannon and his desire to make something that was both an art film and a genre film; indeed, he likens Take Shelter to zombie films and Armageddon films but focusing on the preparation for the event that would normally encompass such a film's first act. He also discusses how the film encompasses his worries at the time about the country's financial situation and the stability of his new marriage, as well as his research into mental illness. The 2011 Ebertfest Q&A with Jeff Nichols and Michael Shannon (71:37), in which the latter is awarded the "Golden Thumb," expands upon Nichols origins stories for the film and extends to the discussion of his interpretation of the film's ending (in which he notes that it is what transpires in the look between the two characters that is more important than what is happening around them). Shannon contributes his own humorous observations, his desire to do the script when casually asked by Nichols to read it (even though he altruistically believed it would do Nichols good to work with another actor since Nichols had written his previous film with Shannon in mind and the current character based on himself), and how the character's relationship with his daughter resonated with him as a new father. The DP30 interview with Jeff Nichols, Michael Shannon and Jessica Chastain (31:05) is a good-humored roundtable discussion with Nichols and Shannon covering some of the same ground while ribbing Chastain. In noting the contrast between Nichols' and Shannon's preference for less rehearsal and more shooting and Chastain's more studied approach, they mention that one of the first scenes Shannon and Chastain shot together was one of the crucial third act scenes before they got to know each other.

The 2012 interview with Jeff Nichols (12:49) and the interview with Michael Shannon (15:05) from the same session for French television offer much of the same, as does the interview with Jeff Nichols at Cannes Film Festival (6:21) with the director progressively finessing the film's origin story; as such, the 2011 Toronto Film Festival interview with Jeff Nichols (7:29) and 2011 Toronto Film Festival interview with Michael Shannon (8:09) are less interesting than the 2011 Toronto Film Festival interview with Jessica Chastain (9:52) who reflects on the upswing in her career with seven films that year – two in competition at the festival – after four years in which she had projects with delayed releases that she described as "the Chastain curse" before going into discussion about working with Nichols and Shannon. The behind-the-scenes segment (10:09), deleted scenes (5:37), and theatrical trailer (2:12) from the other editions are also included. Regrettably not included for review was the limited 40-page perfect bound booklet with new writing by Michael Brooke and Film School Rejects interview with Jeff Nichols by Jack Giroux.

Overall


A psychological character study disguised as an apocalyptic drama, Take Shelter gets special "treatment" from Second Sight.