The Film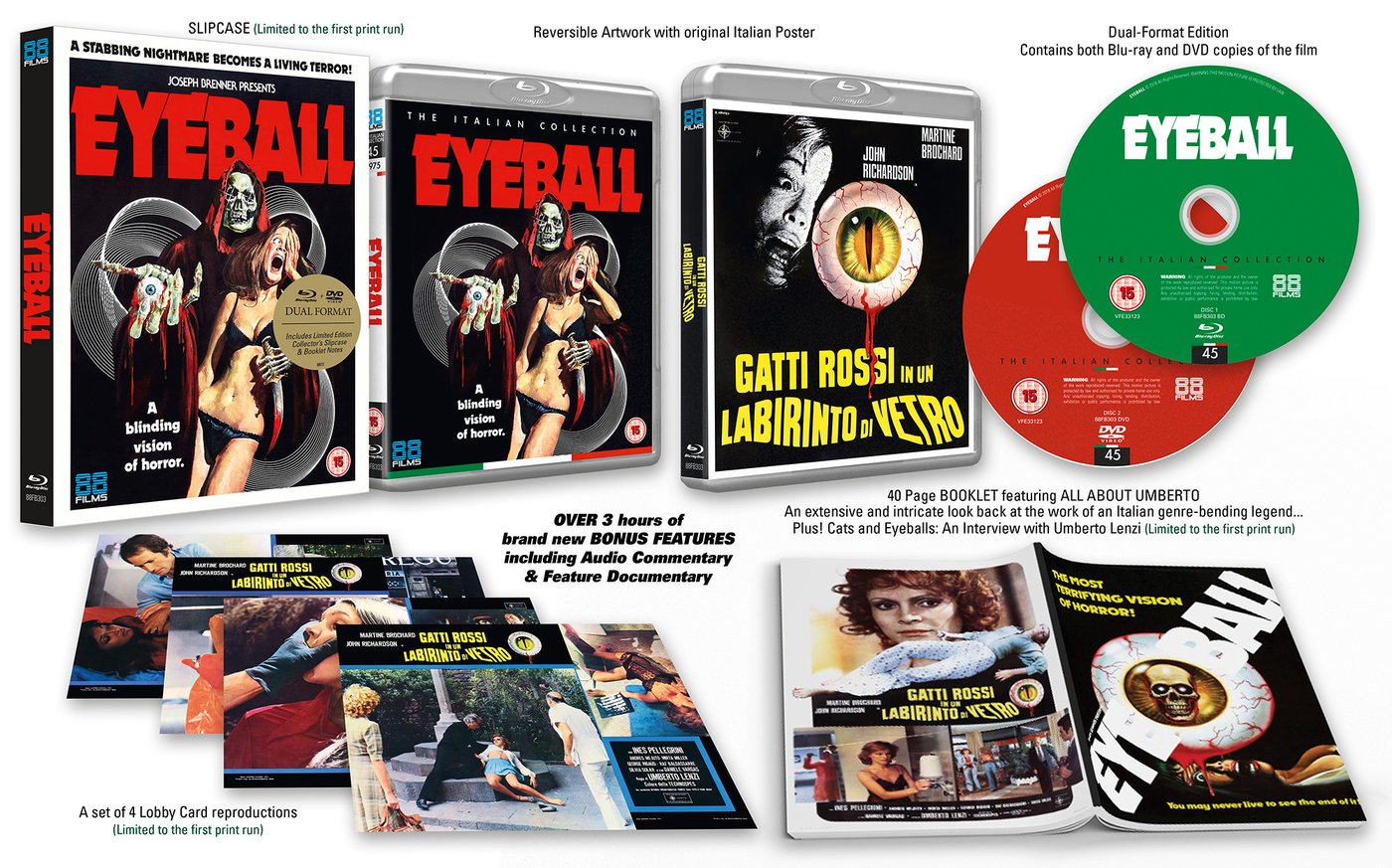 Released in 1975, EYEBALL might just be the late, great Umberto Lenzi's greatest giallo! Gruesome and gruelling, this torrid tale of a black gloved killer with a fetish for plucking out the peepers of his unlucky victims is a personal favourite of PULP FICTION genius Quentin Tarantino and it is easy to see why. Boasting plenty of bloodshed and some beautiful Catalonian locations, EYEBALL is a murder-mystery that stands up to the best of Mario Bava and Dario Argento and, with its messy arterial mayhem, even anticipates the later excess of such American slasher staples as FRIDAY THE 13TH! Dare you open your eyes to EYEBALL? This essential Italian terror totem is finally available in horrifying HD thanks to the body-count Kings at 88 Films!

Video


A group of tourists in Madrid come under fire from a loon who plucks the left eyes of their victims out. As all are from the US town of Burlington Vermont, it would seem that one among them has a grudge.

Very silly, but well made giallo with a really bonkers plot that hangs together surprisingly well when analysed although the reasoning behind it is typically daft. One of those films that will be more rewarding on subsequent viewings to see how the killer reacts before the reveal; there are so many red herrings that I just didn't spot the murderer. Bruno Nicolai's score is memorable and the Barcelona locations are lovely and well used. All in all, a slick, enjoyable giallo and well worth seeing.

This is yet another Italian film shot using the cheaper 2-perf Techniscope format as as such the inherent image quality isn't as good as a 4-perf anamorphically shot film. For those who know all about the differences betwixt the 4-perf and 2-perf formats, skip the next two paragraphs.

Normal 35mm filming (both flat and widescreen anamorphic processes) used a frame of film that had 4 perforations (or sprocket holes) to the left and right of each single film frame. The anamorphic lens attached to the camera during filming would open up the image and squeeze a wider 2.35:1 image aspect ratio onto the frame (the normal dimensions of which would be 1.37:1 = Academy ratio or 4:3). During projection in cinemas a lens would be attached to the projector which would unsqueeze the image, giving the viewer the 2.35:1 widescreen experience on the big screen. Due to the special lens this was obviously a more expensive filming process but due to using the full frame of film (with 4 perforations), it offered a high quality image.

Techniscope was the cheaper alternative and cut each frame in half so only 2 perforations (=2perf) were used and the native image in the frame would be 2.35:1 without any specialised lens needed. This meant you got a clean, undistorted 2.35:1 image (4perf anamorphic lens curved the image on the extreme left and right of the frame). The downside is that the inherent definition of each frame was halved and thus looked grainer and rougher and softer especially when the frame was blown up for 35mm anamorphic projection in cinemas. Luckily when these films are prepared for home video formats they go back to the raw 2-perf negatives.
Eyeball, or to use the proper Italian title, Red Cats in a Glass Labyrinth has had a great restoration with clean 2.35:1 image; I noticed no print damage at all. Colours are rich and vibrant with a naturalistic but warm colour palette; there is an emphasis on reds due to it being a colour favoured by the murderer and the production has been designed to make red stand out against the background.

Black levels are pleasingly deep and rich with no signs of crush in lowlight conditions. However, most of this film is set in the bright Spanish daylight. Contrast is excellent with no blown out highlights in whites and detail is at it's most pleasing in closeups; the image can be very soft due to the 2perf process and thus don't expect crystal images and fine detail. Grain is ever present, sometimes course sometimes fine; some DNR may have been applied but it didn't strike me as egregious or overzealous. Encoding is decent enough with no clumping or holes in the grain.

This is a fine image, one of the best in the Italian Collection that 88 Films have released.

The DVD edition included in this set is essentially the same but obviously has far less detail and is a grade softer yet again. The MPEG-2 is obviously not as robust and weaknesses are compounded by the fact it's an NTSC transfer based on the running time which was always softer than PAL.

1080/24p / MPEG-4 AVC / 2.35:1 / 92:14

Audio


Italian DTS-HD Master Audio 2.0 Mono
English DTS-HD Master Audio 2.0 Mono
Subtitles: English

The soundtracks are both more or less the same in terms of fidelity and and sound levels but the Italian track is more carefully acted. The English track is more accurate to the sound on the set from the leads, but the bulk of other characters are speaking Italian. Sound effects and Bruno Nicolai's score remain un-intrusive to dialogue on both tracks. Both show signs of age and the mastering of the Italian mono has some minor crackling in the rear speakers, so set your 5.1 system to output only 2.0 and this disappears. It's not intrusive but is noticeable if you're sat near the surround speakers.

Extras


Audio Commentary with The Hysteria Continues (Justin Kerswell, Joseph Henson, Nathan Johnson, and Erik Threlfall)

A detailed, lively commentary from the Hysteria Continues boys. If you've heard their tracks before you know what to expect. Reverence and knowledge is in abundance but they're not blind to a films faults. Lenzi comes into a detailed discussion of his merits and his career. Apparently Lenzi was most proud of his all-star war epics From Hell to Victory and The Greatest Battle (both 1979) and despised Cannibal Ferox and was less keen on Eyeball. It's very obvious that Nathan Johnson has a much more serious regard for Eyeball than the others as he has thought more deeply about symbolism and colour values in the production design.

"All Eyes on Lenzi: The Life and Times of the Exploitation Titan" documentary (84:04)

A superlative, wide-ranging documentary about the late director who died only very recently. Throughout the documentary we get excepts from a vintage interview with Umberto Lenzi in addition to Calum Waddell, Rachael Nisbet, Mikel Koven, John Martin, Manilo Gomarasca, Giovanni Lombardo Radice, Danilo Mattei and Scooter McCrae.

The documentary is realistic about Lenzi's accomplishments and his career is best summed up by Koven who reckons Lenzi was a solid professional who was as good as his budget. Lenzi was very much a journeyman director who seems to have been volatile, but affable and even erudite according to his colleagues. He was not above singing his own praises either, but I always got the impression he did that with a wink and glint in his eye. He certainly had a career to be proud of.

Lenzi films discussed:

Orgasmo, (1969), So Sweet ... So Perverse (1969), Battle of the Commandos (1969), A Quiet Place to Kill (1970), Seven Blood-Stained Orchids (1971), Knife of Ice (1972), The Man from Deep River (1972), Gang War in Milan (1973), Almost Human (1974), Spasmo (1974), Eyeball (1975), Syndicate Sadists (1975), Violent Naples (1976), Rome: Armed to the Teeth (1976), The Cynic the Rat and the Fist (1977), Brothers Till We Die (1978), Eaten Alive! (1980), Nightmare City (1980), Cannibal Ferox (1981), Ironmaster (1983), Ghosthouse (1988), Hitcher in the Dark (1989), Nightmare Beach (1989), Black Demons (1991).

Other films referenced by way of applying context to Lenzi's career:

Les Diabolique (1954), Blood and Black Lace (1964), Before the Revolution (1964), The Bird with the Crystal Plumage (1970), A Man Called Horse (1970), Don't Torture a Ducking (1972), High Crime (1973), The Perfume of the Lady in Black (1974), The Living Dead at the Manchester Morgue (1974), The Bloodstained Shadow (1978), Last Cannibal World (1977), Dawn of the Dead (1978), Zombie (1979), Cannibal Holocaust (1979), Zombie Creeping Flesh (1980), The Evil Dead (1981), Conan the Barbarian (1981), The New York Ripper (1982), Ator: The Fighting Eagle (1982), Body Double (1984), Formula for a Murder (1985), ReAnimator (1985), Demons (1985), Cut and Run (1985), Body Count (1986), Stage Fright: Aquarius (1987), The Barbarians (1987), Shocking Dark (1989), Basic Instinct (1992), 28 Days Later (2002), Dawn of the Dead (2004), Planet Terror (2007), Zombieland (2009) and The Green Inferno (2013).

"Eyeballs on Martine Brochard" featurette (15:46)

A nice short featurette with the veteran French-born, Italian actress who has worked consistently since the late '60s starting out with a small role in François Truffaut's Stolen Kisses (1968) and progressing through most genres of the Italian popular cinema of the era. She comments in general on her career, context of nudity within scenes, working with Umberto Lenzi, how stressful Eyeball was particularly the eye prosthetic she had to wear and working with directors Riccardo Freda and Sergio Martino. A good piece with plenty of info. For some reason the image has been matted to an aspect ratio of 2:1. Brochard's charming cat makes several appearances throughout.

"Locations" featurette (2:03)

Short piece set to score showing the Madrid locations then and now.

Trailers:
- Play All (5:41)
- US Trailer (2:28)
- Italian Trailer (2:40)
- US TV spot (:30)

A selection of trailers with the Italian one under the much more intriguing Italian title of "Red Cats in a Glass Maze".

Card slipcover
Reversible sleeve
Four reproduction Italian lobby cards

Some nice tat for the collector's market and to help this release maintain it's value in the years to come. The reversible sleeve gives us the choice of having the US or Italian titles on display. Lobby prints are actionful and rather tawdry ... typically so!

38-page liner notes booklet "All About Umberto" by Calum Waddell and "Cats and Eyeballs" an Interview with Umberto Lenzi by Eugenio Ercolani

An excellent new addition to the 88 Films repertoire of extras; a full-length liner notes booklet. At least, I've not seen any before from them. In any case, this is a lovely piece of work with a typically detailed piece from Calum Waddell. The interview with Lenzi finds the late maestro on fine form.

Packaging


2-disc keepcase with a reversible sleeve that gives you the choice of original US poster art, or the original Italian artwork. The collectible slipcase features the US art and is made out of a thick, robust card.

Overall


This is a wonderful release with fine video, decent sound and a killer package of extras. 88 Films have outdone themselves with this package and done Lenzi proud; one of his most beloved films gets the royal treatment. The feature-length documentary is a polished, informative, reflective affair and worth the price of the set by itself. Very possibly one of THE discs of the year.
| | | | | |
| --- | --- | --- | --- | --- |
| The Film: B | Video: A | Audio: A- | Extras: A+ | Overall: A |