The Film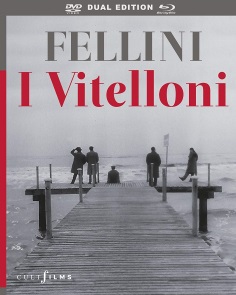 Oscar (Best Writing, Story and Screenplay - Written Directly for the Screen): Federico Fellini, Ennio Flaiano, and Tullio Pinelli (nominated) - Academy Awards, 1958
NYFCC Award (Best Foreign Language Film): I Vitelloni (nominated) - New York Film Critics Circle Awards, 1956
Silver Lion: Federico Fellini (winner) and Golden Lion: Federico Fellini (nominated) - Venice Film Festival, 1953

The residents of an Italian seaside town celebrate the end of the summer with the Miss Mermaid 1953 beauty contest, including a quintet of "young bucks" – dashing leader Fausto (Le Amiche's Franco Fabrizi), fellow skirt chaser Alberto (The White Sheik's ), intellectual Leopoldo (Cinema Paradiso's Leopoldo Trieste), singer Riccardo (The Conjugal Bed's Riccardo Fellini), and young Moraldo (The Barefoot Contessa's Franco Interlenghi) – with the announcement of the winner in Moraldo's sister Sandra (Hercules in the Haunted World's Leonora Ruffo) marred by the onset of a thunderstorm and a fainting spell that leads to the revelation of her pregnancy. Fausto is prevented from fleeing by his widower father Francesco (Les Diaboliques' Jean Brochard) who is scandalized by his lay about son's behavior and pressures him to marry Sandra. While Sandra and Fausto are off honeymooning in Rome, the other vitelloni go about their existences without direction; playwright Leopoldo lives with two maiden aunts and carries on a flirtation with the neighbor's maid Caterina (Maja Niles), Riccardo worries about his weight, Alberto and his mother ('s ) are living off the income of employed sister Olga ('s ) but he feels disrespected in front of his friends when he catches her with her married lover, and dreamer Moraldo walks the streets at night pondering life with twelve-year-old railway attendant Guido (Hercules' Guido Martufi) while his stuffy mother (Roman Holiday's Paola Borboni) and father (Enrico Viarisio) assume he is up to no good. Upon the return of Fausto and Sandra from their honeymoon, Sandra finds herself no longer part of the young set with her impending birth and her former friends gossiping about her attractive husband, while Fausto takes up with his friends in spite of being pressured by his father-in-law to take a job as shop assistant to friend Curti (Carlo Romano). While new father Fausto's eyes start wandering towards his boss' "youthful" wife Giulia (Lída Baarová), his friends are forced to confront their futures (or lack thereof). Alberto discovers that he has not the wherewithal to help his mother when Olga runs off with her lover, Riccardo looks for love during Carnival, and Leopoldo has the opportunity for his play to be read by visiting actor Sergio Natali (The Ape Woman's Achille Majeroni in a role originally tailored for actor/director Vittorio de Sica). Young Moraldo's aimlessness leads to him becoming tangled with Fausto when Curti fires him for making a pass at his wife and the younger man decides to compensate himself by stealing a statue of the Virgin Mary that the two try to peddle to the nearby convents and monasteries. The discovery of Fausto's crime sets off a chain of potentially tragic events that will determine the course of the group's individual futures.

Director Federico Fellini's follow-up to The White Sheik not only established his reputation internationally but also demonstrated the beginnings of Fellini's authorial style, being less of a neorealist look at the provinces or a melodrama than a casual observation of resort town life in its ups and downs during the off season on a more intimate scale than the more sprawling narratives to come. Although comic on the surface, there is a sense of emptiness underneath, from the seeming aspect of passing the time in the interests of Leopoldo and Riccardo or the wanderings of Moraldo and the unwillingness to grow up of Fausto, with the jovial Alberto expressing most clearly for the audience when coming down in the aftermath of carnival. Although the escapism of the movies is only referenced in the visit of Fausto and Sandra to the cinema – where he becomes bewitched by a femme fatale-looking audience member (Arlette Sauvage), one cannot help but wonder if the set-up in Curti's shop with Fausto and Giulia to be Fellini's jab at the cinema of his youth during the Fascist era as a fleeting reference to Ossessione, Luchino Visconti's adaptation of James M. Cain's novel The Postman Always Rings Twice which predated the Hollywood adaptation and transplanted the setting from California to the Po Valley. While it is easy to judge the lifestyle of i vitelloni, Fellini's eye also encompasses the culture from which they come from, as the mammoni of mothers who send their unmarried daughters off to work or indulgent spinster aunts, or as extensions of their parents or in-laws who seem more concerned about how their children's behavior reflects on their reputations. Even beyond the wrap-up of the more dramatic storyline, there is the sense of the unresolved. Does Alberto's happiness lie in seeking the same kind of marital bliss as he imposes upon Fausto? Does Leopoldo's rejection of a proposition from Natali signify the denial of his own sexual ambiguity and the giving up of his writing aspirations or a renewed resolve and the rejection of flattery and compromise? And what becomes of Moraldo after he gets on the train to the city with no plans other than to get away (is he a surrogate for Fellini more so than his own brother in the role of Riccardo)? The film also proved highly influential on subsequent generations of filmmakers, from Pier Paolo Pasolini offering up his deglamorized picture of rootless rural youth in Accattone to Hsiao-Hsien Hou's The Boys from Fengkuei as one of the many studio jobs before he achieved international recognition.

Video


Despite its Venice Film Festival award and international success, I Vitelloni was not released until 1956 in the UK by Gala Film Distributors as Spivs – although the title remains the in Italian on the disc without any subtitle translation, the new subtitles offer up the alternate translation of "the young bucks" when the title is spoken in narration – and in the US by Janus Films in 1957 under its original Italian title (not garnering Academy Award attention until 1958). The film was restored in 2003 by Mediaset in Italy as part of the Cinema Forever retrospective of Fellini film prints that premiered at Cannes before touring internationally. The digital transfer debuted on DVD in 2004 in Italy from Medusa – some of the Medusa editions including the restoration of La Dolce Vita had English subtitles but this was not one of them – and in the United States as part of the Criterion Collection the same year and in the UK in 2012 from Nouveaux Pictures. Opening with the credits for the Cinema Forever restoration, Argent Films and Nouveaux Pictures offshoot Cult Films' 1080i50 MPEG-4 AVC 1.33:1 pillarboxed widescreen Blu-ray edition sadly looks nothing like high definition. Running the PAL-speed timing of 102:53, the Blu-ray transfer is either an extremely dated early high definition master or an upscale of the PAL SD master, looking not as if it has been noise-reduced or sharpened, just overall dull. The film's own charms still come through for those of us who have either not seen it before or not seen it in ages, but it will be a disappointment for a film of this pedigree, and as a follow-up to Cult Films going all-out on their Blu-ray/DVD combo of the German restoration of Suspiria (and its crowd-funded Blu-ray 4K/Blu-ray combo with exclusive extras).

Audio


The sole audio track is an LPCM 2.0 mono Italian offering which is acceptable but likely also has not undergone any further restoration, while the optional English subtitle are free of any obvious errors.

Extras


The sole extra is "Becoming Fellini" (15:05), a video essay by Oxford Professor Guido Bonsaver who discusses Fellini's tenure under neorealist auteur Roberto Rossellini as co-scripter on Rome, Open City and assistant director on Paisan, as well as the impact of I Vitelloni on the careers of Fellini and actor Sordi. He also discusses the ways in which the film reflects Fellini's stylistic approach and concerns in later films.

Overall


Cult Films' Blu-ray of Federico Fellini's I Vitelloni is sadly not worthy of the film itself.