Porky's Revenge AKA Porky's 3: Revenge (Blu-ray) [Blu-ray]
Blu-ray B - United Kingdom - 88 Films
Review written by and copyright: Rick Curzon (11th October 2018).
The Film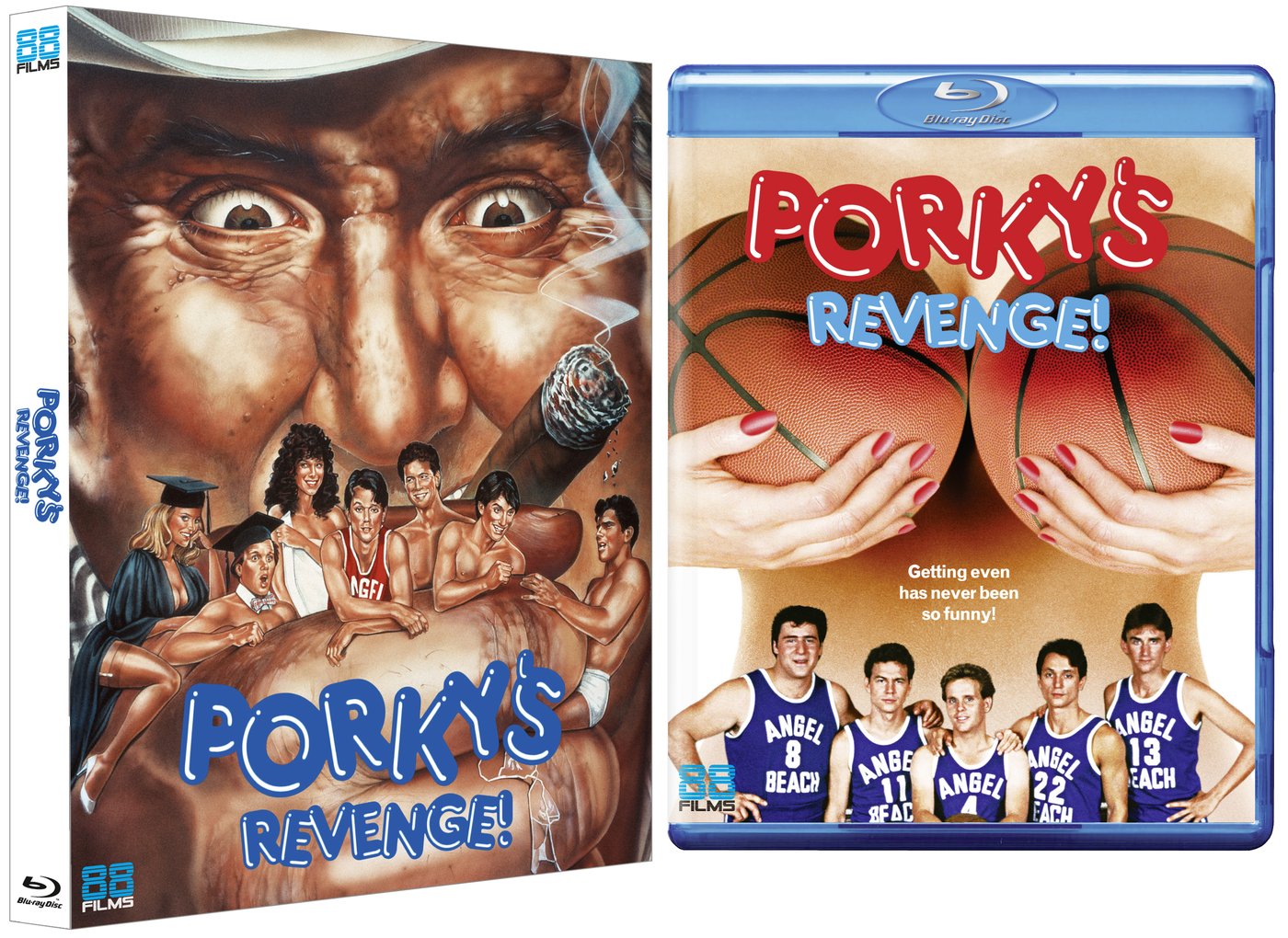 Long-demanded by fans of the franchise, and by followers of eighties sex comedies in general, PORKY'S REVENGE was released in 1985 and marked the conclusion of the blockbuster teen-centred trilogy. In this hilarious and superior sequel the boys from Angel Beach High School are in their senior year, but when old enemy "Porky" steamrolls back into town with his illegal casino and brothel, the likeable - and every horny - lads find themselves tied-up in an unwelcome plan to compromise the upcoming basketball game! Adding to the headaches is an unwanted marriage, old acquaintances, bad dates and the usual hormonal overload (thanks to the presence of the frequently topless Playboy Playmate Kimberly Evenson) that one would expect from a PORKY'S movie.

Unseen in the UK since the days of VHS, and gaining this gobsmacking HD restoration from 88 Films, PORKY'S REVENGE reunites all the old favourites including the late Wyatt Knight as Tommy Turner, Dan Monahan as Pee Wee, Tony Ganios as Meat, Kaki Hunter as Wendy and, of course, the great Nancy Parsons as Beulah Balbricker. Also boasting a hit soundtrack from eighties fave Dave Edmunds, PORKY'S REVENGE is a must-see rib-tickler that conclusively stands the test of time!

Video


I've only seen the first Porky's (1981) twice; once on VHS around at my mate Richard Furness' house back in the early '80s (after Saturday school no less!) and again when I picked up the Arrow BD in a sale a few years ago.

It's very much a companion piece to writer-director Bob Clark's A Christmas Story (1983), picking up where the latter leaves off dealing with Clark's late adolescence. I was surprised at how much fun it was and with some underlying drama to leaven the shenanigans. I can't comment on the second film as I've not seen it, but this third one is as daft, silly and as character driven as the first albeit to a more mechanical degree. Plenty of slapstick and visual humour and less raunch this time round.

The final act is more action orientated as the gang try to save Meat from a shotgun wedding when he's kidnapped by Porky who's found out that he's been seeing his daughter. It's given journeyman direction from former comedian-actor James Komack who mainly made TV (Star Trek: A Piece of the Action) and ends up an agreeable programmer; a timepiece from my youth.

Being a very '80s looking film this has a typically diffuse look which is appealing so visually this film is eye candy for me with plenty of haze, mist, backlighting and neon. I donít know for sure, but Iíd say this transfer was taken from the OCN or at least an interpositive. Very clean with no damage in any form and I couldn't see an digital tinkering which is a good thing such as mosquito noise, aliasing, posterisation or macro-blocking.

Grain is healthy and constantly present lending the film even more visual texture and detail is variable being especially noticeable in closeups and in well lit daylight; this is most likely due to production limitations like time and budget constraints. The Ď80s style also doesnít make it easy for detail to come through as much as a bigger budget studio production of the era, so the fact we get some pleasing detail is a bonus.

Encoding seems to be very good with no holes in the grain and even dark sequences being well handled. Black levels are rich and deep although there is some natural crush here and there which I put down to the production limitations.

1080/24p / MPEG-4 AVC / 1.85:1 / 92:33

Audio


English DTS-HD Master Audio 2.0 Mono
Subtitles: English HoH

This is one film where it's soundtrack is more well known amongst aficionados that's the film itself. Filled with great tunes and all here in glorious lossless mono. Dialogue comes through clearly so the gags play well.

Subtitles are welcome.

Extras


"High School Nights: Teens in the Eighties" featurette (16:26)

Kim Newman waxing lyrical on the whole nostalgia-teen sex comedy boom begat by American Graffiti (1973) and reinforced by the success of Porky's (1981). He knows his stuff and we get some great reminiscences from the early '80s of going to screenings and how everyone felt the films were sexist even then.

"Porky's Daughter: An Interview with Wendy Feign" featurette (26:07)

Feign plays Porky's geeky but super sexy daughter Blossom and has plenty of great anecdotes about working with the cast, nude scenes, her acting career prior to the film (stage) and since (mainly stage). Etc. She is a very appealing person and very engaging.

Original Trailer (1:30)

Typically cheesy voiceover, highlighted from the film ... the usual.

4-page liner notes leaflet "Angel Beach Memories" by Calum Waddell

A nice little Waddell piece about the trilogy.

Card sleeve with new artwork
Double sided sleeve

A choice of two vintage artworks, one is repeated on the card outer.

Overall


A silly, daft, raunchy slice of '80s teen shenanigans gets the deluxe treatment from those fine folks at 88 Films. Great transfer with top notch picture and sound that could only be improved by a 4K UHD release and a nice little package of limited but great extras; the US disc from Shout! Factory had nowt ... but was a in a barebones double feature with Porky's II: The Next Day (1983). Hopefully that'll be forthcoming from 88 Films.

Highlights recommended for fans and collectors, go for it!
| | | | | |
| --- | --- | --- | --- | --- |
| The Film: C- | Video: A+ | Audio: A+ | Extras: A- | Overall: A |

---
DVD Compare is a participant in the Amazon Services LLC Associates Program and the Amazon Europe S.a.r.l. Associates Programme, an affiliate advertising program designed to provide a means for sites to earn advertising fees by advertising and linking to amazon.co.uk, amazon.com, amazon.ca, amazon.fr, and amazon.de.