The Film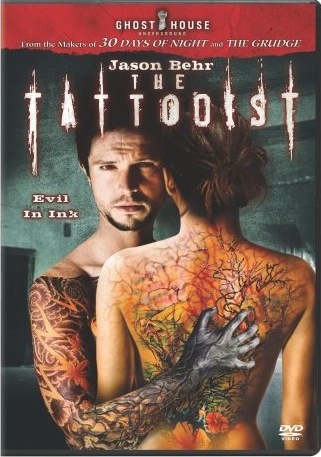 Given the popularity of tattooing in modern culture, it was only a matter of time before someone made a b-thriller that revolves around tattoo culture. The word 'tattoo' is a Westernized spelling of the Samoan word tatau. Thus, it was a nice touch to set a lot of this story in the Pacific. The Samoan tradition of ceremonial tattoo (or pe'a) is alive and well in New Zealand, and is an important part of Maori culture to this day. Thus, New Zealand - or Aotearoa, Land of the Long White Cloud - is an appropriate setting for a movie centered around the lore of tattooing.

Unfortunately the script seems to have largely gained inspiration from another vaguely Polynesian source: the Hawaiian episodes of the 1970's sitcom "The Brady Bunch" (1969-1974). While visiting Hawaii, some of the Brady kids find a mass-produced tourist souvenir tiki buried at a construction site. Removing it from the site is 'taboo', and all manner of mishaps fall upon the boys until they return the object to the 'sacred burial grounds'. Never mind that these grounds are currently being dug up by a back hoe to make way for some new Waikiki high rise hotel. Lono, Ku, and Pele don't mind the complete destruction of the sacred land, just as long as the tiki is left alone.

So, in "The Tattooist", the same basic plot is recycled: an American tattooist named Jake (Jason Behr) is at a tattoo convention in Singapore. He runs across a group of Samoan tattoo artists, and is smitten with the cousin of one of the artists. On his way out of the tapa cloth tent that the men are tattooing in, he spies some dangerous looking traditional tattooing implements, and swipes one (a hahau) for unclear reasons. So the gods of ancient Polynesia are once again angry at this unauthorized removal of a sacred object from the holy ground it belongs on, and all sorts of strange and weird things begin happening to Jake.

First, he has visions and nightmares, but more importantly the tattoos that he gives to people start to sort of transform and change in real time (shades of Bradbury!), almost as if possessing the people wearing them, until they begin to spew gallons of ink and blood, eventually killing the bearers of Jake's art. Jake gives the tool back to its owner (the cousin whom he'd been hot for), and then gives her his own tool, but the madness continues.

Things do not go well for Jake as he figures out that he won't be having much repeat business any time soon, but more importantly he needs to save his new Polynesian girlfriend before her tat starts to spurt an inky mess all over Middle Earth.

There is nothing particularly incompetent about "The Tattooist". The acting is adequate. The photography, editing, lighting, and performances are not offensive. There was some care and love put into this movie, but the whole core premise of an angry Polynesian ghost killing people by making their tattoos explode is just kind of dumb. The film almost redeems itself in the climactic scenes, when we meet the ghost and perhaps develop some empathy with it, but it is too little too late to save this one.

Still, it is hard to hate this film, because it displays a lot of love for the Maori and Samoan people, and is very respectful to their culture, traditions, and lore. On this level, the movie is rather interesting.

Fans of tattoo culture will also find a bit to like here, since there is a lot of information about the history of tattooing, particularly the Polynesian style. Western style work is shown as well, and the Japanese tattoo tradition is worked into the film at the very end during a brief but important coda. This said, ink lovers will also roll their eyes at some of the scenes of tattoos being applied: Jake seems to work freehand, all the time. No sketches, no stencil decals, not even flash: he just gets to work with barely any discussion with his clients! Although he warns people to keep their new ink clean, there is never a bandage in sight - people pull their clothes right over the fresh raw (not very bloody or red) skin, and walk out as if the tattoo needle had been a Sharpie. Ain't gonna happen!

Video


Sony has presented the film in the aspect ratio of 1.78:1 anamorphic, which is open matte from the film's original ratio of 2.35:1 (shame on you Sony!). Despite the incorrect ratio the look of the film is fine, and so is the transfer to DVD. I noticed nothing compression-wise, drit-wise, or enhancement-wise that distracted me from the film. Although the print is fine we cannot in all conscience give this transfer a passing grade because it is not presented the way it was intended to be seen. The film is 1:29:02 in length.

Audio


"The Tattooist" is presented in either English, French or Spanish Dolby Digital 5.1, with English, French, and Spanish subtitles. A reasonably generic score is usually fairly low in the mix, but occasional random doses of rock music jump out when needed. Some hip hop gangsta kids in the story listen to music of similar amplitude, which also plays over the closing credits. Sound effects are exaggerated when needed to make a dramatic point - or for cheap scares - but are otherwise unobtrusive. The clear dialogue recording is useful for hearing Maori words clearly.

Extras


Sony has packed this disc with extras that include an audio commentary, five featurettes, deleted scenes and bonus trailers. Below is a closer look at these supplements.

During the audio commentary with director Peter Burger and star Jason Behr, Burger does most of the talking, pointing out editing challenges, color themes, and interesting things about Samoan culture. He dishes out a lot of information about the tattooing process. Behr chimes in now and again. A fairly interesting commentary.

Next up are five featurettes, the first is "The Tattooist: Behind the scenes" which runs for 11 minutes 44 seconds; Standard making-of featurette. The actors and producers discuss the film as scenes from the movie and the set are rolled. The most interesting parts are the looks at the Polynesian cultures, and the process of the tattoo makeup. These things are also the focus of the further featurettes.

"Behind the Tattoo Designs" featurette runs for 2 minutes 25 seconds; A real life tattoo artist discusses designing the tattoos for the film.

"The Colors of The Tattooist" featurette runs for 2 minutes 20 seconds; the color themes in the film are discussed.

"Real Life Samoan Tattoo" featurette runs for 3 minutes 17 seconds; a Samoan man discusses his tattoo, its meaning, and the process of getting it. He is shown having his pe'a worked on.

"Becoming a Chief" featurette runs for 1 minute 50 seconds; director director Peter Burger and star Jason Behr were made Samoan chiefs for their contribution to Samoan culture.

Three deleted scenes follow the featurettes and include:

- "Edward Lims Brother" runs for 1 minute 20 seconds; Jake is given incentive to leave Singapore.
- "Samoan Cab Ride" runs for 1 minute 34 seconds; Jake's cab ride form the airport to a bazaar.
- "Shame" runs for 1 minute 52 seconds; an alternate ending in which the final fate of the film's villain is revealed in more detail.

The disc wraps up with the longest trailer gallery in history, the bonus trailers include:

- "Blu-ray Disc is High Definition" spot which runs for 32 seconds.
- "Starship Troopers 3" which runs for 2 minutes 3 seconds.
- "Fearnet.com" which runs for 48 seconds.
- "Impact Point" which runs for 1 minute 16 seconds.
- "The Take" which runs for 2 minutes 36 seconds.
- "Zombie Strippers" which runs for 1 minute 46 seconds.
- "Cleaner" which runs for 2 minutes 8 seconds.
- "The Cottage" which runs for 1 minute 41 seconds.
- "April Fools Day" which runs for 1 minute 56 seconds.
- "Black Water" which runs for 2 minutes 3 seconds.
- "Rise: Blood Hunter" which runs for 1 minute 58 seconds.
- "Boogeyman 2" which runs for 1 minute 39 seconds.
- "Prom Night" which runs for 2 minute 19 seconds.
- "88 Minutes" which runs for 2 minutes 32 seconds.
- "The Shield" which runs for 1 minute 35 seconds.
- "Rescue Me" which runs for 1 minute 8 seconds.

Overall


The film being presented in an incorrect ratio really hurt this release.
| | | | | |
| --- | --- | --- | --- | --- |
| The Film: C+ | Video: F | Audio: B | Extras: A | Overall: D+ |