The Show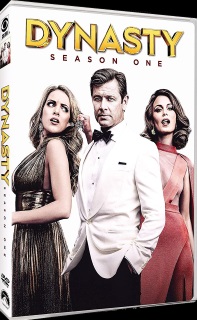 In a world where family and business are the same thing, the Carrington dynasty is couched among the Kardashians, the Murdochs, the Koches, and the Trumps; and Carrington-Atlantic is in the business of power – from fracking to hacking – and patriarch Blake (Melrose Place's Grant Show) is not ready to hand over the reins. With first born son Steven (Pirates of the Caribbean: Dead Men Tell No Tales's James Mackay) having banished himself to Haiti and relief work after taking on his father on his attempt to mine a cultural site for underlying shale, daughter Fallon (Vacation's Elizabeth Gillies) thinks that her father is planning to promote her from Head of Acquisitions to Chief Operating Officer. She and Steven are thoroughly blindsided when they arrive at the family estate to discover their father's big announcement is his engagement to company public relations manager Cristal Flores (The Fast and the Furious's Nathalie Kelley). Daddy's little girl since her mother walked out years ago, Fallon takes her father's urging to "get to know" her future stepmother as an opportunity to dig up dirt on her with the help of family chauffeur and occasional lover Culhane (The Perfect Match's Robert Christopher Riley). She gets ammunition when Cristal secretly meets with former lover and Carrington-Atlantic geologist Matthew Blaisdell (Roswell's Nick Wechsler) to say goodbye and he kisses her. Fallon passes on the incriminating photograph to her father, but he is angrier at her than his fiancée. When Fallon tries to get into his good graces by passing on the tip about energy company Windbriar's financial problems, he goes behind her back and manipulates Steven into meeting with the CEO (Avengers: Infinity War's Robert Pralgo) under the impression that Carrington-Atlantic is going to help them go green only to then discover that Blake is actually planning to buy the company for fracking rights on the land underneath the wind turbines. When Fallon discovers that not only have Blake and Cristal moved up the wedding date but he has also promoted Cristal to COO, Fallon retaliates by getting into bed with former employee made good Jeff Colby (Sam Adegoke) – who is in a bidding war with Blake over the Atlanta Braves – to snatch Windbriar out from under him. Things come to a head at Blake and Cristal's wedding "ambush" when Matthew's mentally-ill wife Claudia (Hollywood Homicide's Brianna Brown) crashes the party and accuses Blake of murder after a hydraulic explosion at Windbriar during the Carrington-Atlantic surveying kills Blaisdell. While Fallon is initially thrilled at the bad publicity for Blake and Cristal, she soon discovers that she and Colby could be implicated for possible sabotage of the equipment that killed Blaisdell. In spite of the animosity brewing amongst his brood, Blake is determined to protect them as much as the business, which means finding ways to placate Fallon and Steven while also erasing all connections between Cristal and Blaisdell. That may prove harder than anticipated due to Culhane's jealousy of Colby, Fallon's hatred of Cristal, and Claudia's instability when she discovers that it was Cristal that her dying husband wanted to contact rather than her. With Fallon already gunning for her, Cristal also has to worry about the Carrington's extremely protective and enterprising majordomo Anders (Neighbours' Alan Dale) as well as her trouble-making nephew Sammy (Empire's Rafael de la Fuente) who has found his way into a guest room as well as Steven's bed… and then there's the first Mrs. Carrington: Alexis (Desperate Housewives' Nicollette Sheridan). The CW's reboot of the classic nighttime soap Dynasty (1981-1989) has some big shoes to fill, having come after so many other daytime and primetime soap operas that have used the original as a template. The people are beautiful, the settings are lush, the costumes are striking, the photography is slick but undistinctive, and there is very little to distinguish the new series from any number of copies other than retreading the original's storylines (scored with covers of eighties hits that contributes to the sense of the overfamiliar). The best that can be said about the show is that it is fast-moving, with the first episode encompassing developments from the first quarter of the original first season with enough variations to not be a total remake, and trimming the fat (i.e. those subplots and characters viewers may have scanned past while streaming the original series to stick with Blake and Krystle, Fallon and Jeff, etc) while the entrance of Alexis Carrington is also moved up to mid-first season whereas the original brought Joan Collins in at the season two premiere. Despite the reimagining of characters in ethnicity, sexuality, and gender, and streamlining of some plot threads, the new Dynasty fails to distinguish itself from any number of shows that arose in the aftermath of the original and probably could have been passed off as just another soap opera with a few name changes.

Video


The show's first twenty-two episodes have been spready over six dual-layer DVDs. The Canon C700 image is given a proficient progressive, anamorphic 1.78:1 encode, but the blandly handsome photography really offers up no challenges even as a standard definition down-conversion.

Audio


Audio options are Dolby Digital 5.1 and 2.0 stereo are fairly active throughout for a talky soap opera, with the surrounds utilized for atmosphere and the sound field filling up during the scenes where the source music dominates. Optional English SDH subtitles are included.

Extras


Extras are limited to deleted scenes which accompany their respective episodes - episodes without deleted scenes play straight from the main menu while episodes with deleted scenes navitage to submenus with options to play the episode or the deleted scenes - and a gag reel (3:43) full of line flubs and general clowning around.

Overall


A sense of overfamiliarity dogs the CW reboot of Dynasty: Season 1 and Nicolette Sheridan may be a desperate houswife, but she is no Joan Collins.