The Film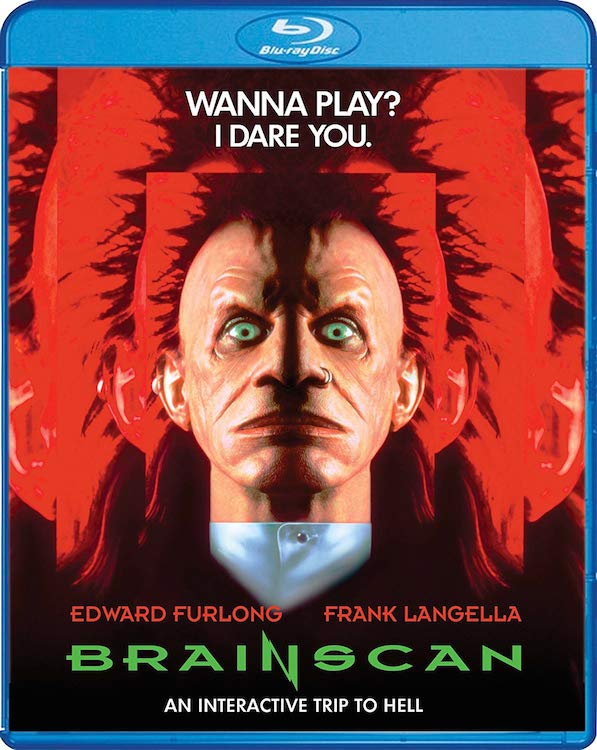 The last time I watched "Brainscan" (1994) was a couple of years after its theatrical release, on VHS, and still very much in the 90's. Since that time nostalgia for that era has come back in a big way, and this film is firmly entrenched in that period. Watching a couple of teenagers into horror, gum-flapping away on the phone, thumbing through a print issue of Fangoria, and getting excited about a CD-ROM game is a microcosm of 90's flashbacks. Thankfully, the film holds up surprisingly well, too. Furlong was still a hot commodity, the plot is still a bit of a novelty (tech-horror has always been niche within the genre), and seeing Trickster in action again made me kinda wish we'd gotten a sequel to further explore his character.

Michael (Edward Furlong) is a latchkey kid with an absentee father and, as the opening car crash flashback shows, no mother. He spends his days watching horror movies, hanging with his best bud, Kyle (Jamie Marsh), and spying on the hot girl next door, Kimberly (Amy Hargreaves). One night, Kyle excitedly tells Michael about a new game he saw advertised called "Brainscan" – not just any game, but an interactive CD-ROM! Whoa. Michael makes a phone call to the number listed in the ad and he hears a voice that explains what the game is and that he can expect the first of four volumes to arrive shortly. Lo and behold, soon after a disc drops onto his doorstep and Michael pops it in, becoming immediately immersed within the universe of Brainscan. His guide and host is someone (or thing) named Trickster (T. Ryder Smith), who looks like the unholy love child of Alice Cooper and Carrot Top. As Trickster explains, the game interacts with the subconscious, providing an experience of heightened reality. Michael's inaugural "game" – killing a man in his sleep and severing his foot – certainly leaves him feeling like it was real…

…because, as he learns via his freezer the next morning, it is. Repulsed, Michael vows never to play again; however, Trickster materializes from the game to inform Michael that should he not complete the four challenges the result will be grave. His next task is to kill an eyewitness who saw him on the night he killed that neighbor, only Trickster doesn't reveal who that person is until it's too late. Michael videotapes himself playing the game, assuming this is all still some kind of trickery, and is horrified when he sees himself rise from his chair and leave the house. He IS the one doing the killing after all. Hot on the killer's trail is Detective Hayden (Frank Langella), a tough man of few words and shrewd observations. Michael will have to finish Trickster's game if he wants to save his own life, but at what cost?

Had this movie been made just a couple years later there's a good chance it would be bogged down with loads of ugly mid-90's CGI. In 1994 that option was still cost heavy and so the computer imagery seen here is minimal and, usually, not terrible. The most impressive creation here is the Trickster character, brought to creepy life by famed FX master Steve Johnson. He's humanoid and quippy, slightly malevolent but clearly savage, and he likes Primus. Honestly, he'd probably be great at parties if his sole intent wasn't to make people murder each other. His interactions with Michael are the film's highlights. Trickster plays psychologist, digging at what's inside Michael and forcing him to confront past traumas and current apathies. Trickster's ability to get so deep into Michael's head is easily explained later in the film, adding an extra layer to their relationship for repeat viewings.

John Flynn, who is best known for directing the William Devane grindhouse classic "Rolling Thunder" (1977), handled the reigns here. His filmography is brief but populated with some notable titles, including "Lock Up" (1989) and "Out for Justice" (1991). He reportedly did not like Furlong and felt he couldn't act, although none of that acrimony is seen on screen. Furlong is no thespian but he had a moment in the spotlight and managed to crank out a few evergreen titles before falling down the child actor well. This is not one of his best-remembered titles but it's a solid 90's tech-horror film that tells a thrilling story and does so efficiently.

Video


This is a dark, moody movie and the 1.78:1 1080p 24/fps image perfectly conveys that look. Fine details and definition are crisp and clear – spend some time combing over the minutia of Michael's room. The make-up work on Trickster holds up excellently, even under the scrutiny of HD. Colors are a bit on the warm side but saturated nicely and punchy. Film grain is fine and organic. There's a strong sense of depth to the image, too. It's likely this master was provided directly from Sony and they generally keep their prints in good shape.

Audio


Composer George S. Clinton's score is stronger than I had remembered, delivering a main theme with a distinctly Western flair before segueing into serene piano cues and grim melodies. Of course, the real highlights on this English DTS-HD Master Audio 2.0 stereo track are the soundtrack cuts from bands like White Zombie, Butthole Surfers, Primus, Mudhoney, and Dandelion, a Nirvana clone with one great single ("Under My Skin") that was featured prominently in the marketing for this movie. Those aspects aside the dialogue is crystal clear and balanced and sound effects are generally strong, particularly the beginning of the Brainscan game. Subtitles are available in English.

Extras


Although John Flynn is no longer with us, the audio commentary does feature his son, and assistant to the director, Tara Georges Flynn.

"A Virtual Debut – An Interview with Screenwriter Andrew Kevin Walker" (1080p) the interview runs for 14 minutes and 25 seconds, the man who would go on to later fame as the writer of "Se7en" (1995) and "Fight Club" (1999) talks about the early and exciting days of having his first produced screenplay up on the big screen.

"Talking with Trickster – An Interview with Actor T. Ryder Smith" (1080p) the interview runs for 13 minutes and 39 seconds.

"Merging Realities – Featuring Interviews with Special Make-up Effects Artists" (1080p) the interview runs for 19 minutes and 4 seconds, hear from the FX crew as they break down all of the film's make-up work and sight gags, including one deleted bit that should've been left in.

"Musical Virtuosity – An Interview with Composer George S. Clinton" (1080p) the interview runs for 11 minutes and 24 seconds.

"Trickin' with Trickster – Vintage Behind-the-Scenes Fun on Brainscan" (SD) featurette runs for 5 minutes and 9 seconds, Smith and Furlong have some in-character fun in this short piece.

A deleted scene (SD) runs for 1 minute and 38 seconds, this is a bit near the end that should have remained.

"Behind-the-Scenes Footage" (SD) featurette runs for 7 minutes and 47 seconds, this is footage of the film both on-set and in the make-up room.

A teaser trailer (1080p) runs for 39 seconds.

The film's theatrical trailer (1080p) runs for 2 minutes and 2 seconds.

A TV spot (1080p) runs for 33 seconds.

Behind-the-Scenes photo gallery (SD) runs for 1 minute and 15 seconds.

Still gallery (SD) runs for 1 minute and 55 seconds.

Packaging


The single disc comes housed in a standard Blu-ray keep case.

Overall


This is the kind of 90's time capsule I like to open – a forgotten horror film that perfectly captures the era but isn't slavishly nostalgic like the current trend in filmmaking. The story is novel and the plotting tight, with a decent performance from Furlong stirringly supporting by Trickster, a would-be horror icon who deserves greater praise. Scream Factory's Blu-ray not only excels in a/v quality but it comes loaded with great bonus features, too.
| | | | | |
| --- | --- | --- | --- | --- |
| The Film: B | Video: A- | Audio: A- | Extras: A- | Overall: B+ |