The Film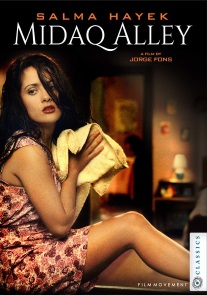 Rutilio (The Evil That Men Do's Ernesto Gómez Cruz) is a bar owner wiling away his evenings playing dominoes with wealthy shop owner Fidel (Claudio Obregón), shakedown artist Zacarias (Ravenous's Abel Woolrich), dentist "Doc" (The In-Laws' Álvaro Carcaño), and intellectual Ubaldo (Cabeza de Vaca's Óscar Yoldi) while avoiding his amorous wife Eusebia (All of them Witches's Delia Casanova) and despairing of the shiftlessness of son Chava (Perfect Obedience's Juan Manuel Bernal) who is trying to convince his friend Abel (Casa de los Babys' Bruno Bichir) to cross the border in Tijuana to the United States with him. When his wife gives him a dress shirt for their anniversary, Rutilio goes to the gentlemen's shop to exchange it and becomes infatuated with shop boy Jimmy (Men with Guns' Esteban Soberanes). Their frequent meetings do not go unnoticed, and Rutilio flies into a rage when Ubaldo intervenes on behalf of scandalized Eusebia; however, it is the actions of a rage-filled Chava that tear the family apart. On the run, Chava begs Abel to come with him to America. Abel only has eyes for neighbor Alma (Desperado's Salma Hayek), but he does not measure up to her mother Cata's (Esmeralda Comes by Night's María Rojo) hopes for her daughter. Abel leaves with Chava, promising to return respectable enough to ask for her hand. Running a con job as a Tarot reader advising the love lives of her neighbors, widowed Cata mistakes a gift from Fidel for his romantic interests and is devastated to discover that he wants to ask her for Alma's hand in marriage; nevertheless, she pushes her daughter towards what she perceives as security only for Fidel to suffer a heart attack before amending his will. A widow without having been married, Alma is vulnerable to the romantic attentions of pimp José Luis (Y Tu Mamá También's Daniel Giménez Cacho) who promises her a wonderful life. A spinster with bad teeth, landlady Susanita (The Blue Room's Margarita Sanz) thinks Cata's prediction of future happiness will lead her to younger Chava only to meet cute with Rutilio's much-abused waiter Guicho (The Mexican's Luis Felipe Tovar). Mindful of her age and plain looks, Susanita is still over the moon when Guicho accepts her proposal of marriage and the security her income provides; however, Susanita may be fooling herself into believing she can be happy while being exploited for the contents of her pocket book.

Based on the novel by Naguib Mahfouz – as adapted by Vicente Leñero (The Crime of Padre Amaro) – Midaq Alley (titled in English-speaking territories after the Mahfouz novel rather than a direct translation of the Spanish title as "Miracle Alley") moves the setting from downtown Cairo to a bustling Mexico City back alley and its residents who form a microcosm of modern society. Although the film is one of the few feature credits of telenovela director Jorge Fons, it is not so much an episodic melodrama as a precursor to the increasingly tiresome awards-bating "everyone is connected" parallel lives stories that became a trend around the time of Alejandro González Iñárritu's Amores Perros, 21 Grams, and Babel; however, Fons' approach does not bludgeon the audience with any overarching moral. The film runs not through the same sequence of events but the same period of time in the interlocking lives of the characters. Such an approach looks backwards and forwards, shedding light upon the actions of characters in the prior version of the story – one assumes at first that Chava's actions towards Jimmy are either on behalf of his mother or in response the hypocrisy of his father accusing him and Abel of looking like "queers" for hanging around together constantly, but his stare-down of Jimmy during Abel's story suggests a generalized homophobia (still no doubt instilled by his hypocritical father) – while also causing the viewer to take note of reactions of characters peripheral to the current story who might either be the subject of the next story or at least be more involved in it, lending a sense of nuance to supporting characters who might otherwise be dismissed as character types. The last of the stories and its very deserving subject – thanks to a tragically sweet performance by Sanz – is diminished somewhat into a sense of the mundane by having to also encompass the fates of characters making their homecoming and others seen sowing the seeds of their own destruction throughout getting their comeuppance. The result is an accomplished if unspectacular work that did introduce Hayek to American audiences in its arthouse run in the nineties, although only because she manages to shine through a rather stereotypical abused character.

Video


Picked up in the United States by Lakeshore Entertainment and given theatrical distribution by arthouse distributor Northern Arts Entertainment in 1998 – and direct to VHS in the UK by CIC – the film was released on home video stateside on fullscreen VHS tape and DVD by Fox Lorber and then reissued in 2004 by Venevision as a non-anamorphic letterboxed transfer marketed towards Mexican-American audiences but also featuring English subtitles. Extras are listed as a making-of, trailer, and a "cast commentary about Salma Hayek, the director, and the writer" but no confirmation as to whether that is in English or subtitled, and who actually participates in it. Taken from a new digital restoration, Film Movement's 1080p24 MPEG-4 AVC 1.85:1 widescreen obviously blows the previous releases out of the water, but it appears to be an older HD master newly spiffed up with some digital clean-up. There is little noise but also little fine grain. Textures remain but are best assessed in close-ups.

Audio


The original Ultra Stereo mix is presented here in lossless Spanish LPCM 2.0 with spread given principally to music and atmospheric effects. The optional English subtitles are without any glaring errors and are presumably the ones prepared by Michael Donnelly (The Buena Vista Social Club) back at the time of the film's production with international distribution in mind.

Extras


Extras are rather basic with a behind the scenes featurette (26:06) that consists of video of the shoot with casual subtitled remarks but no actual interviews or framing, as well as the theatrical trailer (0:32) which is more of a teaser, and other Film Movement trailers. Enclosed in the case is a booklet by Carlos A. Gutierrez, co-founder of Cinema Tropical, with introductionss by Salma Hayek and Jorge Fons. The essay is informative in contextualizing the film within Mexico's cinema boom of the eighties before the 1995 financial crisis, its deliberate use of melodrama and Mexican golden age tropes within the framework of a modern Mexican cinema aesthetic, and providing background on the actors (many of whom are still active today and well-regarded south of the border). The introductions by Hayek and Fons are actually reproductions of a recent written comments looking back on the film.

Overall