The Forest of Lost Souls [Blu-ray]
Blu-ray ALL - America - Wild Eye Releasing
Review written by and copyright: Eric Cotenas (16th November 2018).
The Film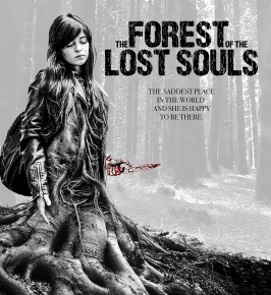 Every country has its share of suicide spots, and between the border of Portugal and Spain there is the "A Floresta das Almas Perdidas" or The Forest of Lost Souls. Ricardo (Jorge Mota) has come there following in the footsteps of his daughter Irene (Lília Lopes) who was found floating in the forest's arctic age lake. His suicide attempt disrupts that of teenage Carolina (Daniela Love) who counters his arguments that she is too young to commit suicide – along with his dismissive remarks about her being a hipster more attracted to the intellectual concept of suicide and ready to throw away her potential – with how mundane his reasoning is, having "failed as a father" and noting how his lack of a suicide note and intention to use a knife more than likely means he will find an excuse not to go through with it, as well as their contrasting attitudes towards the dead they find along the path to the lake. They both believe that dead is dead, but only one believes that the sadness of life ends with it. As they tour the forest, commonalities come out in their conversation about his feelings of inadequacy as a father and her resentment for her own father. Knowing that this is a horror film, the audience may wonder whether both are living people or whether one might be a ghost either trying to discourage the living one from suicide (or actually goad them to by ridiculing their reasons). One of them will not be leaving "The Forest of Lost Souls" that day, but the loved ones they leave behind may not have long for mourning themselves.

Following two recent films about Japan's "suicide forest" Aokigahara – Gus Van Sant's insultingly pretentious The Sea of Trees and the more conventional Ringu/Ju-on-esque The Forest, The Forest of Lost Souls is at least better than both of those aforementioned films. Shot in crisp black and white on DSLR cameras, the look feels less arty than stripped down, focusing on the characters and the setting and weaving a relatively compelling atmosphere for its first half before a surprising reversal (do not read synopses including the Blu-ray release's back cover); after which, it becomes entirely more conventional, with director José Pedro Lopes – whose previous credits include a short intended for The ABCs of Death 2 that ended up instead in Bloody Disgusting's World of Death – riffing on Halloween and creating menace within sunny daylight suburban settings while stripping the menace of its supernatural qualities (although the victims do seem not to hear the killer right behind them, possibly as distracted by the music score as the viewer). This section shows the director to be visually proficient but less inspired while the extended epilogue does at least suggest that an angel of death need not also be a living, breathing human being. The Forest of Lost Souls at best demonstrates that some filmmakers do learn and grow by starting with short films, but one would have hoped that the atmosphere it does achieve and the striking locations it finds could have been utilized for something more cohesive experience.

Video


Shot with Canon 5D and 7D DSLRs along with a Sony A7s, Forest of Lost Souls gets a serviceable 1080p24 MPEG-4 AVC 1.78:1 encode from Wild Eye with what appears to be their first pressed Blu-ray disc (their previous high definition releases having been Amazon.com burn-on-demand releases). The black and white photography comes through free of noise in bright shots while most night exteriors and interiors also look relatively clean with a trace of crush in the delberately inky shadows. A tad noisier is a scene late in the film at an outdoor concert at night, but that appears to have been shot under less controlled circumstances.

Audio


The back cover paradoxically states "5.1 stereo" but the only audio option is a Portugese Dolby Digital 2.0 stereo track in which dialogue and scoring dominate with atmosphere rather thin for the forest scenes and the suburban ones (perhaps to give the scenes an intentionally disembodied atmosphere) while the epilogue scenes are a bit more naturalistic. English subtitles are encoded into the image and free of glaring errors.

Extras


Extras start off with a soft-spoken English-language audio commentary by director José Pedro Lopes in which he notes that the particular suicide forest in film is fictional and made up of locations in Portugal and Spain (although he does note that there are real suicide spots in both countries) and that the Russian location mentioned in the end credits is where the opening shots of the padlocked trees were shot by the cinematographer. He also reveals that there was a lot more expository footage about the dead Irene and more material that explicitly reveals one the nature of one of the characters. Also included is a bit on "Fight Rehearsal" (2:49), deleted scenes (1:34) with more optional commentary, the short film "St. John" (1:16) in which someone does not take kindly to the practice during the Festa de São João do Porto of people greeting one another with blows from soft queaky hammers, and the film's teaser (1:03).

Overall


The Forest of Lost Souls at best demonstrates that some filmmakers do learn and grow by starting with short films, but one would have hoped that the atmosphere it does achieve and the striking locations it finds could have been utilized for something more cohesive experience.

---
DVD Compare is a participant in the Amazon Services LLC Associates Program and the Amazon Europe S.a.r.l. Associates Programme, an affiliate advertising program designed to provide a means for sites to earn advertising fees by advertising and linking to amazon.co.uk, amazon.com, amazon.ca, amazon.fr, and amazon.de.