The Film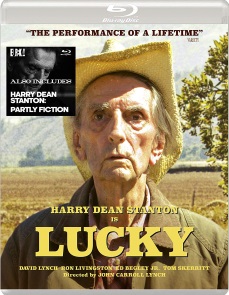 At age ninety, Lucky (Paris, Texas's Harry Dean Stanton) finds his routine of yoga, breakfast at the local diner, gameshows and smokes, and evening drinking thrown off-kilter by a fall one morning. His doctor (She-Devil's Ed Begley Jr.) can find nothing wrong with him other than "You're old and getting older." Refusing the suggestion of home care, Lucky also resents (in varying degrees) the concerned inquiries of diner owner Joe (Collateral's Barry Shabaka Henley), waitress Loretta (Yvonne Huff), convenience store cashier Bibi (Nothing But Trouble's Bertila Damas), bar owner Elaine (No Country for Old Men's Beth Grant), her lounge lizard husband Paulie (Venus in Furs's James Darren), and buddy Howard (The Straight Story's David Lynch). "Reality is a thing," Lucky proclaims one night at the bar, and he is convinced even more now that "what you see is what you get," gleaning portents of death in his everyday surroundings while others are deluding themselves: from Howard willing everything he owns to his pet tortoise President Roosevelt who has recently "escaped" – and picking a fight with attorney Bobby (Office Space's Ron Livingston) who specializes in end of life preparation – in hopes that he will come back to Paulie's without love you've got "ungatz." Having long believed that he was alone in the world with no one to worry about or to worry about him, Lucky's journey towards coming to terms with his mortality and his belief that there is nothing beyond it leads inadvertently to a surprise understanding about the meaning of life. Described in promotional materials as the "spiritual journey of a ninety-year-old atheist," Lucky turned out to be quite a fitting swan song to the career of character actor Stanton, providing him with the space to demonstrate his entire range from the familiar hardass to nuanced observer and storyteller. While Stanton himself was an avowed atheist, his character's spiritual journey is not really a religious one in spite of the film's biblical references – Lucky following to the threshold of an "infernal" underground club that the other man is able to visit and return from, the arid desert setting Lucky inhabits after being "eighty-sixed" from his job at the garden restaurant Eve's after defiantly lighting up, and his reminiscences about wartime experiences with a fellow veteran (Alien's Tom Skerritt) who might be a ghost passing through on his way to judgment – but one in which the reality he accepts encompasses more than death, and more ways to look at life as it is. Stanton's performance is a masterclass in characterization, with his gruff exterior unpeeling to reveal levels of nuance, especially in his interactions with supporting characters who seem to be what he sees on the surface – or, like Livingston's lawyer, reveal depth of character in a well-acted but structurally-contrived scene – and the film also pleasantly surprises here with a wonderful supporting cast full of familiar faces like Lynch, Grant, Henley, and Darren or lesser knowns like veteran actress Damas or Huff. With our perception of how hard-living and uncompromising a life Stanton must have lived based on his characters, it was not a surprise that Lucky should prove to be his last film; however, as written around the actor by friends Logan Sparks (once Stanton's assistant on Big Love) and Drago Sumonja, and further developed by actor-turned-director John Carroll Lynch (The Founder) with the not-always-smooth participation of Stanton, may have shed light onto what Stanton himself thought about the meaning of life.

Video


Eureka's 1080p24 MPEG-4 AVC 2.40:1 widescreen Blu-ray looks spectacular when one takes into account the film's usage of 1970s Panavision lenses (including ones the filmmakers swear were actually used on some of Stanton's films of that era) with their flaring and wide angle curvature of straight lines, with a warm bias to the sun-scorched settings. More saturated colors pop in one or two sequences like the red and green neons during Paulie's "descent" (in reaction shots of Stanton that look like they came out of George Romero's Creepshow) and the lush greens in the reveal of Eve's.

Audio


Audio options include DTS-HD Master Audio 5.1 and LPCM 2.0 stereo, and either will do given the front-oriented mix of dialogue and intermittent source music but the discrete surrounds reveal a subtle deployment of atmospheric sounds. Optional English SDH subtitles are provided.

Extras


Carried over from the American DVD from Magnolia Pictures and the German Blu-ray from Alamode are an interview with writer Logan Sparks and producer Drago Sumonja (27:22) in which they recall wanting to write a script around a character based on years of stories Stanton regaled them with at Dan Tana's restaurant – with some amusing side remarks about friend Dabney Coleman (WarGames) – and setting a daily schedule to work on the script before getting Stanton involved, and an interview with director John Carroll Lynch (13:51) in which he recalls Sparks and Sumonja initially wanting him to act in the film but then deciding they needed a director who spoke the language of acting since Stanton could be combative something in the script did not ring true to him (like the scene in which he was originally required to throw a punch at the lawyer). Bewilderingly not included on the German disc but welcome here is the 2012 German television documentary "Harry Dean Stanton: Partly Fiction" (76:25) composed of interview sessions with Stanton, film clips, and interviews with friends and collaborators Lynch, Wim Wenders, Sam Shepard, Kris Kristofferson, and Debbie Harry. The freewheeling nature of Stanton's dialogues may frustrate viewers hoping for a more conventional type of profile, but the film actually makes an interesting companion piece of the feature.

Overall