The Rector's Wife
R2 - United Kingdom - Simply Media
Review written by and copyright: Rick Curzon (22nd November 2018).
The Show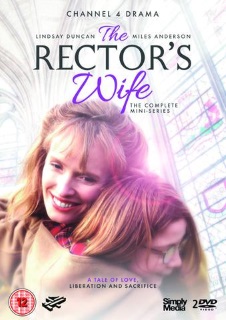 Lindsay Duncan stars in the 1994 BAFTA nominated Channel 4 adaptation of Joanna Trollope's bestselling book.

For 20 years Anna Bouverie (Lindsay Duncan) has served as the dutiful wife of the clergyman, supporting his work, serving God and the local parish, and saving enough for their family. Her constant devotion to the Church and her duties has meant she no longer recognises herself, and has exhausted her.

When her husband the Rector (Ronald Pickup) does not get his expected promotion to archdeacon, and begins to take his frustrations out on his family, Anna realizes their life will never change.

After their youngest child is bullied at school, Anna decides something must be done to improve their lives. In order to move their daughter to a private Catholic school, she takes a job at a local supermarket, against the wishes of her husband and to the disdain of the parish community.'

As Anna's own sense of worth grows from her work, she also starts to attract the interest of other men. Torn between her sense of family duty and newfound independence, Anna starts to lose faith in her marriage, and what it means to be the rector's wife.

Nominated for two BAFTAs in 1995.

Video


We have three very '90s, Digibeta, standard definition productions presented in native standard definition on these DVDs; all three date from before filmisation of Digibeta tape productions became the norm. This was the process that became the norm over the next few years whereby the 40 fields per second Digibeta, standard def video would be treated in post production to ensure a film-like appearance by altering the frame rate to resemble 24 frames per second film.
Sadly, they also date from the days when 4:3 TVs were the norm and although shot in widescreen (1.78:1) are presented letterboxed within a 1.33:1 / 4:3 frame. This means that approximately 1/3 of the available picture area is taken up with black bars and thus the resolution of the image is reduced.

Colours are mostly natural without any of the digital desaturation grading often applied to dramatic productions in the 2000s, so they have a well-lit, matter of fact quality similar to light entertainment or news broadcasts of the time. That said, the colour palette is slightly naturally desaturated when compared to the norm of a few years previously; this may be down to how this off the shelf master has been handled downstream rather than a choice made at the time, but equally the reverse is possible; I don't recall ever seeing these at the time of broadcast. Flesh tones are pleasingly natural.

Black levels are deep and rich where intended with no signs of black crush. Contrast is bright and designed to help these programmes "pop" in standard definition. However, detail has suffered appreciably due to the letterboxing. The lower resolution means you will see aliasing and bleeding when zoomed on a modern widescreen display to fill the screen. It's not egregious and the discs remain very watchable.

Shy of a complete rebuild from the original elements in 16x9 widescreen and presented upscaled on Blu-ray, we aren't going to get to see these prestigious and popular productions in anything like the true glory they could be seen in. These are off the shelf masters and taken from the dark ages of the late '80s through the early 2000s where TV was letterboxed and / or assembled on videotape in standard definition.

PAL / Letterboxed 4:3 (1.78:1) / (202:43)

Audio


English Dolby Digital 2.0 Stereo
Subtitles: None

Good basic Dolby Digital 2.0 stereo tracks that represent the original NICAM stereo of the original broadcasts; they have been taken directly from the lossless originals. As such it lacks fine detail and depth; the more you increase the volume the more you'll be able to tell it's lossy. It's efficient and gets the job done.

Sadly, there are no subtitles on this release so the hearing-impaired are out of luck.

Extras


Nothing, not a bean ... no making of or behind the scenes, no interviews. Nada.

Overall


Solid, very basic barebones renderings of '90s drama productions from the era when widescreen productions were presented letterboxed within the 1.33:1 frame. These discs are what they are and are agreeable as budget releases. Picture and sound are as good as can be for the format with only a total rebuild of the original productions in proper 16x9 enhanced widescreen being the way to improve. This is unlikely to happen anytime soon as the commercial potential will preclude the cost of doing so.
| | | | | |
| --- | --- | --- | --- | --- |
| The Show: C+ | Video: C- | Audio: B+ | Extras: F | Overall: B |

---
DVD Compare is a participant in the Amazon Services LLC Associates Program and the Amazon Europe S.a.r.l. Associates Programme, an affiliate advertising program designed to provide a means for sites to earn advertising fees by advertising and linking to amazon.co.uk, amazon.com, amazon.ca, amazon.fr, and amazon.de.