The Show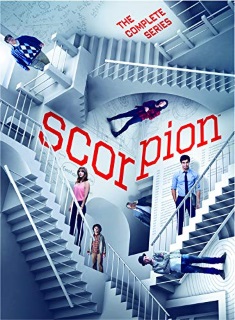 Supposedly based on the true life stories of information technologist Walter O'Brien who reportedly has the fourth highest IQ whose team of "mentally enabled" geniuses works as high-tech problem solvers. While claims of his actual involvement in military, government, and anti-terrorism are unsubstantiated, they certainly make for an entertaining (and sometimes pleasingly absurd) piece of CBS weeknight action fodder. We first meet thirteen-year-old Walter (Daniel Zolghadri) in Callan Ireland when he is arrested by FBI agent Cabe Gallo (Terminator 2: Judgment Day's Robert Patrick) for hacking into NASA's computers to get a copy of the space shuttle blueprints for his bedroom wall. After determining the benign nature of Walter's precocious curiosity, Gallo maintained a friendship with the boy, sending him intellectual and scientific challenges until a guidance program young Walter had designed for dropping federal aid packages was misused to drop bombs on Baghdad, killing ten million civilians. Twenty-four years later, Walter (World War Z's Elyes Gabel) is trying to maintain a floundering start-up business consultancy company called Scorpion (named after a junked neon sign he found and restored), being the only half-way employable member of his team repairing Wi-Fi connections as a day job to support anxiety-ridden "human calculator" Sylvester (Ari Stidham), mechanical engineering prodigy with anger issues Happy (Cosmopolis' Jadyn Wong), and Harvard-educated behaviorist Dr. Tobias "Toby" Curtis (American Pie's Eddie Kaye Thomas) whose compulsive gambling loses more money for the group than he pulls in. When Gallo – now with the Los Angeles branch of Homeland Security – steps back into Walter's life to recruit his expertise in getting the Los Angeles airport navigation system back online after a corrupted update leaves fifty planes in the air without ability to communicate with the tower, it is his team's concerns for the thousands of lives that hang in the balance that drive him into action, and waitress Paige Dineen (The House Bunny's Katharine McPhee) to appeal to the emotions Walter insists he does not possess when even the FBI seems to accept that losing two planes would be an acceptable loss for the greater good ("Normal people save everybody"). Ever a genius, Walter has already worked out that Gallo has been keeping tabs on him and has come to Los Angeles to start a strategic response team, using it to the advantage of team Scorpion and fostering the potential he sees not only in his fellow geniuses but also Paige to "translate the world" for them in exchange for helping her connect with her own nine-year-old genius son Ralph (Riley B. Smith).

Developed by Nick Santora (Prison Break) and executive produced by Alex Kurtzman (Hawaii Five-0) and Roberto Ocri (Sleepy Hollow), Scorpion is formulaic in more ways than one. Not only does it fit in perfectly with CBS' weeknight line-up of the likes of the Hawaii Five-0 reboot, NCIS, NCIS: Los Angeles, NCIS: New Orleans, the McGuyver remake, SEAL Team, and Blue Bloods, but it seems to have been written around a checklist of elements gleaned from fan favorites: almost every character has daddy issues – Walter and Sylvester are estranged from their fathers (Glenn Keogh and Psycho III's Jeff Fahey, respectively) while the widowed father (Gone Girl's Jamie McShane) that gave up Happy as an infant does not know that she is propping up his failing garage – crappy childhoods including Paige's strained relationship with her con-woman mother Veronica (Some Kind of Wonderful's Lea Thompson), Gabe as Walter's father figure and eventually fulfilling that role for the rest of the team (with plenty of jokes about him being old and out of touch) – with a side of Bones' Agent Booth in being touched personally by cases involving soldiers and explaining to the group the good kind of patriotism and why the heart trumps reason – and the team as a found family (with at least one character asserting that ad nauseum). The will-they-won't-they budding relationship between Walter and Paige is devoid of suspense, with Gallo's Homeland intern/SEAL vet Tim Armstrong (Guardians of the Galaxy 2's Scott Porter) as romantic rival too obviously not in the for the long haul, and the writers broadcasting the perceived bond between Walter and Paige through wiser older characters with lower IQs but more life experience (and higher EQs), including Veronica and Richard Elia (The Office's Andy Buckley), a tech billionaire who tries to poach Walter for his think tank. All this aside, the show Scorpion most resembles, perhaps unintentionally, is the sitcom The Big Bang Theory with waitress Paige translating normal and nerd with the occasional eye-roll and constantly reminding geniuses about boundary issues when it comes to prying into her personal life – notably her uncertain relationship with ballplayer Ralph's father (singer Brendan Hines) – although Gallo putting a bullet in the leg of a suspect is more badass than Penny kicking the groin of a neckbeard who hacked Sheldon's game account and stole all of his accumulated virtual loot. Toby becomes more and more like Simon Helberg's Howard Walowitz from general humor to sexually inappropriate remarks aimed at all females early on and then Happy before his personality softens, Sylvester taking on the bulk of the superhero fanboy-ism from wizard costumes and obsessive comic book collecting/archiving to his love of the fictional "Super Fun Guy" franchise which makes appearances throughout the series, and inconsistently-written Walter coming closest to Sheldon Cooper (most notably when he refuses to admit in court that emotion caused his high-speed crash racked up millions of dollars in city resources and ends up doing community service). There's also a touch of Leverage with the flashback reveals of cons the group pulls on villains.

The show, however, is self-aware enough to put the lie to certain assertions by the emotionally-enabled characters without deriding them, like Walter's insistence on an early case that a genius sprung from prison by Russian mobsters must have been manipulated into creating a program to take advantage of a millisecond delay in the transmission of stock price changes to profit from them; however, the group's chief genius villain may be formidable in his plans but seems rather pathetically petulant in person as super-manipulative Mark Collins (The Blair Witch Project's Joshua Leonard). More annoyingly predictable, however, is how almost anyone who is not an enabler is a hater and ultimately a villain – unless forced to work with the group to save one of their own – with Gallo's former supervisor Merrick (Rendition's David Fabrizio) going from passing the buck when the team screws up to being demoted and attempting to set the team up for a crime. His replacement's (Law & Order's Alana De La Garza) application of the greater good theory endangering one of the team has her replaced by desk jockey-turned-cheerleader Katherine Cooper (a nevertheless welcome but limited return for Frasier's Peri Gilpin), and fratboy-ish characters of any age are jerks just because. Whatever the truth of the real O'Brien's talents, the episodes are entertaining and compulsively watchable on their own – in spite of and because of the many absurdities like translating the vibrations off of a bag of potato chips to determine what is being said by the bad guys when a webcam's microphone is knocked out – however; the show does become formulaic really quickly as a series of rescue episodes, heist episodes, something is going to blow up or meltdown and kill everyone, or one or more members of the team is set up or falsely accused; however, the formulaic nature is the likely reason the show lasted long enough for syndication.

Season 1 Highlights: The group try to discover the nature of a disease custom-made to target the DNA of the governor's daughter in "Single Point of Failure" and then are framed for robbery when called in to investigate cheating at a Las Vegas Casino in "Shorthanded" (guest starring Psych's Corbin Bernsen). Walter and the team must depend on the help of an unstable and vengeful former team member to prevent a meltdown at a decommissioned nuclear plant in "Plutonium is Forever" (the first appearance of series villain Mark Collins), and get some help from NCIS: Los Angeles' Hetty Lange (The Year of Living Dangerously's Linda Hunt) to foil art fraud in "True Colors". Gallo confronts the death of his daughter and dissolution of his marriage when his ex-wife Rebecca (True Blood's Jessica Tuck) is targeted after discovering something worth killing for at her law firm, and Walter's sick sister Megan (Prison Break's Camille Guaty) makes an ill-timed visit while the group minus Sylvester is sent to Bosnia to recover a weapons guidance system from a downed jet on a mission that turns into a rescue when it is discovered the pilot is alive and in enemy hands in "Talismans" and Ralph is suspected of terrorism when he stumbles upon a game on the dark web which reveals the locations of CIA assets in "Kill Screen." Toby must jog the memories of a PTSD-stricken former secret service agent (JAG's David James Elliot) when the controller for nuclear missiles that disappeared during an attempted presidential assassination two decades before takes over the system in "Forget Me Nots" while the exposure of Gallo's secret from Walter regarding the Baghdad operation could destroy the team in "Cliffhanger."

Season 2 Highlights: The team reunited when a nuclear-powered Russian satellite is knocked off course and in danger of detonating over Los Angeles in "Satellite of Love" while a Bosnian orphan (Coyote Ugly's Izabella Miko) appeals to Gabe to help her capture a Serbian war criminal in "Cuba Libre." Sylvester must go undercover in a prison to in "Fish Filet," Walter and Happy are trapped in a submarine at the bottom of the ocean floor in "Robots," and the group are trapped in a high-tech building with children when someone introduces a virus into Walter's computer-controlled cooling system in "Techs, Drugs, and Rock 'n' Roll." Paige and Ralph get stuck on an out of control speeding train in "Crazy Train" while the group are roped into an assassination in"US vs UN vs UK" (in which Justified's Damon Herriman pulls a Jason Statham), and the group becomes trapped along with Walter's parents in a hospital with a rapidly spreading ancient fungus while visiting an ailing Megan and meeting her husband Sylvester for the first time in "Arrivals and Departures." The group is left alone to prevent a colossal dam breakage on Christmas Eve in "The Dam Breakthrough" and nearly lose two of their own in the arctic in "White Out" and must discover the source of a contamination in the Los Angeles blood supply before a little girl's heart transplant in "Ticker."

Season 3 Highlights: In the two part "Civil Wars" and "More Civil Wars" the team try to track down a group of hackers who have taken over American military aircrafts and warships, Walter is accidentally launched into space with limited air while refurbishing a rocket for Richard Elia in "It Isn't the Fall That Kills You," and must prevent a massive natural catastrophe in Ireland while marking the one year anniversary of Megan's death in "Sly and the Family Stone." Paige's mother shows up to cause trouble in a quartet of episodes in which the team must save a woman who crashes into the La Brea Tar Pits in "This is the Pits" and face off against drug runners in the middle of nowhere for "Wreck the Halls" and then must lower Gallo's body temperature to save his life in the middle of the desert when he is struck by a piece of shrapnel in "Ice Ca-Cabes." Veronica and the team are duped into producing counterfeit money by parties unknown in "Faux Money Maux Problems," endeavor to save a man trapped in a silo teetering on the edge of a massive sinkhole in "The Hole Truth" while Paige and Walter find themselves stranded in open water in "Sharknerdo" while the team is hunting for sunken treasure. A mission to extract a group of scientists from a biodome designed goes haywire in "Strife on Mars" and become marooned on a desert island after a crash on "Maroon 8" and the season finale "Scorp Family Robinson."

Season 4 Highlights: In the two-part season opener "Extinction" and "More Extinction," the team must once again collaborate with Mark Collins to prevent a catastrophic event, get exposed to toxic vapor in "Nuke Kids on the Block," and locate a real ghost ship on "Queen Scary." The team attempts to rescue a father and daughter in a plane crash in "Crime Every Mountain" and rescue a dog stuck in a cistern while preparing for Gallo's trial in "Who Let the Dog Out ('Cause Now It's Stuck in a Cistern)" while Walter passes out and has a It's a Wonderful Life-esque dream in "A Christmas Car-Roll" and then the team faces off against deadly AI underground in "The Bunker Games." A deadly tsunami wave threatens a nuclear power plant in "Wave Goodbye" and then put aside their romantic dinner plans when a doctor and pilot crash into a skyscraper in "Nerd, Wind & Fire." The team are taken hostage after foiling a bank heist in "Dork Day Afternoon," must play the Homeland security softball team in a bet for all future contracts in "Foul Balls," race to save a boy who gets caught in the wheel well of an aiborne plane in "Kenny and the Jet," and find themselves in North Africa for the series finale "A Lie in the Sand."

Video


As with Paramount's other DVDs of television series, Scorpion: The Complete Series HD video-sourced content is non-progressive (only the first season received a Blu-ray release which was was 1080p24). The image is clean and well-detailed for standard-definition (although best enjoyed on medium-sized HD monitors) while the color correction is what one expects of CBS action shows with aggresssive contrast, deep blacks, and warm skintones (all of which in some ways aids the layering of CGI content).

Audio


Audio options for all four seasons include Dolby Digital 5.1 and 2.0 Surround tracks. The 5.1 tracks stay active throughout with even dialogue-heavy scenes featuring some surround content from low music to background atmosphere or computer noises. The first two seasons have optional English SDH and Portuguese subtitles while the third and fourth only have English SDH.

Extras


Extras for the four seasons are also suggestive of the company's waning enthusiasm for the physical media format. Season one is the most stacked with two audio commentaries – on the "Pilot" by creator Nick Santara, writer Nicholas Wootton & actors Ari Stidham, Katharine McPhee, Eddie Kaye Thomas, and Robert Patrick, and on "Talismans" by by creator Nick Santara, writer Nicholas Wootton, director Sam Hill, producer Don Tardino & actors Eddie Kaye Thomas and Jadyn Wong – deleted scenes for seven episodes (all roughly under a minute each), the casting featurette "Building Team Scorpion" (14:27) and crew featurette "Meet Team Scorpion" (14:30), episode specific featurettes "Chasing the Plane" (5:15), "When Hetty Meets Scorpion" (2:09) , and "Living on the Edge" (2:17), the season overview "Unlikely Heroes: The Making of Scorpion Season 1" (19:57), "Inside the Brain with Eddie Kaye Thomas" character-specific intros, launch promos (5:24), "Stunts on Scorpion" (10:32), the gag reel (5:16), and a Cast "Thank You" (0:25) featurette. Season two also includes two commentaries – on "Fish Filet" by actor Ari Stidham, creator Nick Santora, writer Nicholas Wootoon, and producer Don Tardino, and on "White Out" by actor Eddie Kaye Thomas, creator Nick Santora, writer Nicholas Wootton, and producer Don Tardino – only one deleted scene, the "Quintis" (2:31) looking at the relationship between Happy and Toby, "Breaking Brilliance" (29:03) featuring series director Sam Hall, another season overview "Unlikely Heroes: Making Scorpion Seasons 2" (29:51), "Creating Reality: Visual Effects" (8:56), "Geeky Gadgets" (8:34), "Scorpion: The Comic Book" (4:45), "Location, Location, Location" (11:22), and the gag reel (7:22). Season three's extras are entirely confined to the final disc with the overview, "Unlikely Heroes: Scorpion Season 3" (30:01), "You're Invited" (7:44) on the Happy/Toby wedding, "Scorp Beats"on the show's scoring (9:44), "Mock Me Up" on the show's graphic design team (5:58), and a gag reel (6:23). Season four features three deleted scenes, "Dance With Me" (8:18) on the musical number that opens the season, the overview "Unlikely Heroes: Scorpion Season 4" (29:47), "Go With the Flo" (10:56) introducing the show's whacky neighbor Florence, and a gag reel (5:24).

Overall


Whatever the truth of the real Walter O'Brien's talents, Scorpion: The Complete Series is entertaining and compulsively watchable on their own in spite of and because of the many absurdities, and its increasing formulaic nature.