The Film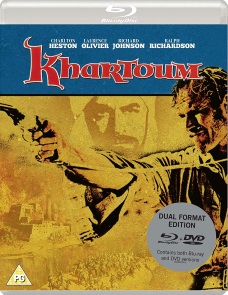 Khartoum opens with the defeat of Colonel William Hicks who was hired by the khedive to take ten-thousand untrained Egyptian into battle against Muhammad Ahmad (Rebecca's Lawrence Olivier) who has convinced the local tribes that he is the Mahdi (or "expected one") and waged a holy war to unite all of Islam under him and the rest of world to "tremble in fear." Having driven Hicks' troupes to thirst and starvation on a trek through the desert before finishing them, Mahdi and his men now have access to their weaponry; and Mahdi's goal to pray in the mosque at Khartoum has the British fearing that he will also gain access to their arsenal. While the British press and the public pressuring Prime Minister Gladstone (The Wrong Box's Ralph Richardson) to avenge Hicks and uphold English honor, he would like to discharge Britain's obligations to the Egyptians in Sudan who protect the Suez canal for the empire; and the report filed by military intelligence officer Colonel Stewart (The Haunting's Richard Johnson) concluding that Hicks' efforts would come to naught – which did not reach Britain until after the defeat – encourages him even more despite the moral responsibility to the Egyptians. The British Foreign Secretary Granville (Whistle and I'll Come to You's Michael Horden) proposes sending "Chinese Gordon" – that is, Major General Charles Gordon (The Omega Man's Charlton Heston) who had previously had a victory in the Sudan ending slavery – knowing that the government can absolve itself of responsibility when he goes against orders and puts the safety of his beloved Sudan above evacuating the Egyptians (and Europeans) from Khartoum. Gladstone makes his objection known to such a plan but nevertheless assents with the understanding that he has no part in it; then he goes to Gordon himself and warns him of Granville's proposal and that Gladstone himself would like him to accept it precisely for reasons of "political comfort." Stewart is assigned as Gordon's second, not bothering to deny that he is there to spy on him for Gladstone, and to make the official gesture of warning of Gordon of imminent danger. Gordon at first believes that he can evacuate the Egyptians while turning over control of Sudan to Zobeir (Bombay Talkie's Zia Mohyeddin), a former slave trader, but the man has not forgiven him for executing his son as an "object lesson" to the slavers and the freed. Accompanied only by his servant Khaleel (Ashanti's Johnny Sekka), Gordon daringly enters the Mahdi's camp, hoping to gain his respect and convey his own as well as his love for the Sudan and its people; but he discovers that the Mahdi will not allow him to evacuate the Egyptians since Khartoum is to be the first of many conquests, and that killing all in it who oppose him will be his own object lesson. Although advised by statesman Sir Evelyn Baring (Accident's Alexander Knox) that there is nothing more he can do and that he should leave, Gordon sets about strengthening Khartoum's defenses, sending Stewart back to London to report to Gladstone, and effectively using public pressure to blackmail parliament into the defense of the Sudan. A talky yet gorgeously epic big-budget flop – penned by Robert Ardrey (Madame Bovary), helmed by Basil Dearden (Victim), and lensed in 65mm Ultra Panavision with 6-track stereo surround sound – Khartoum's very British subject matter may have failed to resonate with American audiences, but there was more to fault behind the high production value: a talky script in which scene coverage was usually restricted to medium and long shots (with admittedly nice backgrounds), a certain stodginess in the film's action sequences (the camera rushes headlong into the action but various charging soldiers on foot or horseback are clearing out its way at a distance), a lack of tempo to the action scenes which begin abruptly and then seem to peter out, and most damagingly a hero lacking in clear distinctions from the film's villain; vague about the nature of his religious beliefs, lacking the charisma to stir the viewer or the people under him, almost seeming as vain as others charge him with a sense of self-sacrifice in which he offers himself up while always expecting that the others following him were going to die anyway. What pleasures the film does possess lies in the visuals, the rich scoring of Frank Cordell (God Told Me To), the dependable supporting performances, and the wealth of British talent – many unrecognizably buried under layers of bronzer here (although a few of them were not strangers to playing exotic foreigners) – particularly Hammer vets: The Reptile' Marne Maitland, The Pirates of Blood River's Peter Arne, The Sword of Sherwood Forest's Nigel Green, The Vampire Lovers' Douglas Wilmer, The Stranglers of Bombay's Roger Delgado, and The Curse of the Mummy's Tomb's George Pastell along with the opening and closing narration of Quo Vadis' Leo Genn.

Video


Released theatrically by United Artists first in a 70mm roadshow version with overture, intermission, and exit music running 135 minutes and then as a standard anamorphic 35mm general release (the UK release of which was twenty minutes shorter), Khartoum was released to UK cassette in the eighties with half of the missing footage restored at 122 minutes with Dolby Surround-compatible audio and was restored to its full-length for panned-and-scanned VHS and Dolby Surround laserdisc from MGM stateside. MGM's subsequent American and British DVD releases, along with French and German editions, featured stereo sound (Dolby Digital 2.0 Surround on the US release) and a new anamorphic transfer; however, it was at the compromised aspect ratio of 2.35:1 rather than the Ultra Panavision 70mm aspect ratio of 2.76:1. 35mm elements may have been utilized for that transfer, but Twilight Time's 2014 Blu-ray was derived from 65mm elements and restored the full width of the image (a German Blu-ray followed). Eureka's 1080p24 MPEG-4 AVC 2.76:1 widescreen Blu-ray utilizes the same master which is breathtaking in its clarity and detail in unaugmented shouts while making miniatures and back projection shots all the more obvious. The "overture", "intermission", and "exit music" cards appear to have been newly-created (or recreated).

Do note that Eureka's edition, like the previous MGM UK edition, was subjected to twenty-nine seconds of BBFC-mandated trims to horse-tripping shots during the battles.

Audio


MGM reportedly did not have elements for the 6-track audio for a 5.1 or 4.1 discrete audio track and provided instead the same LtRt audio master for the DVD for Twilight Time's DTS-HD Master Audio 2.0 track, and Eureka has also had to contend with the 2.0 source, but it sounds quite vibrant throughout, with spread to the music, dialogue and most of the explosions centered while atmosphere, other pyrotechnics, and some atmosphere was given more directional placement. While the LPCM 2.0 track gets the job done, a discrete multichannel version would have been nice for study of how surround mixes from the period. Optional English HoH subtitles are also provided.

Extras


Although the Eureka Blu-ray unfortunately did not carry over the Twilight Time isolated score track (in mono unlike the film), they have ported over the audio commentary by film historians Nick Redman, Julie Kirgo, and screenwriter Lem Dobbs in which they note that the film was shot in Ultra Panavision – the last film to use this format until Quentin Tarantino's The Hateful Eight – and the lack of a discrete track while describing the 2.0 track as "vibrant like old laserdisc." Redman discusses composer Cordell who Stanley Kubrick had initially commissioned to create a score of classical music adaptations for 2001 (and noting that the recent archiving of Cordell's work has unearthed the recordings), and that the film was shot in Ultra Panavision but advertised on posters as being in Cinerama. They discuss the ways in which the film adheres to certain roadshow movie clichιs like the film's narrated introduction, which Kirgo notes is focused more on the setting than the historical context of the story and then provides us with some of the background. They also note that the prologue was directed by Eliot Elisofon, a LIFE Magazine photographer who was presumably thought suited for the task because of his photo story on the Nile (Elisofon also shot Robert Gardner's Dead Birds). They provide plenty of production anecdote which is also provided in more concise form in the newly-produced interview with film historian Sheldon Hall (27:28). He discusses the origins of the project, and how producer Julian Blaustein (The Day the Earth Stood Still) was likely inspired by the success of Lawrence of Arabia the previous year – noting the similar narrative of a non-conformist military figure "in love with the desert" – when he first pitched it to Heston who turned it down. A few years later it was set to shoot as a standard 35mm Panavision production with Burt Lancaster in the lead, Lewis Gilbert directing, and Freddie Young as cinematographer but the situation in Sudan made it impossible to shoot at the time. When he pitched it to Heston again in 1965, he had secured additional funding from United Artists and Cinerama. Carol Reed (The Third Man) and Guy Hamilton (Live and Let Die) were among the directors considered before Dearden, and Hall notes that the film was larger than anything Dearden had done for Ealing and that Heston liked the film but did not have much good to say about Dearden's abilities as a director (Hall also notes that Dearden had misgivings about the Ultra Panavision format). The film played an entire year in its roadshow format and then again in 35mm in Britain but it did not resonate with American audiences who lacked the context. Also included is the film's theatrical trailer (2:09). Not provided for review was the collector's booklet featuring a new essay by Phil Hoad, alongside a selection of rare archival imagery.

Overall


In spite of twenty-nine seconds of BBFC-mandated trims, Eureka Classics' Blu-ay/DVD combo of Khartoum remains a well-equipped and economic alternative to Twilight Time's out-of-print limited edition.