The Film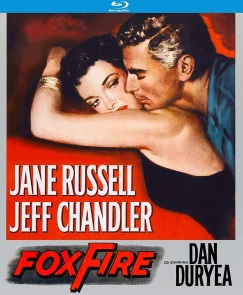 On her way back from a shopping trip to the La Paz Guest Ranch where her New York newspaper owner mother (A Place in the Sun's Frieda Inescort) has been luxuriantly recuperating under doctor's orders, heiress Amanda Lawrence (His Kind of Woman's Jane Russell) has a flat tire on the side of the road near Lodestone, Arizona. She is soon embarrassed to learn too late that her dashing rescuer Jonathan "Dart" Dartland (Broken Arrow's Jeff Chandler), engineer at the nearby Tyson Copper Mines, is half-Apache after speaking disparagingly of an Apache family who had the temerity to be no more mechanically-equipped than she when she hailed them from the side of the road. She invites Dart and his alcoholic best buddy Hugh Slater (Black Angel's Dan Duryea), medical practitioner for the local population and the mines, to a party at the ranch. When Dart does not show up, Hugh first makes the excuse of an issue at the mine and then confesses that Dart is rather antisocial; indeed, Dart arrives late and would have left just as soon had Amanda not spotted him. On a romantic moonlight walk, attractions flare and she horrifies her mother the next day by revealing her intention not only to marry, but to marry an Indian. When her mother tries to avert her plans by making arrangements to leave for New York right away, Amanda gets Dart to agree to marry her that day in a ceremony attended by his boss Jim Mablett (The Maltese Falcon's Barton MacLane) and his wife, Apache foreman Walt Whitman (Red Snow's Robert Bice), some of the locals, and her own mother quite reluctantly. It is only after the wedding that Amanda gets a sense of Dart's real world, with Mablett's busybody wife (Renegade Trail's Charlotte Wynters) espousing her husband's views of Apaches as savage and cruel including Dart who was college-educated on the East Coast like his New England professor father, and his mother Saba (Soylent Green's Celia Lovsky), the daughter of a famous chief, who never leaves the reservation ("Once an Indian, always an Indian"). A trip to the mines to deliver her husband's lunch becomes an embarrassing situation when she her impulsive venturing below ground coincides with an explosion, labeling her a jinx among the Apache miners. Amanda starts to realize that Dart tends to smooth things over with her by making love rather than talking, and he becomes uncomfortable and even angry when she pushes for a different kind of intimacy. More missteps in communication include her offering to charm mine owner Tyson (Operation Petticoat's Robert F. Simon) to fund his project to unearth a perhaps-mythical ancient Apache vein of gold hidden when the white man came with the goal of bringing prosperity to Lodestone. Dart resents her offer as being "seductive" – his own insecurity about their relationship exacerbated by local rumors about the amount of time Amanda spends in Hugh's company spread by Mablett and Hugh's jealous half-Apache nurse Maria (Tarantula's Mara Corday) among other local busybodies – but nevertheless thanks her when Tyson funds and staffs his expedition and promises that they will find time to get away and talk. Dart throws himself into the new project, leaving Amanda alone more and more, and she feels even more isolated when she learns she is pregnant and then discovers that Dart does not want children. Accompanying an Indian Bus Tour to the reservation, she witnesses a presentation by Dart's mother and gets a sense of where Dart's reluctance to be emotionally vulnerable and despairs of ever being able to reach him. Based on a novel by Anya Seaton, Foxfire is a bit harder to classify than the likes of Dragonwyck (although it does seem to transpose some elements of the gothic to the American Southwest). The film opens over moody shots of the mine and desert landscape to a Henry Mancini-penned theme song crooned by Chandler and then seems to shift to light comedy with the introduction of Russell and the contrast between cheery Duryea and strong, silent-type Chandler. Once the honeymoon's over, however, the social issue aspect of the story lingers beneath many subsequent scenes; but it is ultimately a frothy melodrama that resolves itself with a separation and a reunion brought about by narrowly-averted tragedy as seen in both melodrama likes Douglas Sirk's All That Heaven Allows or romantic comedy along the lines of another Chandler domestic drama The Lady Takes a Flyer. What makes up for its formulaic nature is the efforts of Russell and Chandler to transcend their popular images with the harsher elements of the story safe in the knowledge of audience expectations that they will end up back together no matter what he says to her in anger or what she says to him in despair. The Technicolor cinematography of William H. Daniels (Cat on a Hot Tin Roof) is ravishing in dotting the arid landscape with vibrant colors in Russell's wardrobe, the Apache costumes or the phosphorescent foxfire, and the scoring of Universal contract composer Frank Skinner (Never Say Goodbye) tweaks the emotions, and the affair is handled with the usual technical competence of jobbing director Joseph Pevney who directed Chandler in nine films including Female on the Beach the same year before a prolific career directing episodic television into the mid-1980s.

Video


Theatrically released by Universal-International and then lesser-seen since, even bypassing their recent Universal Vault series DVD-R line, Foxfire comes to Blu-ray in a 1080p24 MPEG-4 AVC transfer that has been framed like many of the Universal-International late fifties and early-to-mid-sixties productions and pick-ups in the Superscope aspect ratio of 2.00:1. The matting does not seem to impede the composition whether in long shots with Russell and Chandler on either side of the frame or close-up clinches. Press materials provide no specifics on the master, but the 3-strip Technicolor photography looks vibrant and the encode solid thanks to sufficient space on the BD25 disc with a minimum or other video material.

Audio


The DTS-HD Master Audio 2.0 mono track offers clear dialogue and scoring. Optional English SDH subtitles are also provided.

Extras


Besides the film's theatrical trailer (2:16) and trailers for the aforementioned Pevney/Chandler pairing Female on the Beach, the Russell outing The Outlaw, and Ten Seconds to Hell (also with Chandler), the disc offers up a new audio commentary by film historian Kat Ellinger who notes that the film may be considered minor but it was one of the last American 3-strip Technicolor films and briefly discussing the lost art of Technicolor (the credit for Technicolor Color Consultant William Fritzsche shares the card with DP Daniels). Most intriguing is her discussion of the source novel and the changes made to the screenplay to suit the leads. She notes that Seton more sympathetically portrayed the Apaches owing to her father's work as anthropologist, and that Amanda was a far less sympathetic character who made the discovery of the gold legend and pushed her husband into looking for it to change her life circumstances. Ellinger also discusses Russell's career post-Fox contract and Chandler's difficulty getting roles as romantic lead due to his looks which often typecast him in exotic roles (including other Native American characters).


Overall


Part melodrama, part social issue film, but mostly frothy romance, Foxfire may be a footnote in the careers of Russell and Chandler but it is perhaps most interesting for its incongruities.