The Film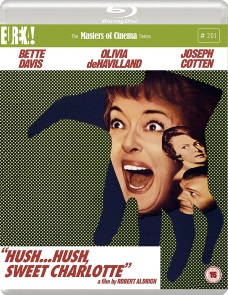 Oscar (Best Actress in a Supporting Role): Agnes Moorehead (nominated), Best Cinematography, Black-and-White: Joseph F. Biroc (nominated), Best Art Direction-Set Decoration, Black-and-White: William Glasgow and Raphael Bretton (nominated), Best Costume Design, Black-and-White: Norma Koch (nominated), Best Film Editing: Michael Luciano (nominated), Best Music, Original Song: Frank De Vol and Mack David (nominated), and Best Music, Substantially Original Score: Frank De Vol (nominated) - Academy Awards, 1965
Golden Globe (Best Supporting Actress): Agnes Moorehead (won) - Golden Globes, 1965

In 1927, debutante Charlotte Hollis murdered John Mayhew (Black Sunday's Bruce Dern), the married man who planned to elope with her before Charlotte's father Big Sam (The Evil's Victor Buono) ordered the weak-willed man to break her heart; his head and one of his hands were never found. Thirty-seven years later, the plantation Hollis House is the Hollisport's local haunted house and Charlotte (Burnt Offerings's Bette Davis) the crazy old woman trying to hang onto her home which is scheduled for demolition by the state to build a bridge to the highway. With only ten days before she is forcibly removed from the property, Charlotte is depending on her cousin Miriam (Lady in a Cage's Olivia de Havilland) to come home and set things straight. When career woman Miriam does turn up and reveals that she is only there to help her move, the resentments come out on both sides: Charlotte thinking her up-north cousin from a working mother was uppity, and Miriam resenting how Big Sam favored Charlotte to the point of telling Big Sam and John's wife about the affair. While reconnecting with old flame Dr. Drew Bayliss (Baron Blood's Joseph Cotten) who walked out on her when the Hollis scandal broke, Miriam learns just how mentally-fragile Charlotte is; believing that John's wife Jewel Mayhew (A Kiss Before Dying's Mary Astor) to be behind a campaign of persecution that started with an anonymous letter posted from Hollisport and spread across the globe when Charlotte's story made the crime rags, and also believes that Jewel had something to do with the city demolishing her home. She also discovers that Charlotte has less-than-lucid periods where she sits up at night in her ball gown waiting for John's return. Miriam not only discovers that Jewel is a sick woman but that she holds more enmity towards Miriam herself than Charlotte ("…murder starts in the heart, and its first weapon is a vicious tongue!") While Jewel herself might be too sick to give Charlotte's suffering much thought, Miriam soon discovers for herself that not all of Charlotte's horrors are delusions; but who is behind it: Bayliss, seemingly devoted housekeeper Velma (Dear Dead Delilah's Agnes Moorehead), the kindly sheriff (Kiss Me Deadly's Wesley Addy) who lets Charlotte hold onto an illegal shotgun, the demolition foreman (The Boston Strangler's George Kennedy) Charlotte nearly killed with a stone urn, "Crimes of Passion" reporter Paul Marchand (Dementia 13's William Campbell) looking for some prime photos to cover the anniversary of the crime, or Harry Willis (The Beast from 20,000 Fathoms' Cecil Kellaway), the insurance investigator masquerading as a reporter who wants to speak to both Charlotte and Jewel Mayhew?

Director Robert Aldrich's follow-up to his unexpected hit Whatever Happened to Baby Jane?, Hush...Hush, Sweet Charlotte draws as much from the earlier film as the British Hammer Les Diaboliques-inspired thrillers – at the time up to Scream of Fear, Maniac, and Hysteria – and American William Castle Psycho-shockers like Homicidal, The Nigh Walker, or a considerably classier variation on Strait-Jacket (with Davis' Baby Jane co-star Joan Crawford who was originally cast in De Havilland's role here). Unlike some of those aforementioned films and a host of genre TV movies of the week, it is to Aldrich and Farrell's credit that the film is long on set-up (but entertainingly so) and makes only obligatory attempts at diverting suspicion while presenting the gaslighting with visual gusto thanks to the gorgeous monochrome imagery of Joseph F. Biroc (who previously lensed the old dark house thriller The Bat with Moorehead) and the perfectly-pitched hysteria of Davis before a deserving sting-in-the-tail for the villains. Novelist/screenwriter Henry Farrell had previously scripted Baby Jane? and would later script two similar chamber dramas of human madness for How Awful About Allan with and What's the Matter with Helen?. Aldrich resisted the temptation to make another "hagsploitation" flick despite their rise in popularity around that time, instead developing a different kind of psychodrama between two women with The Killing of Sister George.

Video


Released theatrically in the U.S. and U.K. by Fox – the latter with cuts to the opening murder later restored to the tape releases – Hush...Hush, Sweet Charlotte had a 1991 laserdisc release from Fox stateside before its rather puzzling DVD release history. The version that Fox released first on DVD stateside was the 2005 Studio Classics edition that featured a 1.66:1 anamorphic transfer that would also be used for the UK edition. Three years later, Fox would reissue the film separately as part of their Cinema Classics line and in the five-film/six-disc The Bette Davis Collection (with a two-disc edition of All About Eve, Hammer's The Nanny, The Virgin Queen, and Phone Call From a Stranger) that featured an anamorphic 1.85:1 transfer (this transfer would not appear in the UK until 2012). It is this latter framing that appeared on Twilight Time's American Blu-ray and the Eureka Blu-ray under review. The 1080p24 MPEG-4 AVC 1.85:1 widescreen is simply ravishing with no discernable damage, deep blacks and silky whites that can go high contrast without any noticeable loss of detail to the sharp and crisp imagery (apart from the lens diffusion used for Charlotte's hallucination late in the film). The location exteriors are similarly beautiful with the reverse shot of Mary Astor during Jewel's meeting with Willis revealing the changing light of passing clouds in the background while the studio light on her remains constant.

Audio


Both US DVDs featured both the original mono track and one of Fox's stereo remixes, and the latter was also an option on the Twilight Time Blu-ray. Eureka only includes the mono track in LPCM 2.0 but it is a thing of beauty. The film's silences are unpolluted by hiss, dialogue is clear, as is scoring, and the track allows one to appreciate the very subtle uses of sound effects, with the exaggerated volume of the tinkling of chandelier crystals during Charlotte's hallucination calling back to the opening sequence in which the same sounds were much lower but unsettling in the shocked silence in reaction to Charlotte's bloodied gown. Sadly, Twilight Time's isolated score track has not been carried over here. Optional English HoH subtitles are also included.

Extras


The original studio classics DVD featured an audio commentary by film historian Glenn Erickson that was not ported over to the Cinema Classics disc but was included on the Twilight Time disc along with a newer track by film historians David Del Valle and Steven Peros. Eureka includes the former track along with a new audio commentary Diabolique Magazine's Kat Ellinger. The Erickson track is very comprehensive if a little cheeky in its asides, describing the film as "Grande Dame Guignol" – perhaps a more flattering subgenre label than "hagsploitation" – citing the Baby Jane connections, contrasting Aldrich's techniques with that of Hitchcock, and pointing out easy-to-miss things like a flipped shot used to provide additional coverage of a scene while also noting the "psychosexual" placement of the blood on Charlotte's dress, and the lack of awareness in the sixties of what period hairstyles should look like (that, and the seeming ignorance of many of the extras about how to dance the Charleston). Ellinger's track touches upon territory expected from her earlier tracks in the influences of the gothic, the Southern Gothic, hagsploitation, Hitchcock, and Clouzot along with the ways in which the film anticipates Jack Hill's Spider Baby with the opposition of traditional and the modern with interlopers attempting to strip away heritage with technology and money, and the ways in which this theme gives way to the hillbilly horrors of the seventies. She also discusses the behind the scenes melding of old and new Hollywood with Aldrich coming from the studio system but moving into independent production while also giving new life and direction to Davis' career.


Both tracks provide some discussion of Crawford's initial casting and her eventual departure from the film and replacement by de Havilland, but this is the focus of "Hush... Hush, Sweet Joan: The Making of Charlotte" (21:47) with Aldrich's daughter Alida, Davis' son Michael Merrill, and Dern recalling Crawford and Davis working relatively well together on Whatever Happened to Baby Jane? with the enmity coming from Crawford feeling slighted that she was not nominated for an Oscar while Davis was and then accepting for Anne Bancroft who did win, compounding Davis disappointment at losing. Davis paid Crawford back with the power she had as associate producer on Charlotte in which Crawford was there for the entire location shoot before "coming down with pneumonia" upon return to Los Angeles for the studio scenes. Production shut down and potential replacements Loretta Young and Barbara Stanwyck reportedly turned the job down because Crawford asked them to, while Davis possibly hated Vivien Leigh more than she did Crawford. In "Bruce Dern Remembers" (12:51), the actor recalls his incredulous reaction to Davis revealing that she was not going to be doubled for the early flashback scenes, working with "enormous kid" Buono (who was actually two years younger than him at twenty-four despite playing a much older man) and that a different person wielded the cleaver for each take of his death scene. He also recalls the impression de Havilland had on him and learning of the Baby Jane-like relationship between the actress and her sister Joan Fontaine (Suspicion) from Davis who shared with Hitchcock – as Dern would learn years later on Family Plot – the voyeuristic desire to get the two sisters in a room (or a set) together just to see the fireworks. "Wizard Work" (4:43) is an archival behind-the-scenes look at the film narrated by Cotten. Also included are a still gallery (8:54), theatrical trailer (2:56), teaser trailer (1:25), and TV spots (1:38).

Packaging


Not provided for review was the collector's booklet featuring a new essay by Lee Gambin, archival imagery and more enclosed with the disc.

Overall