The Film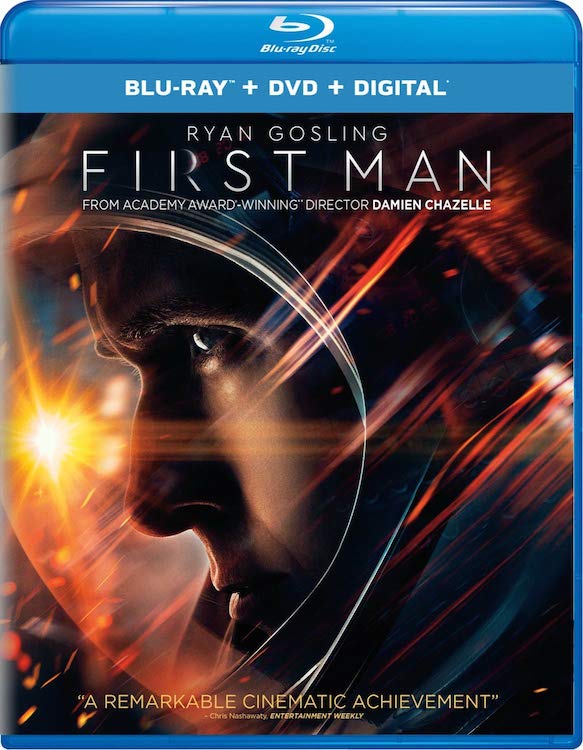 2014 and 2016 where both very good years for filmmaker Damien Chazelle, blasting onto the scene with "Whiplash" a feature version of his short film of the same name released a year prior, "Whiplash" earned critical praise for both the filmmaker and its cast, was a festival darling taking home top spots at that year's Sundance Film Festival among many other festivals that lauded the film with many awards, it earned numerous Oscar nominations (five in total, and winning three). The film solidified this "kid" (He was 29 when the film was released) as the next big thing in Hollywood. Earning a carte blanche as to whatever his next project would be. That would be 2016's "La La Land" a Hollywood love letter musical which also earned critical praise, a wide release that was successful, and once again more Oscar nominations (fourteen nominations!) the film would go onto win Best Actress in a Leading Role for Emma Stone, Chazelle would win Best Director, and also earned statues for Cinematography, Score, Song, and Production Design. It would famously lose out on Best Picture to Barry Jenkins' sublime "Moonlight" in a now infamous mix-up. Regardless of not taking home to Best Picture statue, Chazelle had in two short years solidified himself in Hollywood as a new, eager, and talented voice.

While I enjoyed parts of "Whiplash" and "La La Land" I thought both where overrated. "Whiplash" just felt like nearly two hours of yelling, and "La La Land" although whimsical, was tedious. That's just my opinion. These films where not for me, despite hearing over and over again from my significant other how amazing "La La Land" is... box office, praise, and Oscars have me pegged into a minority. Despite this, I was intrigued by Chazelle's next project. "First Man" based on James R. Hansen's book and on the life and achievements of Neil Armstrong, the first man to walk on the moon. When the first trailer dropped I was excited, this looked great. The subject matter was right in my wheelhouse, the cast looked incredible, and hearing that he filmed the moon landing sequence in IMAX had me super excited. Sadly, I was unable to see this film on the bog screen. Life and work got in the way and I missed its theatrical exhibition. So I was happy to receive this Blu-ray in the mail and give this film a shot.

Before I get into my review I think it's important to address the slight controversy the film received upon release. Known as the "American Flag Controversy" some Right Wing news agencies and prominent Republicans came out expressing their disappointment in the film not showing Armstrong planting the American flag onto the surface of the moon. The story was picked up by International media organizations as well and many people in the United States where outraged. The film's director released a statement saying that "I show the American flag standing on the lunar surface, but the flag being physically planted into the surface is one of several moments [...] that I chose not to focus upon. To address the question of whether this was a political statement, the answer is no. My goal with this movie was to share with audiences the unseen, unknown aspects of America's mission to the Moon." the overall message here is that there are more important aspects of the story to focus on, and also, this moment in History, while achieved by the United States, is Globally important, and was done in the spirit of mankind as a whole. You only need to quote Armstrong himself when he stepped onto the moon that this was an achievement of mankind, not singularly that of America. I think people lost focus of that and it may have hurt the film's overall box office. The negative press could have impacted the release as the film only earned a meagre $44.9 million in the United States (with a global total of just over $100 million on a $59 million budget). When you take into marketing costs I doubt the film has broken even. This is sad, because there shouldn't be a political angle to tarnish what is otherwise a fine film.

I really enjoyed this film, it's Chazelle's strongest work to date and hope that now that it's available on home video and on demand more people discover it and give it a chance. Let's start with the film's technical attributes, which are stunning. Shot on film in three formats; 16mm, 35mm, and 65mm for the IMAX sequences. Cinematographer Linus Sandgren does a fantastic job of balancing the formats and creating intriguing lights choices that range from stylistic to naturalistic (especially when shooting the NASA and space sequences). I did notice that some shots appeared soft in focus on occasion but that didn't really distract from the overall experience. I did find the hand-held choice was the right one for this film, I did hear some criticism about the "shaky cam" making people feel uncomfortable, I felt the opposite. I thought it was crucial in putting the audience right in the capsule with the flight crew. The close-ups add to the overall tension as well. Combined with the visual effects the film takes on a whole new shape, the Gemini and Apollo sequences look terrific and achieve a level of detail that will make you think you where watching actual NASA footage.

Chazelle crafts a very personal tale of Armstrong, covering the loss of his daughter to cancer, on how the family deals with his career, his drive, dedication, and professionalism towards his mission. As a result Ryan Gosling delivers a nuanced and complex performance that's easily ranked among the best of his career, matched with the brilliant Claire Foy as his wife they provide some of the film's most dramatic and moving moments - especially the scene in which Neil has to explain to his two sons that he may not return from his mission to the moon. Surrounded by acting veterans such as Jason Clarke, Kyle Chandler, and Ciarán Hinds adds further depth to the roster as they each deliver strong turns.

The film runs long, and the journey to the moon sometimes feels as long as it was in real life. The viewer does have to endure a lot before the film's third act comes into play and we witness the filmmaking prowess that went into recreating one of history's most iconic moments. The moon landing sequence is simply thrilling, it engages you from liftoff and across the distances through space the audience is taken on a visual and audio journey that can easily be described as one of finest third acts in recent cinematic history. From Justin Hurwitz's sublime score to the perfect editing choices, the film's true spectacle is this sequence alone and worth the investment. My only wish is that Universal opened the film's ratio to the 1.43:1 aspect for the IMAX sequences but they did not.

"First Man" is quite an achievement, it certainly is worth watching if you haven't seen it. Forget all that flag noise, it's bigger than that. This is cinema at its best.

Video


Presented in a widescreen ratio of 2.39:1 mastered in HD 1080p 24/fps using AVC MPEG-4 compression. The transfer accurately replicates the film's presentation, for the most part. As stated in my review of the film I would have preferred that Universal opened the film's ratio to the 1.43:1 aspect for the IMAX sequences. Cinematographer Linus Sandgren has masterfully crafted this film, from the framing, to the composition, and lighting, it looks great considering the juggling of formats (16mm, 35mm, 65mm). There where some moments of soft focus that did take me out of the film but only for a second, and I was sucked right back in again. Skin tones look great, black levels do feature some noise in the 16mm footage - which is expected, but are solid and deep in the 35mm and 65mm scenes. The Blu-ray offers excellent detail, colors look good. Overall it's a top notch transfer.

Audio


Four audio tracks are included in English Dolby Atmos, French Dolby Digital Plus 7.1 surround, Spanish Dolby Digital Plus 7.1 surround, and English Audio Descriptive Dolby Digital 2.0 surround. For the purposes of this review I chose to view the film with its ATMOS track. What a track! This audio really immerses the viewer and the film's final act is testament to that, from the rousing and complex score, to the sound effects, foley, dialogue, it's all mixed with precision and works in harmony to deliver an engaging experience. Optional subtitles are included in English for the hearing impaired, French, and Spanish.

Extras


Universal has packed this film with a decent amount of supplements, below is a closer look.

DISC ONE: BLU-RAY

First up is an audio commentary with director Damien Chazelle, screenwriter Josh Singer and editor Tom Cross. This is a decent enough track for something that is mostly about the technicalities of the production. Worth listening to once.

Only two deleted scenes are featured:

- "House Fire" (3:36)
- "Apollo 8 Launch" (0:41)

"Shooting For the Moon" featurette (3:40), takes a general look at the film's production.

"Preparing to Launch" featurette (3:39), takes a look at the film's subject matter.

"Giant Leap in One Small Step" featurette (4:31), takes a look at the real people this film is based on.

"Mission Gone Wrong" featurette (2:42), takes a look behind the scenes of a sequence that ends in a crash.

"Putting You In the Seat" featurette (7:09), takes a look at how the film was shot and the practical nature of the production.

"Recreating the Moon Landing" featurette (6:01), takes a look at shooting the film's thrilling third act.

"Shooting at NASA" featurette (3:11), the key cast and crew talk about the importance of shooting at NASA.

"Astronaut Training" featurette (4:02), takes a look at the boot camp the actors went through.

The disc also features some start-up bonus trailers for:

- "Operation Finale"
- "Green Book"
- "Colette"
- Universal Parks promo

DISC TWO: DVD

The second disc is a DVD copy version of the film.

Included in the package is a download code for a digital copy version of the film.

Packaging


Packaged in a Blu-ray case housed in a cardboard slip-case.

Overall


Buy it, rent it, stream it, whatever you choose - just watch it, it's worth it.
| | | | | |
| --- | --- | --- | --- | --- |
| The Film: A+ | Video: A | Audio: A+ | Extras: A | Overall: A |