The Film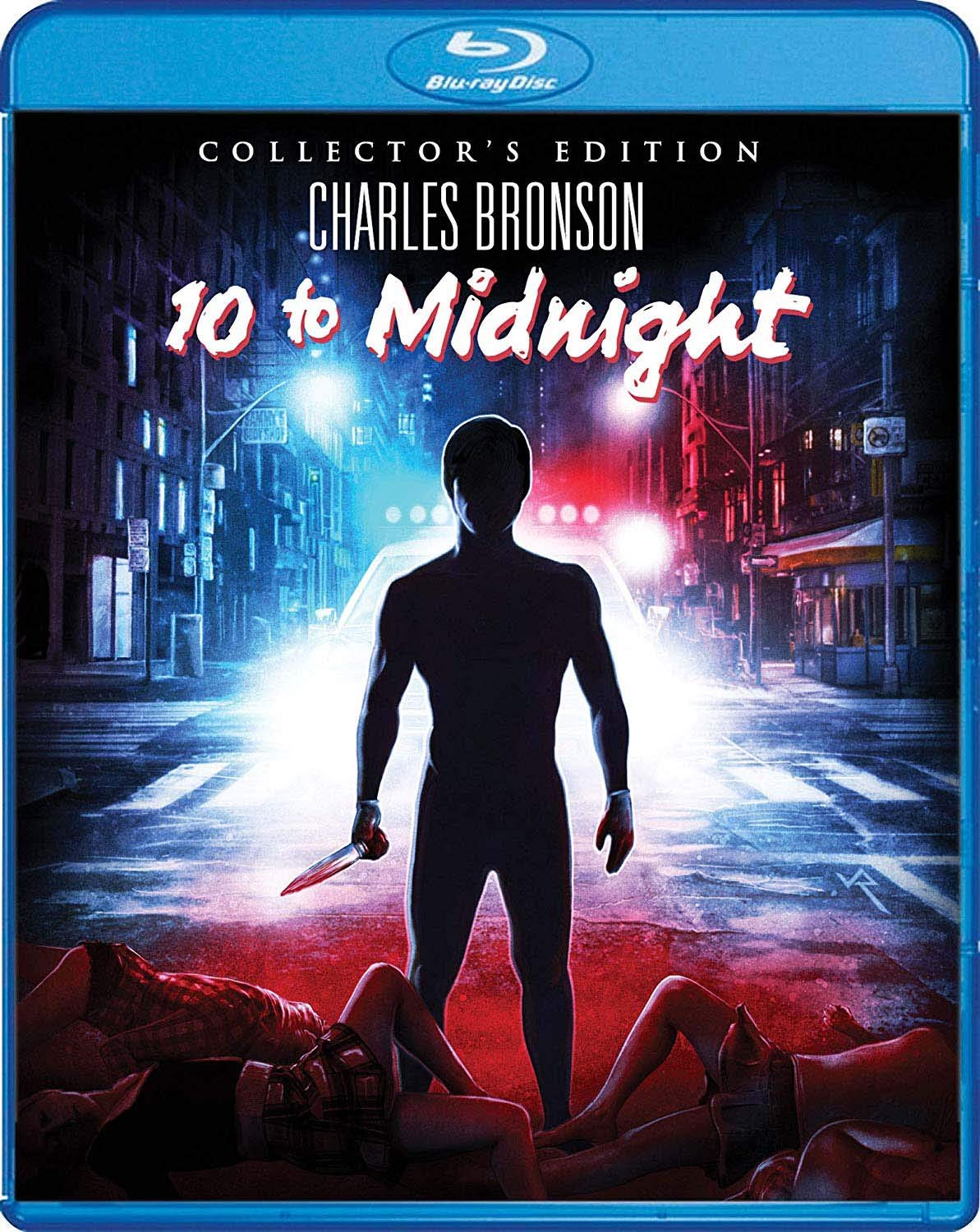 Although his film career began in 1951, it took twenty-three years for Charles Bronson to become the international action superstar everyone remembers. Prior to that, he was best known for bit parts, television hits, ensemble roles, and foreign pictures. All of that changed in 1974 when "Death Wish", author Brian Garfield's white-hot volume of vigilante justice, blazed into cinemas. Suddenly, the then-52-year-old Bronson was an action anti-hero, gunning down punks indiscriminately and racking up a body count commensurate with his box-office returns. Eager to capitalize on this newfound fame Bronson pumped out revenge thrillers for the next twenty years, belying his rapid aging by playing characters meant for men half his age, doing it with more machismo and muscle than any actor working today. Although he never made a true horror picture in his prime (that bit part in "House of Wax" (1953) doesn't exactly count) he did come awfully close with "10 to Midnight" (1983), a serial killer thriller tailor-made to suit Bronson's sensibilities.

Leo Kessler (Charles Bronson) is one of many Los Angeles police officers hot on the trail of a serial killer who has been targeting local women. The cops aren't able to come up with any evidence or link any of the victims outside of their gender. This is because the murderer, Warren Stacy (Gene Davis) not only comes up with elaborate scenarios to provide an airtight alibi but he also performs his killings in the nude, ensuring no trace can be left behind. Despite his good looks and stable income as an office repairman, Warren lacks any semblance of social skills or charm, coming across as a "creep" more often than not. When Leo and his partner, Paul (Andrew Stevens), interview Warren as part of their investigation the vibe is one of thinly-veiled hostility; Leo suspects there is more to Warren than he lets on.

More women are killed, pushing Leo to work off his hunch and break into Warren's apartment, where he finds pornography and a very specific device used to… well, Leo puts it best: "It's for jacking off!" Still, with no connection to the murders Warren is turned free – and he immediately sets his sights on Laurie (Lisa Eilbacher), Leo's daughter, who has recently struck up a budding romance with Paul. Leo goes around the law to plant evidence and secure a conviction against Warren, but when his plan backfires a killer is put back on the streets… and Leo is left to take justice into his own hands.

This is a timely release by Scream Factory since 2019 seems to be the year of Ted Bundy, one of the major influences on Warren's character. Like Ted, Warren is a handsome guy, sharp-minded, and he's able to charm women – even if that charm is used only as a means to get to a grisly end. Cribbing from real life, the film's climax even takes place within a college dormitory; a setting eerily similar to the last place Bundy committed his murders. Warren is a bit better in the alibi department than old Ted, though he comes across as far less confident and cool; traits that practically endeared Bundy to an also-horrified public. To be fair, part of Warren's agitation comes from the fact Leo knows he's full of shit and he won't give the guy a break.

Bronson isn't exactly in rare form here, but seeing as how he's one of my favorite actors of all-time the guy could menacingly recite a children's book and make it worth watching. Bronson was in his 60's when "10 to Midnight" began production, and rumor has it he had minor cosmetic surgery done to appear younger (and if he did kudos to the doctor because you can hardly notice), but advancing age doesn't slow Charlie down. Here, he's seething from the start, consumed with a passion to stop this killer – the man does have a college-aged daughter, after all. Once he "knows" Warren is the man they want, his rage turns insatiable and he does whatever it takes to bring him down. And when that fails he turns to the tried and true Bronson Method, which by my calculations has a 100% success rate. Bronson was a true Hollywood tough guy, and even in his elder years the man was hard as granite.

Despite being a Golan/Globus picture – a duo made famous for their over-the-top, exploitative films – "10 to Midnight" has a procedural streak and adherence to crime scene statistics that help it stand out amongst similar movies. The cat-and-mouse game between Warren and the cops escalates tensely, with the former always one step ahead… until Bronson steps in and changes the game. Bronson's output experienced a slight dip in quality as the '80s went on, making this one of his last solid features in a legendary career.

Video


Although issued by Twilight Time not too long ago, Scream Factory has given the film's 1.85:1 1080p 24/fps image a new 4K scan and the results are a minor-but-marked improvement over that prior Blu-ray. For one thing the picture is pristine, offering up a highly detailed image that is wholly free from dirt, damage, or other debris. Film grain appears smooth and organic, lending cinematic life without adding noise. Black levels are stable and rich; none of that "hazy gray" nonsense. Colors are well-saturated and natural.

Audio


The English DTS-HD Master Audio 2.0 mono track offers clean dialogue with no hissing or pops. Composer Robert O. Ragland's score – he of "Grizzly" (1976) fame – sounds big and jazzy, with many moody cues and big, brassy moments to punctuate pursuits and pent-up aggression bubbling to the surface. Direction is limited but evident in some places. Subtitles are available in English SDH.

Extras


There are two audio commentary tracks – the first with writer/historian Paul Talbot, the second audio commentary features producer Pancho Kohner, casting director John Crowther, and film historian David Del Valle.

"Producing Bronson – with Producer Lance Hool" (1080p) featurette runs for 12 minutes and 41 seconds, hear about the film's development, Golan/Globus' involvement, working with Bronson on set, and more.

"Remembering Bronson – with Actor Robert F. Lyons" (1080p) featurette runs for 6 minutes, the actor shares what Bronson was like both on and off set, including how his persona changed when wife Jill Ireland was around.

"Knife and Death – with Actress Jeana Tomasina" (1080p) featurette runs for 6 minutes and 55 seconds, this is a rather standard interview covering Tomasina's origins in the industry before talk turns to the picture at hand.

"Charlie's Partner – with Actor Andrew Stevens" (1080p) featurette runs for 10 minutes and 46 seconds, Stevens has a sharp memory despite having done this picture 36 years ago, recalling the atmosphere on set, working with Bronson, shooting in L.A., and more.

A theatrical trailer (SD) runs for 2 minutes and 14 seconds.

A couple of radio spots run for 1 minute and 39 seconds.

An image gallery (1080p) runs for 6 minutes and 56 seconds.

Packaging


The single disc comes housed in a standard Blu-ray keep case. The cover art is reversible. A slip-cover featuring new artwork is included on first pressings.

Overall


Although more of a police procedural film than outright horror, "10 to Midnight" still fits comfortably within Bronson's wheelhouse – even if the picture doesn't supply him with an endless horde of thugs to indiscriminately annihilate with impunity. The acting is strong across the board, the story taut, and the climax gives Bronson one of his most succinct, enduring one-liners. Scream Factory blows away the previous Blu-ray release thanks to upgraded a/v quality and some excellent extras Bronson fans will love.
| | | | | |
| --- | --- | --- | --- | --- |
| The Film: B | Video: A- | Audio: B+ | Extras: B | Overall: B |