The Film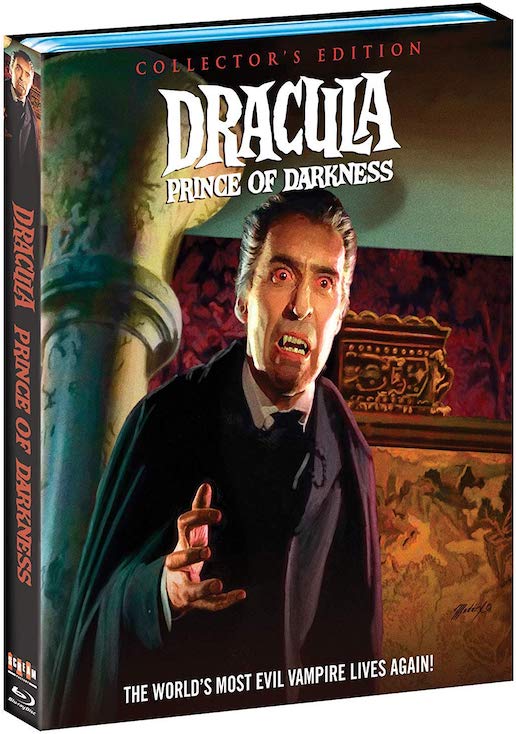 Long after Universal Studios gained acclaim with their Classic Monsters lineup of films British studio Hammer Film Productions took the reins, breathing new life into old corpses with stellar sets, saturated colors, and a roster of actors who would go on to become the stuff of legends. Their most well-known entries feature Dracula, a character usually portrayed by Sir Christopher Lee. Starting with "Dracula" (1958, known as "Horror of Dracula" in the U.S.), Lee played The Count a total of seven times before finally leaving the role after 1973's "The Satanic Rites of Dracula". His second foray under the cape, once again directed by Hammer powerhouse Terence Fisher, would be "Dracula: Prince of Darkness" (1966), a true sequel that offers up some fresh changes to the vampire lore. Screenwriter Jimmy Sangster, one of Hammer's preeminent and prolific screenwriters, reimagines Dracula as less of a romantic figure, turning the dashing Count into something more closely resembling a feral beast.

After a weird-but-ok intro that recaps the events of "Dracula", the film opens with Father Sandor (Andrew Keir) stopping a group of villagers from disposing of a woman's body as though she were a vampire. As Sandor explains, Dracula is dead and there are no more vampires; his quest is to rid the countryside of paranoia and instill confidence that longstanding nightmare is over. At a local inn the Kents – brothers Charles (Francis Matthews) and Alan (Charles 'Bud' Tingwell) and their wives, respectively, Diana (Suzan Farmer) and Helen (Barbara Shelley) – are discussing plans to visit Karlsbad when Sandor overhears and warns them off. His explicit instruction includes an order not to look at the castle which looms over the land there. Paying no mind, they move on ahead but their carriage driver got a late start and once night begins to settle in, he ditches them just outside Karlsbad and high-tails it back to town. In the distance, not too far off, sits the castle Sandor warned them about.

The group seems stranded… until a driverless carriage arrives – and everyone just loads up their baggage and hops in, few questions asked. The carriage promptly drives them not to Karlsbad but, of course, the castle Sandor warned them about. Upon arrival the foursome find a dinner table, set for four, and a mysterious servant named Klove (Philip Latham), who informs them that while his master is dead the castle is to remain open at all times for visitors. The women find all of this highly dubious while the men act like nothing is out of the ordinary. These poor, trusting fools. Later that night one of the group follows Klove around the house, tracing his footsteps through the dark. But Klove is no fool and the person is killed and strung up over a stone coffin in which the ashen remains of Dracula (Christopher Lee) are present. A quick slice to the jugular and a few pints of blood later, the Count is reborn and looking to regain his strength.

Lee is as renowned for his statuesque presence and steely looks as he is for that rich, baritone voice – a voice that isn't used once here. The apocryphal rumor mill has it that either Lee refused to read the "horrible" dialogue or, per Sangster, Dracula had no lines at all but regardless of which version of events is true Lee doesn't utter a single thing outside of a howling wail at the climax. As against character as this might seem, it works perfectly not only for conveying that under all the glamor and charm lurks an ancient evil creature but it would stand to reason after such an arcane rebirth Dracula is a changed being.

That rebirth is the film's best sequence, too. The act of watching Klove drag his victim into the crypt, bind them to a winch, and slowly draw them over Dracula's ashen tomb is chilling, so it must have been even more frightening by 1966 standards. Once Klove pierces the throat, a torrent of blood pours out over the Count's ashes, slowly bringing him back to life via a series of a dozen dissolves. The effects are impressive and visceral, building up a skeletal form caked with chunks of flesh and fat and slick with blood. Hammer films are notable not only for their practical effects but also their sets, many of which were reused for other pictures. This film shot back-to-back with "Rasputin: The Mad Monk" (1966), both starring Lee and utilizing the same sets. There is a richly saturated Gothic atmosphere pervasive in Hammer films; almost a character itself. Although this film spends half its time building up to the reveal of Dracula it never drags because Fisher offers up gorgeous visuals and a simple but effective mystery as our foursome navigate the dreaded castle.

One major change to the vampire lore by Sangster is Dracula's aversion to water, a weakness I can't recall ever having seen in similar pictures. The assertion is made by Sandor early on in a conversation that subtly foreshadows the film's climax. If it weren't such a novelty hearing of a new malady for the Count it could have easily been overlooked as a throwaway line. Once it comes into play later on, though, the film delivers something effective and memorable in the Count's final moments.

Video


Coming from a 4K scan of original film elements, the 2.35:1 1080p 24/fps image is warm in tone and swathed in shadow. The picture is stable and clean, with only minor white flecks appearing intermittently. Film grain has not been suppressed in any way, looking lively and filmic. Colors appear natural, with greater saturation and variation seen within the castle. Matte shots are soft but still impressive in their craftsmanship. Shadow detail is weak as black levels tend to swallow the image whole. It looks like there may have been some contrast boosting done but this is overall a fantastic picture.

Audio


An English DTS-HD Master Audio 2.0 mono track presents a faithful reproduction of the theatrical experience. Aside from a one-second audio drop-out occurring around the 30-second mark everything sounds clear, with no hissing or pops. James Bernard's score is a frenzied study in strings, delivering a classic horror sound that is both beautiful and brash. Sound effects have a weight and veracity to them. Subtitles are available in English SDH.

Extras


There are three audio commentary tracks – the first with author/historian Troy Howarth; the second audio commentary with filmmaker Constantine Nasr and writer/producer Steve Haberman; and the third audio commentary with Christopher Lee, Suzan Farmer, Francis Matthews, and Barbara Shelley.

"Back to Black – The Making of Dracula: Prince of Darkness" (1080p) featurette runs for 30 minutes and 34 seconds, this wonderful piece touches upon topics such as Fisher's quiet directing style, Lee's lack of dialogue, and what scene Matthews considers his worst acting ever.

"World of Hammer episode – Dracula and the Undead" (SD) featurette runs for 24 minutes and 53 seconds.

"Behind-the-Scenes Footage" (SD) featurette runs for 4 minutes and 38 seconds, this is super rare 8mm footage captured by Matthews' brother, featuring optional audio commentary with Christopher Lee, Suzan Farmer, Francis Matthews, and Barbara Shelley.

Three theatrical trailers (SD) are included, running for 6 minutes and 10 seconds total.

A still gallery (1080p) runs for 7 minutes and 5 seconds.

A poster gallery (1080p) runs for 4 minutes and 50 seconds.

Packaging


The single disc comes housed in a standard Blu-ray keep case. The cover art is reversible. A slip-cover featuring newly created artwork is available on first pressings.

Overall


While it may not be Lee's finest hour as the legendary Count Dracula, this sequel works well as a continuation of the first film and it presents the vampire as more of a wild creature than ever before. Scream! Factory has put together an attractive release Hammer fans should eagerly snatch up.
| | | | | |
| --- | --- | --- | --- | --- |
| The Film: B | Video: B | Audio: B- | Extras: A- | Overall: B |